Cryptocurrency
Bybit Clone Script to Create a Bybit-Like Crypto Exchange | Get A Free Live Demo
Get started with Bybit clone script to launch the fastest crypto trading exchange platform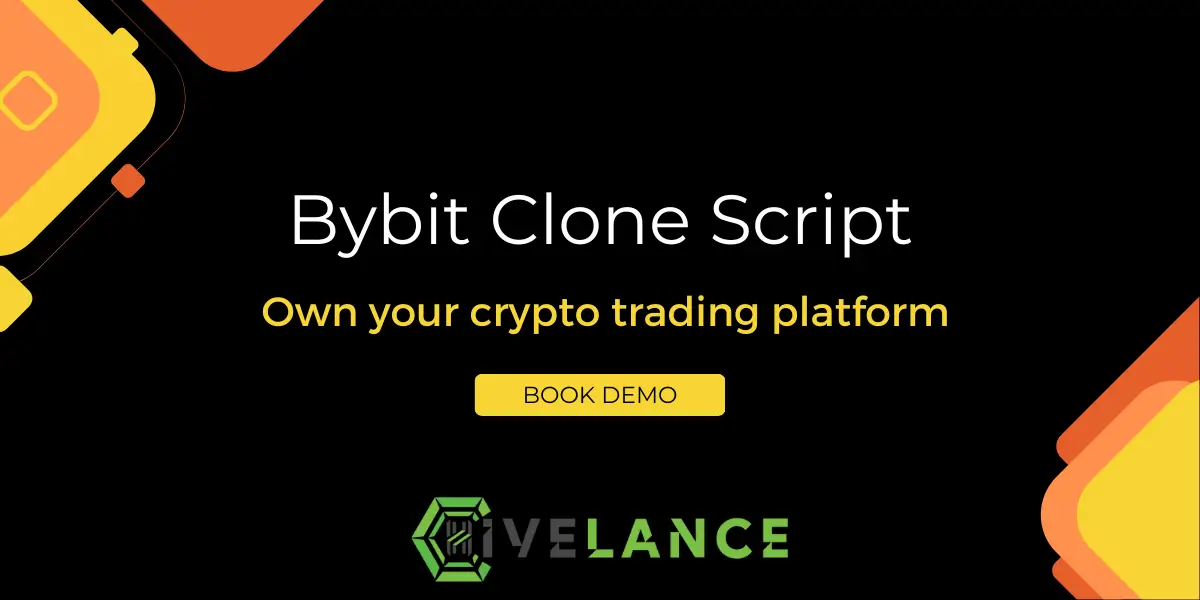 Get started with the Bybit clone script to launch the fastest crypto trading exchange platform where you can access crypto spot trading pairs, fiat-crypto or crypto-to-crypto easily. Additionally, you can include crypto derivatives perpetual and futures contracts into the platform with a minimalistic code development approach.
About Bybit clone script
Bybit clone script is the well executed software program that carries out the crypto exchange trading operations similar to Bybit. The program is developed by the scripting language so that the code file itself can execute without the need of compiling. The script program is readily available with software providers that you can get and deploy in servers.
Features of Bybit clone script
Robust Trading System
The smart trading system can help users to get maximum return for their investments. Alert notifications on price, order match details, automated strategy making can save users time and process the trading seamlessly.
High Market Depth
The high market depth called high liquidity can minimize the risk of price fluctuations in spite of sell or buy. The bybit clone script is equipped with significant market depth data endpoints that you can implement readily.
HD Cold Wallet
The industry standard HD cold wallet system can protect your users funds via non-custodial methods. The wallet system can be tweaked with password key generation, 2FA, and other secure measures to prevent loss.
100K TPS Matching Engine
The bybit clone script is designed to handle 100k Transactions per second. Keeping the overload problems in mind, we designed the script that matches the orders faster as much as possible.
Pricing System
The arbitrage is the main pain point of cryptocurrency exchange owners since each of them differs due to unfair liquidations. Using this ByBit clone script, you can implement a dual pricing mechanism that gives you advantage.
Powerful API
No external API support needed for running your cryptocurrency exchange. The powerful datapoint API, functional API, payment integration API and mobile app API comes with bundled packages. Just plug and play with your exchange.

Add-on Features in Bybit clone script
P2P trading
P2P trading in bybit clone script is an easy and secure peer-to-peer trading feature. It facilitates the buying and selling of two users' holdings at an optimal and agreed-upon price.P2P trading on Bybit supports the following trading pairs: INR/USDT, VND/USDT, AUD/USDT, HKD/USDT, MYR/USDT, PHP/USDT, RUB/USDT, TWD/USDT and UAH/USDT.
Spot trading
Spot trading on bybit displays the list of last traded prices, trading volumes, charts and trading history for Bitcoin and other cryptocurrencies.
Margin trading
Margin trading on Bybit is a derivative product based on Spot Trading. With Margin trading, you may use assets in your Spot Account as collateral to borrow more funds from our bybit clone script to buy and sell assets larger than your wallet balance.
Trading bot
Trading bots in our bybit clone script helps the users to automate the trading process by buying the lows and selling at the high.
Launchpad
Launchpad in a Bybit is a token launch platform that gives users access to pre-listing rounds and allows them to earn new tokens directly on Bybit. The Terms and Conditions for the Bybit Launchpad are reviewed and updated regularly.
Liquidity mining
Liquidity Mining option in our Bybit clone script resembles the liquidity pools that are based on a revamped automated market maker (AMM) model. Users can add liquidity to earn yield derived from trading fees and also add leverage to increase the share.
Defi Mining
You can stake and earn Defi rewards by performing the Defi mining procedures.Our Bybit clone script will help you sell the mining proceeds and the principal with interest will be automatically deposited into your account.
NFT marketplace
NFT marketplace in our Bybit clone script is a one stop destination for listing and trading NFTs. Users can sell an NFT on any marketplace. Bybit's NFT Marketplace supports listing NFT from Ethereum and Solana blockchains.
Why choose Hivelance for Bybit clone development
We have the industry standard security measures followed in every

cryptocurrency exchange clone scripts

we developed.




Lightning network

is implemented exclusively in Bybit clone script to enable faster transactions per second.




Regular audit and update of clone script code is done by our blockchain engineers to ensure the code reliability.




Latest tech stack is used in developing both web and mobile app applications to easily implement new innovative ideas in less time.




Bybit clone script is a completely white label solution with technical support included under the packages.