Blockchain
Tron Fork Development Company - Create Your Own Blockchain Like TRON
Get a complete Tron Forking Solutions from Hivelance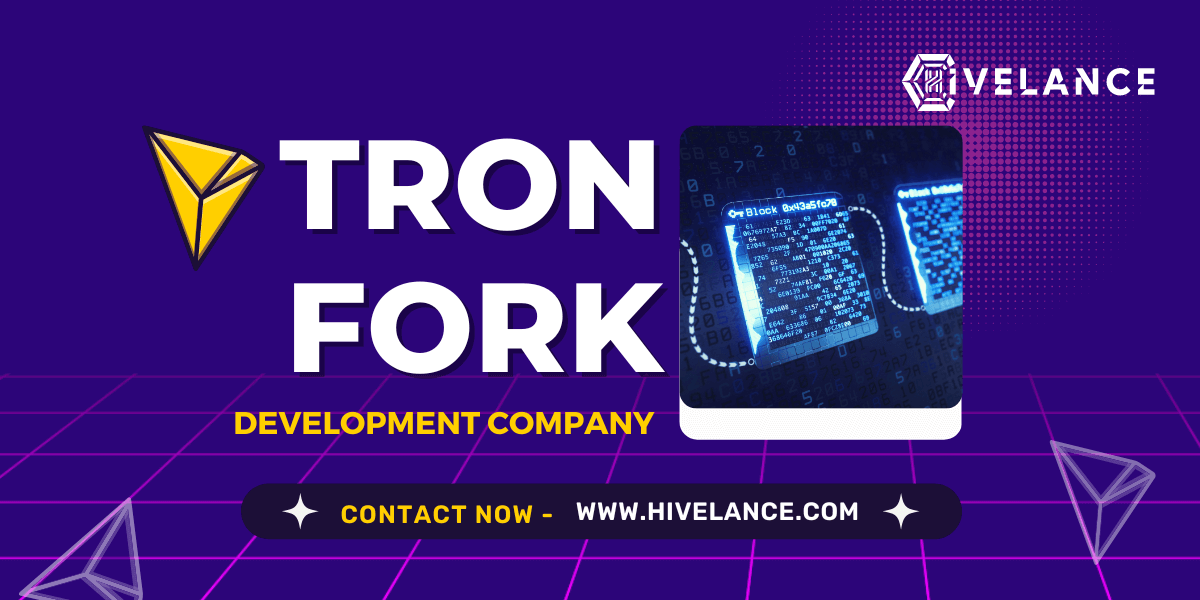 Tron Fork
Blockchain has become the most popular revolutionary technology all around the globe as it provides a secure way to create a tamper-proof log of data that is unhackable. It is a type of distributed ledger technology for recording transactions in a regulated pattern. In the blockchain, there are many operating systems available. Among all, TRON is considered to be the top-most as it has many use cases. Let's commonly speak about TRON and its functionalities.
TRON is the decentralized, open-source blockchain-based operating system with smart contracts like Ethereum, Corda R3 etc. It works on the proof of stake principles with a consensus algorithm having the native crypto-token known as the Tronix.
TRON along with blockchain and P2P network technology creates a platform for artists and content creators to get its benefit from as its architecture is built in such a way to offer many added advantages.
TRON inhibits 3 layers of architecture which are the storage layer, core layer, and application layer.
Core layer: This layer of computer instructions is written in Java or Solidity (a language designed for Ethereum) and sends them to the Tron Virtual Machine, which executes the logic.
Application layer: This is utilized by developers to create wallets and applications powered by the TRX cryptocurrency and make it compatible with the software.
Storage layer: The storage layer is designed to segment blockchain data and its state data (which preserves the status of smart contracts).
The Potential of TRON:
Like Ethereum, TRON uses an account-based model and some of the basic building blocks like Dapps, smart contracts, tokens, etc.TRON primarily includes the decentralized infrastructure with a gaming system, forecasts, and distributed exchanges. It enables the users to distribute any digital asset and enjoy the benefits. There allowed the complete liberation of data, one can upload, share and distribute content easily.

The Main significant truth is that TRON is the fastest growing blockchain with a transaction count of over 3 billion. It can handle 2000 transactions per second which are considered as the fastest and most prominent feature.
What is Blockchain Fork?
Blockchain forks are said to be a split in the blockchain network. The network is an open source software and the code is freely available. Forks work by introducing changes to the software protocol of the blockchain. They are often associated with the creation of new tokens.
There are two types of blockchain forking: Hard forks and Soft forks.
Hard Fork
A hard fork is the new rule implementation that the software validates according to the old rules and gets upgraded, here all the nodes work in accordance with the new rules which is a permanent divergence from the previous version of the blockchain. Nodes running on the previous version of the software will no longer be accepted on the new version.
Soft Fork
A Soft fork is described as a fork in the blockchain which can occur when old network nodes do not follow a rule followed by the newly upgraded nodes. This could cause old nodes to accept data that appear invalid to the new nodes, or become out of sync without the user noticing.

Description of TRON Fork:
Tron Fork is defined as the change in the rules and the development of structure and experiment within the TRON platform by the Tron Blockchain networks, these forks can be developed on larger blocks and they result in a brand new platform. Forking in TRON is used to improve some of the traits like privacy, and scalability. It is easy to build a blockchain platform with a Tron Fork. Tron source code can give birth to creating new crypto-like TRON.
Features of TRON's fork:

TRON's fork emphasizes the Performance to be increased by 50% than the present activity.
Decentralized Applications (DApps) can be created and it will gradually improve the overall performance.
As it is improving its performance at higher rates, Tron is gaining more users and more Dapps are getting built on the platform.
TRON Fork Development Services
Dapp: Startups and entrepreneurs can get benefited by performing TRON forking. By doing so, decentralized applications can be built for your business overcoming the disadvantages of other applications. This platform obtained after forking can enable users to share content easily. Some examples of the Dapps created by TRON: Rocket game, Zethyr finance, Bankroll savings account, etc.
Token Development: By performing TRON Forking, Users can build custom tokens for your ICO and also NFTs.It has many features that are accompanied with smart contracts.
Wallet Development: TRON is being the most searched blockchain platform by users. TRON forking allows the users to create their preferred wallets to be used in trading purposes. Forking provides all the default abilities which TRON blockchain has with it.
Smart Contract Development: TRON blockchain along with solidity language can give away the smart contract creation, making sure that it would be the safest and unhackable. Although by the user's preference, when forking is carried out, smart contracts are designed and developed even more strongly so that no third party can break it.
Decentralized Exchange: TRON network is very fast and more efficient than other networks. When a TRON fork happens, the TRON-based decentralized exchange is developed with wallets for tracking the transaction process. Poloni DEX is one of the platforms that can be taken into consideration. This platform does not charge any trading fees and aims to have a safer, fast, and more convenient exchange. This has nearly 50k active users and a trading volume of $200 M so far.
Some of the TRON wallets:
Below listed are the top 5 TRON wallets:
Ledger Nano X wallet
Coolwallet Pro
TRON link
Trezor Model T wallet
Atomic wallet
Tokens that are built on the TRON blockchain network:
BitTorrent (BTT)
Fruit Token
TronEuropeRewardCoinPro (TERC)
Beatz Coin (BTZC)
TRICH(TRC)
TRONONE (TONE)

Some of the gaming platforms built on the TRON blockchain network:

Magic academy
Cropbytes
Tron village
Eggies world
BetFury

Popular MLM platforms built on TRON

TRON based Smart contract built MLM platform offers many benefits like:
Tron-powered smart contract MLM platforms run without an intermediator and allow instant transactions.
Entirely Decentralized and more Transparent.
Listed below are the popular MLM platforms built on TRON:

Tronracer
Ezytrx
Forsage
Digitron
Supersage

Why choose Hivelance for TRON Fork Development?

Being a leading blockchain development company, our team is very talented and experienced in Forking services. According to your customization, we develop your entire project to be more feasible and on time. Backed up and expertise in blockchain technology we are very deliberate in providing outstanding forking services to create or fork blockchain platforms like TRON and also on your preferred networks. Take a demo and start your project…!!!!
10+ years experienced as blockchain developers
Active open source contributions
Delivered 50+ blockchain projects
Low-cost investments
High profits in turn
On-time delivery
Technical assistance
Implementation of emerging advanced techniques
Trusted blockchain team working on a 24/7 basis
Quick response and bug-solving capability.
If you want to Fork Tron blockchain or any other blockchain platforms then feel free to consult our experts via WhatsApp - +918438595928 | Telegram - Hivelance