Web 3.0 Development Company : Hivelance can help you get started with your Web3 project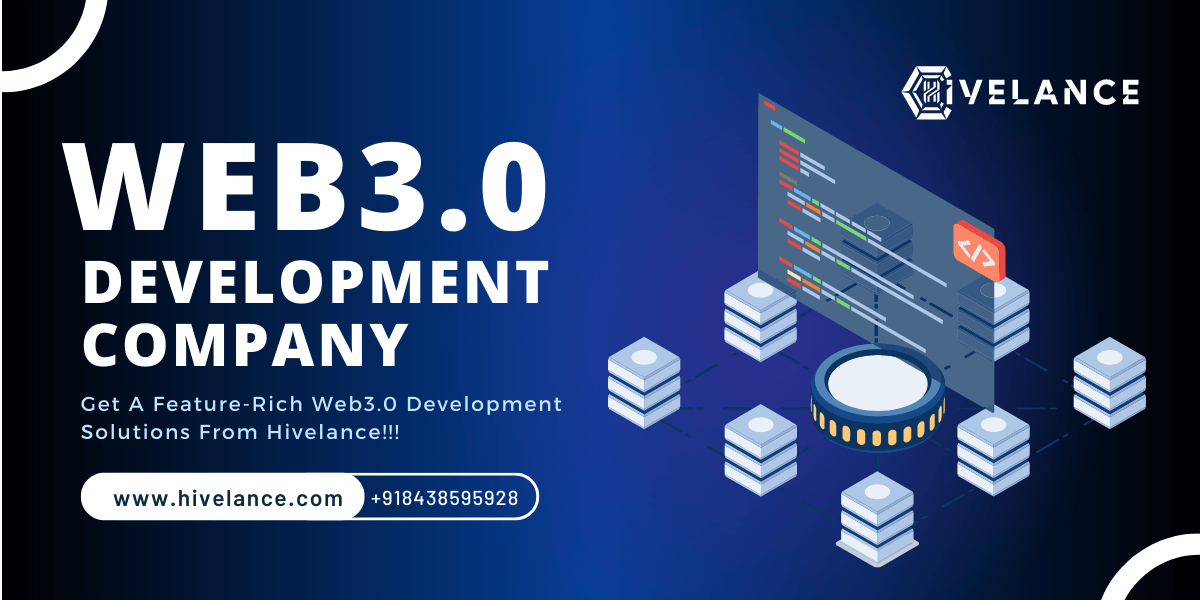 Build an elite, ultra-modern, and fast-processing web3 ecosystem to elevate your business proliferation with our proficient panel of experts. Our premium web 3.0 solutions can propel you to become the market-leading venture among competitors.
Premium Web 3.0 Development Services
Web3 Metaverse Development
Web3.0 is the fastest developing iteration of all internet phases. Being the third-generation evolution of the web environment, Web3.0 overcomes all the shortcomings encountered in previous stages. It includes decentralized protocols like blockchain technology that can never be broken. Hence, web3.0 implementation in the metaverse can bring a great revolution. By emphasizing the equitable web3.0 features, the metaverse ecosystem is built based on user customization. We develop a global 3D virtual network with elements like VR chat rooms, online activity centers, online games, and so on. Incorporation of web3.0 features in the metaverse areas can provide more privacy and personalized user experience. With a team of talented web3.0 developers, we create your metaverse land for blooming your industrial profits.
Web3 Metaverse Game Development
As Web3.0 is decentralized, trustless, and has native payment processors, building metaverse gaming platforms with web3.0 functionalities can be faster and more reliable. Our team of experts makes the metaverse games run seamlessly as it blends features like live streaming, preferred anime characters, social media activities, and so on. The shortcomings of Traditional games are overcome with powerful virtual reality experience, faster functioning, creating NFTs, and selling and buying them. With 10+ years of experience in developing 3D games with realistic graphics, our developers can guarantee you in delivering web3 metaverse games that can attract millions of users and gain your admirable incomes.
Web3 DAO Development
The decentralized autonomous organization is a regulated system which is approved technically to be a community-led entity. It doesn't have the influence of any central authority. In short, they run upon the coded smart contracts, which are used for decision-making, voting, and proposal rendition. The rules of DAO is being established by the core team that is verifiable with proper functioning protocols. Web3.0 is the strongest emerging technology and it takes the responsibility of owning the data. This can cater to the ownership of the platform and the records are being saved carefully. Build your DAO with the help of our team and bestow the governance and receive the highest funding.
Web3 DEX Development
Web3 DEX is the conventional financial system where the exchange of cryptocurrencies takes place with any intermediaries. Trading of cryptocurrencies can be done between two users without any interruptions as there is no need for any central authority. Here, the entire control of assets with private keys is the main noted aspect. Web3.0 and its heterogeneous functionalities are satisfied with the core processing of the DEX platform as the functions are similar as there is no need for any centralized bodies. We have a proven history of successful rendition of 300+ decentralized exchange platforms. We do regular follow-ups, correct the issues when bugs are encountered, proper guidelines before and after the platform delivery, and many more.
Web3 Crypto Wallet Development
A Web3 crypto wallet is basically a digital wallet that helps in storing digital assets like NFTs.This can make the interaction with decentralized applications. Likewise, there is no need for any central authority and hence the privacy and anonymity of wallet owners are maintained. The noteworthy attribute of these web3 wallets are they are established with unique private keys and help in sending/ receiving digital assets and swap tokens. Another main feature is that it upgrades the login details like two-factor authentication and strong passwords. Some of the advantages are they are easy to use, private, highly secured, ultimate user's responsibility, faster transacting, etc.
Web3 Launchpad Development
Web3.0 Launchpads are the latest crowdfunding methodology for crypto projects. These web3.0-based launchpads help in raising the funds through decentralized platforms. Our team keeps in mind the advantages to be hitched and hence we design the platform with high liquidity, a larger chance for investment, and greater support for growth, and project expansion. Our team of developers creates the roadmap to fulfill the requirements of your business plans. Following the steps, we create your web3-based launchpads to raise funds for your projects.
Web3 Dapp Development
Making your Dapps with end-to-end web3 solutions is very easy. The Tamper proof and secured offerings are absolutely guaranteed. We built your web3-based dapps with frontend code and a user-friendly interface. The key advantages that are incorporated while developing web3 dapps are they are enriched with high security, and censorship resistance, and have minimized logic execution. Smart contracts are created in the first step for building dapps without any interruptions. Our efficient developers create decentralized applications with smart contracts and a simple UI with a strong compilation.
Web3 P2E Game Development
Playtoearn games are becoming the foremost precedent in the crypto world. Web3.0 play-to-earn games are laid and brought into existence accompanied by the salient features of blockchain technology. These innovative digital games are expected to rule the gaming economy vastly. With web3.0 games, players are allowed to play the games interactively and earn passive incomes and we can assure that these can be the constant source of revenues for the players. Owners of the platform can also get their profits through the development of in-game business models. According to reports of 2022, it is estimated that web3.0 play-to-earn games are the top invested game sector that can generate billions of dollars in the near future. If you are looking forward to developing web3-based play-to-earn games with exclusive features, Hivelance can serve you the best solutions that are cost-effective.
Web3 NFT Marketplace Development
Meanwhile, when compared to the traditional NFT marketplace, users hold NFTs and buy/ sell them for earning higher profits. Implementation of web3 into NFT marketplaces can assure the next level of security and helps many artists, business persons, creators, and so on. These web3 NFT marketplaces serve as a common spot for many fields like gaming, e-commerce, the fashion industry, etc. The profits are unimaginable. Our developers predict the right blockchain networks for building web3 NFT marketplaces.Development from scratch can be made easy by flaunting coding, designing, etc. When transactions take place in the NFT marketplace, we focus on making those transactions in a safe environment. Hence we include the secured payment gateway with it. Being the leading web3 development company, we can cater to your business needs and assist to generate revenues from the NFT marketplace.
Web3 Blockchain Solutions for Industries
Are you an enthusiastic business person or wish to run a startup or an industry? Here we offer a list of web3 Blockchain solutions for your growth to reach peaks. For each and every industry, the operational works must be in proper alignment. Somehow, misleading may occur. Blockchain technology can endure the processing in a simulated way with zero errors. In addition, web3 and blockchain together can prosper the function and enrich many business incomes. We have a pool of well-trained developers who are knowledgeable in web3 and blockchain technology. Without having a second opinion, you can get in touch with our experts and get your dream projects done right now..!!!
Web3 DeFi Development
Web3 DeFi represents the dynamic ecosystem of many platforms, and financial products that are open, and permissionless. This web3 Defi can make the entire crypto trend witness a turnover with a massive response. With Web3, the Decentralized finance system is becoming more transparent. It is utilizing essential factors like new forms of value and utility over traditional systems. Hence the involvement of smart contracts to takes place with solutions to manage the fund transactions. As a prominent leader in Web3 Defi development, we can coordinate with you and bring in marvelous business endeavors according to your needs.

Web3 Smart Contract Development
Web3 smart contracts are the most embellished aspect of the blockchain world. As they are unique codes that have been structured with the help of the latest programming languages, they can run online through blockchain and decentralized applications. This means the involvement of third parties can be neglected.It actually keeps functioning by following the roadmaps of web3 agreements. Meanwhile, web3.0 smart contracts are mainly pinned under the technology stacks like solidity and javascript. These are the strong programming languages that are written with node providers and powerful APIs.Some of the advantages of these web3 smart contracts are they are autonomous, accurate, interruption, and cost-effective. Our smart contract developers can code your web3-based contracts to achieve contract-driven features.
Web3 HYIP Software Development
Web3 Based HYIP software can help you in targeting your goals and we can make it happen within a short time. Users can launch their web3-based HYIP software with the appropriate selection of proper blockchain networks. The additional benefits that the users acquire through this software development are they are of high-security standards and can bring in high ROI in return. Hivelance can provide smart contract-enabled HYIP software which enables it to earn higher incomes and expand the business to the next level and showcase it as a world-class venture. We help Startups, investors, and Entrepreneurs in developing trustable Web3 HYIP software with better security and faster execution.
Web3 Crypto MLM Software Development
Hivelance renders our clients with top-notch and High-quality Web3 crypto MLM software after multiple tests. With our crypto MLM software, users can perform various activities like marketing the coins and earning payments at a higher level. Notably, our web3-based crypto MLM software is fully decentralized, has larger efficiency, and high security, and can be customized according to the client's requirements. Also, there will be the implementation of smart contracts with tracking of all transactional processes and secured APIs.This can flourish the earning potential and witness quicker growth. Features that are included in our MLM software are they have avant-garde security, control over the private keys, and smoother processing. Being masters in Web3 crypto MLM software development, our developers can guide us in all phases.
Why is Hivelance The Right Choice for Web3 Development?
We are the top tier web3 Development company in the town as our specialty lies in offering world-standard services. Accompanied by blockchain technology, our web3 developmental process can be made very realistic with all features the clients demand of us. With 10+ years of experience, our developers have brought the paradigm shift in the development of various blockchain, and web3 solutions. We train our professionals in a way to assist our clients and value their needs and offers the right business aspects. As web3 is at its peak now, each and every phase of web3 is carried out with keen notice and we deliver reliable web3-enhanced solutions.