Web3
Web3 Business Ideas in 2023
Here, we will discuss the most important web3 ideas one can start in the year 2023. Web3 has seeded many innovations across diverse verticals. So far, $23.3 Billion investments have been made in the Global Web 3.0 market with GAGR of 41.6% 2022-2028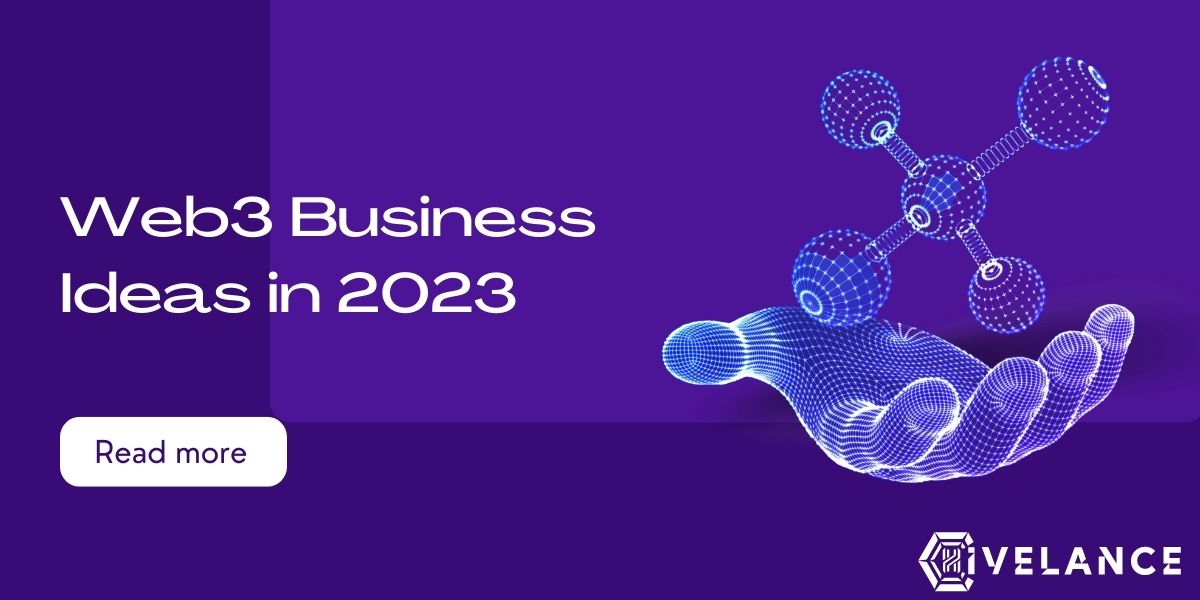 Web3 has seeded many innovations across diverse verticals. So far, $23.3 Billion investments have been made in the Global Web 3.0 market with GAGR of 41.6% 2022-2028. This is the clear sign that the way we use traditional apps is surely going to change in the future.
But remember that people are welcoming the web3 ideas when it is seen as a valuable alternative to web2 infrastructure. People empower the web3 economy because they care about their privacy, cost effectiveness, ownership and individuality. Web3 is the ecosystem created for users, owned by the users in a trustless and immutable way.
Well, you may ask "How business owners make money by developing web3 models?" Unlike web2, web3 has its own business models like Value Model, Blockchain Model, Distribution Model, and the Economic Model. We will see about them in upcoming articles. Here, we will discuss the most important web3 ideas one can start in the year 2023.
Non Fungible Tokens
NFT is the early successor of web3 economy by providing infinite possibilities for brands and businesses to get involved. There are multiple sub-branches in the NFT category where you can kick start the application.
For example,
Developing a private NFT marketplace for selling your own brand merchandise.

Building the common NFT marketplace for anyone to buy/sell their unique NFTs collection.

Develop the NFT minting platform where users are able to convert their digital items into NFT form.

Owning the fractional NFT marketplace where users are able to buy expensive NFT in the shared network.

You can start an NFT staking platform and let the users stake their NFTs in exchange of interest.
DAO
DAO is the hotbed for any startups who really want to operate under the decentralized work environment. DAO is a community oriented organization structure where everyone can voice out their options in the decision making process of the organization.
Moreover, everyone's contribution in the work is carefully monitored and rewarded by smart contract technology behind. There are many business opportunities that exist in DAO. If you're having the idea to develop DAO, catch out our article DAO Business Ideas to try in 2023.
Defi
Defi has the foreseeable future that no other web3 idea can compete with as of now. Hundreds of defi projects had crossed their million dollar mark in revenue, net profit and transactions volume. The rising demand for financial services after the pandemic have shifted the paradigm entirely.
People with internet access can participate in the defi economy without boundary restriction. That's why brands, enterprises, big institutions have changed their view and got involved in the creation of defi apps. You can create Defi app with many proposition models as seen in the article Billion-Dollar DeFi Business Ideas in 2023
Blockchain Games
Gaming is one of the few industries that blockchain usage has surpassed in numbers. This happened mainly because of the play-to-earn economy evolution. People went crazy playing web3 games more than traditional video games. Game asset ownership, interoperable gaming mechanics and in-game monetization relay make difference when comparing traditional games.
There are multiple game models like play-to-earn, Casino Games, Metaverse Games, NFT Games, Move-To-Earn Games, Sleep-To-Earn Games, Play-To-Earn Games and Role Play Games exist to fulfill every niche gamers. You can explore more business opportunities in developing blockchain games here.
Metaverse
Metaverse - The most promising invention humankind has ever made. The technology has exponential use cases to be applied in the near future. Metaverse gaming is becoming a billion-dollar business that fetches nearly $300 B every year and is expected to be higher within 2023.
Metaverse became the engaging web3 idea that suits both business and people to merge together. Just Like real world, you can create an atmosphere in a metaverse world and earn through many business models. Brands, Corporate institutes, and organizations came forward to invest in the metaverse based applications and participate in the revolutionary technology.
See the real world use cases and metaverse business ideas covered in detail here. Metaverse Business Ideas for 2023
dApps
dApps have the efficiency to streamline the centralized operations without having a single point of control. This makes sense for people who care about the decentralized nature of business applications. It has already caused a tsunami of innovations in video streaming, social media, financing, creator economy, marketplaces and more.
This sensation even made venture capitalists, financial investors to put large sums of money in developing dApps for many use cases. The projected market size of dApps could be USD 21,070.2 million by the end of 2025. If you are a futuristic entrepreneur want to build dApp? read the dApp business ideas before starting development.
About Hivelance
Hivelance is a web3 development company having strong expertise in web3 infrastructure and holds good clientele across the overseas. If you are struggling in developing the web3 apps? connect with us. We are happy to help you at any case whether it's from scratch or middleware development.
We are having a crew with UI developers, blockchain engineers, smart contract developers, graphic designers and mean stack developers who can build challenging web3 applications. From our inception, we are helping startups, mid-scale enterprises and even brands to leverage their web3 ideas. Don't believe in our words, have a look at our portfolio and see what we can do.