Cryptocurrency
Bitcoin Escrow Script to Launch Escrow-Powered Crypto Trading Platform Instantly
To eliminate fraud activities, bitcoin escrow can be used and helps to build a secure cryptocurrency ecosystem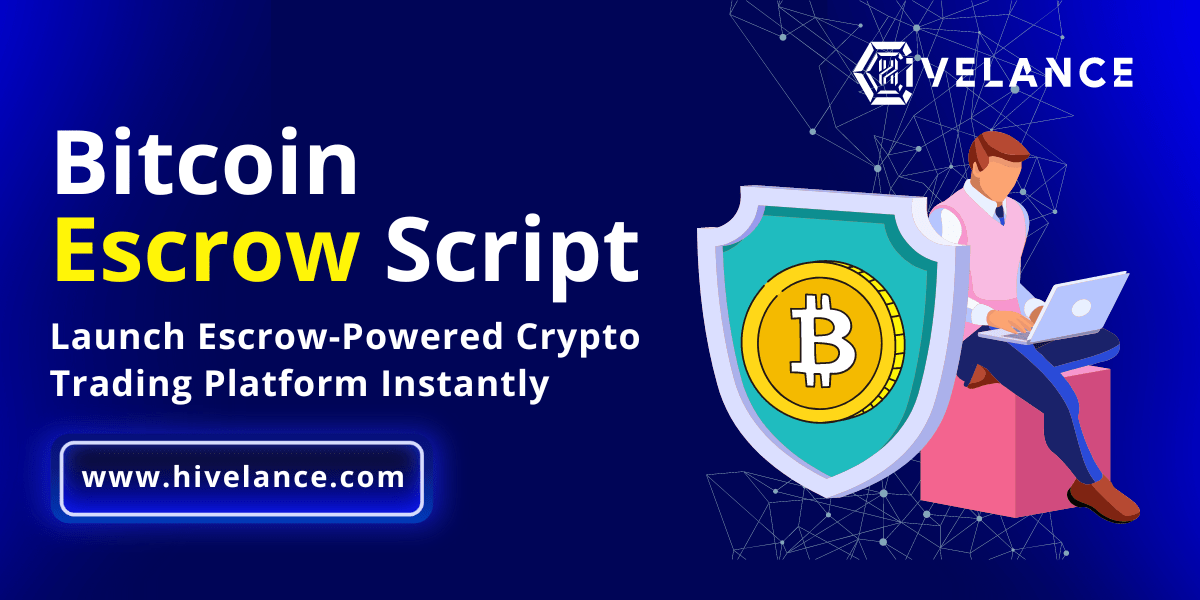 Bitcoin Escrow script development company
New Innovative findings are being introduced into markets frequently. Adopting those changes, we also keep on upgrading ourselves. Identically, crypto markets are also experiencing many modernizations.
Bitcoins were the first introduced cryptocurrency in 2009. After that, came many cryptocurrencies like Tron, Ethereum, Solana, ripple, and many more.
Facing a peak hike or low prices, users must be ready to take their own risks while stepping to trade cryptocurrencies. The exchange of cryptocurrencies needs to happen with an intermediator.
Here the intermediator is the Escrow system which acts as a support for hassle-free exchanges to be carried out. Hivelance is the topmost cryptocurrency exchange platform developer, reliably offering Bitcoin escrow scripts with high-grade features.
What is Bitcoin escrow?
A Bitcoin Escrow system is a financially aligned system where a third party has the entire power to regulate the payment of funds to be transacted. This helps to make the transactions more secure by keeping the payment in a secure escrow account.
When a huge amount of funds are to be transferred, Escrow systems come into the picture. Both buying and selling processes can take place with the help of escrow as it provides the highest security.
To eliminate fraud activities bitcoin escrow can be used and also helps to build a secure cryptocurrency ecosystem with faster transaction speed.
Bitcoin Escrow PHP script
Bitcoin Escrow PHP script is the look-alike model of the bitcoin escrow system that is pre-built according to your requirements.
This script can help you to launch a successful escrow-based Crypto exchange with all requested features and functionalities.
With the ability to track the payment flow, the cryptocurrency escrow script plays a vital role as a third-party interface that helps in sending and receiving crypto assets between the buyer and seller.
Hivelance provides highly safer bitcoin escrow scripts to make all the transactions between both parties happen in an automated way. When escrow support is needed, it triggers the response within the system.
Our script supports multiple cryptocurrencies and users need not worry about the type of currencies to be transacted. We are flexible to act accordingly to your needs.
When security is guaranteed at a higher level, why take time to adopt Escrow scripts for your business? Deploy this escrow PHP script that has an in-built bitcoin escrow API. The API has the ability to link the user funds between the system and helps in monitoring the transactions smoothly.
Why Do You Need a Bitcoin Escrow Script?
A Bitcoin Escrow Script is a custom-made Software that eminently helps you to build and launch a safe P2P cryptocurrency exchange following up a powerful escrow mechanism. It regulates secure and transparent cryptocurrency transactions. It acts as a middleman, holding funds in an escrow account until the terms of a transaction are met. This prevents fraud and default, even in cross-border transactions. The script also provides privacy by maintaining the data in a secure pattern. Users engaging in cryptocurrency transactions can make use of Bitcoin Escrow Script to ensure the highest security.
Top P2P Bitcoin Escrow clone scripts
We have delivered almost 50+ cryptocurrency exchange scripts successfully and we can showcase you the demo whenever you need. Apart from that, the top crypto escrow clone scripts we develop are listed below.
Selection depends upon your own interest and we are here to assist you in framing your escrow clone scripts. The popular bitcoin escrow clone scripts are as follows.
Features of Bitcoin escrow clone script
Attractive UI/UX Designs

Transactions History display

Dispute Management System

Crypto escrow wallets

User-friendly CMS

Multi-currency support and pairing

KYC/AML integration

Two-Factor Authentication

Push Notifications

Customized designing

Multi-language support

User dashboard
How Does a Bitcoin Escrow script work?
Users need to log in to the platform after registering with essential credentials. Users need to agree to the terms and conditions of the transaction process.

The buyer submits the payment methods, for which Escrow verifies the payment. The seller is then notified that funds are secure in an Escrow account.

After the verification of payment, the seller sends the related merchandise to the buyer and submits the tracking information. Escrow verifies receiving confirmation from the seller.

The buyer with proper analysis will be given a choice either to accept or to deny.

If all the conditions are satisfied by the buyer, the Escrow releases the fund to the seller from the Escrow account. Thereby completing the transaction process successfully without any hassle or delay.
Add-on Escrow script services
The major 3 Escrow service script we offer are,
Real-estate escrow

Escrow account

Online escrow
Benefits of enabling Escrow System in a Crypto Exchange
Security will be the most required feature in crypto exchange and the escrow system can provide that assurance to all buyers and sellers with utmost care.

Funds of the investors are transacted safely.

Compared to the automatic order-matching mechanism, this affirms top-notch security.

Paying taxes and insurance can be done in installments rather than paying in bulk.

Escrow keeps track of merchandise and verifies it until it is delivered. The seller won't be paid until it is verified and accepted. Buyers can sustain without any fear of loss.
How do we make your Bitcoin Escrow system more competent?
We manifest your bitcoin escrow script system with a multi-sig wallet with the help of blockchain technology.

Implementation of highly programmed smart contracts makes your system even more highlighted with automated functioning.

We guide you on how to link your bitcoin Escrow system with other e-commerce portals to attract more users.

We Integrate your escrow system for affiliating cash backs, deals, or coupon transactions. This enables speedy transactions and a process with multiple users.
Why Hivelance for Bitcoin Escrow Script Development?
A perfect technical partnership can make ideas into reality. And we are the best choice for making your escrow venture really successful.
Being the best Bitcoin Escrow script development company, we help startups, and entrepreneurs across the globe to build and launch Escrow based bitcoin exchanges.
We always give importance to the uniqueness and we make it happen in reality. Thereby, our Bitcoin Escrow scripts are furnished with tailor-made and highly intuitive features. We are known by the numbers and privileges as follows.
10+ years experienced professional

Efficient frontend and backend developers

Customization options

On-time delivery

Modernized escrow systems

Attractive backgrounds, themes, and displays

Well-proficient blockchain developers

24/7 customer support
Are you tired of searching for the right company to develop P2P cryptocurrency escrow exchanges? Never go for a second opinion. We're here to deploy the bitcoin escrow scripts in any business model you prefer.