DeFi
Aave Clone Script To Build Your Own DeFi Lending and Borrowing Protocol
Hivelance's Aave clone script is a pre-built and multi-tested defi lending protocol that helps many business owners in getting capital for initiating their venture.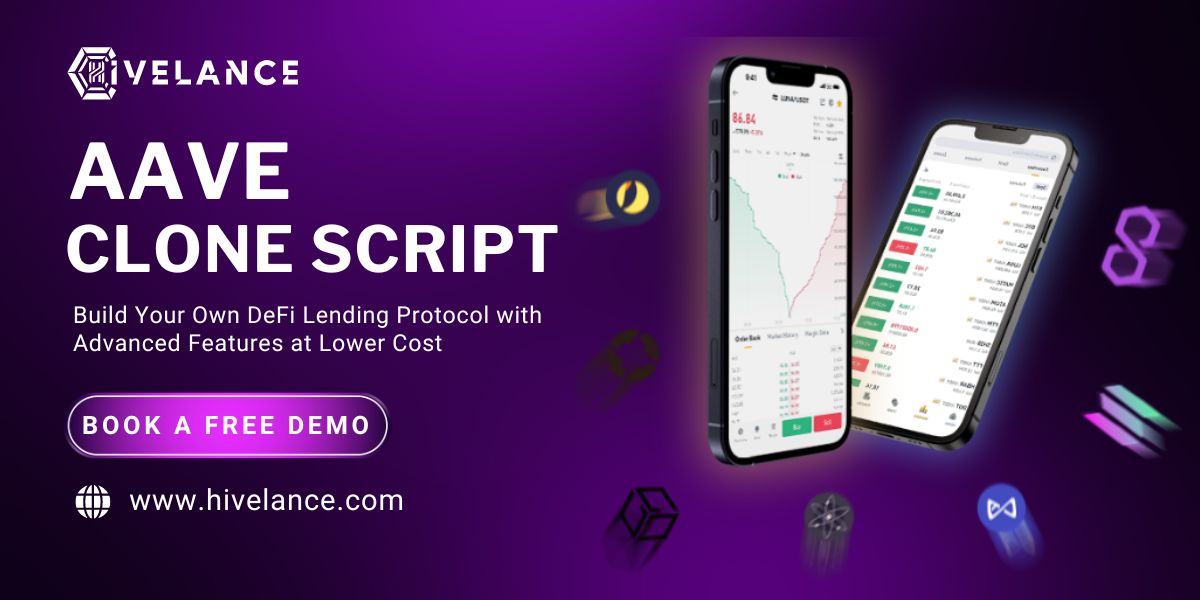 Aave Clone Script
An Aave clone script is the pre-made solution that resembles the exact features and functions of the Aave platform. Making it simpler, it is the DeFi lending and borrowing protocol that assists many business owners in getting capital for initiating their venture. Our Aave clone script can be the perfect choice to begin with the crypto journey and acquire the leading position in the DeFi ecosystem. Onto the industry for more than 10+ years, Hivelance is recognized as the top-tier DeFi solutions provider, and we understand the lending and borrowing protocols to build the Aave platform.
What is Aave?
Aave is a DeFi lending protocol that functions on the Ethereum blockchain, which enables users to lend or borrow cryptocurrencies with the aid of smart contracts. Without the involvement of any third parties, the users can be involved in the lending/ borrowing processes. Interests can be gained through these processes and is also considered to be the safest way of reaping the profits. The native utility token of Aave, or AAVE, can be utilized for fee reductions, staking, and governance.
Features of Our Aave Clone Script
Similar to Aave, the DeFi protocol has been developed by our team with interoperability, lower transaction costs. Some of the important features of our Aave clone script are listed below:
User Features
Access to DeFi wallets
User Dashboard
Staking options
Multiple payment gateway
User profile
Multi-lingual support
Wide range of DeFi collateral types
Instant settlements
Admin Features
Wallet portal accessibility
Admin Dashboard
Smart contract tools
TVL tracker
Data and chart analytics
Website management system
Cross Functions of Aave Clone Script
Flash Loans: Users can borrow assets for a relatively brief time via flash loans, and they are suitable for arbitrage, refinancing, and other sophisticated trading techniques as long as the borrowed money is repaid in the same transaction.
Lending and Borrowing: Regardless of nationality or regional restrictions, any registered user may lend their cryptocurrency holdings to anyone. Along with earning more DeFi tokens, the customer is paid interest. By attaching crypto assets as collateral, consumers can easily borrow digital currency.
Earn interests: To calculate the interest rates for lending and borrowing, a special interest rate model is used. In order to ensure that rates are dynamically adjusted to maximize utilization and stability, the IRM is based on the supply.
Benefits of Our Aave Clone Script
Interoperability
Margin trading
Zero tax liquidity
Flash loans
Investment rewards
Highly secured platform
Arbitrage trading
Monetization strategies
Liquidity pools
Decentralization plays a main role
Entire customization made possible
How does our Aave Clone Script work?
In Our Aave clone script, both lending and borrowing process happens in a secured and non-custodial means. This will enable users to take part in the financial operations without any hassles. The workflow of our Aave clone is illustrated below as follows.
A user who wants to lend funds can put the funds in the liquidity pools and get constant interest based on the regulation of the market.
Numerous cryptocurrencies are supported in our Aave clone script,and it helps users to select the right choice.
Lenders are users who provide money to lending pools. They receive interest on their deposits based on how many borrowers use the pool. The lenders receive a proportionate share of the interest earned.
Subject to the pool's liquidity availability, borrowers can choose the cryptocurrency they want to use and the amount they want to borrow.
Assets Supported on Our Aave clone script
Aave (LEND)
Decentraland (MANA)
Tether (USDT)
Ethereum (ETH)
Uniswap (UNI)
DAI
Wrapped BTC (WBTC)
Augur (REP)
Synthetic (SNX)
Chainlink (LINK)
Maker (MKR)
USD coin (USDC)
Ren protocol (REN)
Why Choose Hivelance for Aave Clone script Development?
Hivelance is the top-notch DeFi exchange development company,helps entrepreneurs who aspire to work with for the purpose of developing DeFi lending & borrowing. We have prior experience in rendering the avant-garde decentralized P2P lending and borrowing ideologies. We also offer quality DeFi iterations across industry verticals with the help of a vast team of block geeks. In accordance with your company's needs and brand, we tailor the platform. To meet the needs of particular markets or user preferences, we can add special features, change the user interface, and tailor the platform. We create decentralized lending and borrowing platforms like Aave by combining the greatest aspects of blockchain technology and innate business acumen using open-source DeFi protocols.
For aspiring business owners and start-ups seeking a reliable software solution, our AAVE clone script is the perfect choice.