NFT
Mutant Ape Yacht Club Clone Script- Build Your Own NFT Marketplace Like MAYC
Hivelance offers pre-built and bug-free mutant ape yacht clone script that helps entrepreneurs and startups to launch their own feature-rich NFT marketplace like MAYC in a short span if time.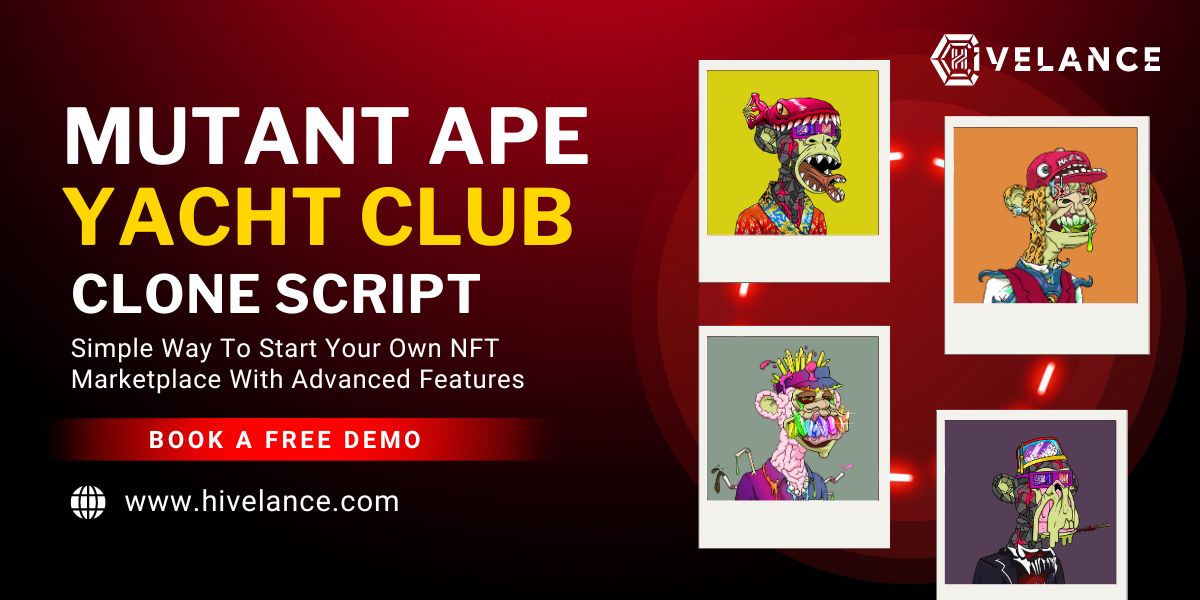 Mutant Ape Yacht Club Clone Script
Mutant Ape Yacht Club Clone Script is a premade solution which is the exact replica of NFT platform like Mutant Ape Yacht club with the similar features and functionalities.
At Hivelance, we provide a unique Mutant Ape Yacht club clone script that lets a sole proprietorship launch an NFT Marketplace where users can quickly exchange digital assets.
What is Mutant Ape Yacht Club?
Digital apes are quite known in the NFT world. Mutant Ape Yacht (MAYC) is the name of the second collection of NFT apes that Yuga labs has made available. The first Bored Ape Yacht Club made $1 billion in sales in less than one year. In a way, the follow-up, Mutant Ape Yacht Club was a huge hit. It generated $96 million in sales in the first one hour, and prices immediately doubled.
MAYC is an addition to the well-known Bored Ape Yacht Club NFT collection. The unique membership benefits, exclusive community access, and scarcity of the Mutant Apes have made MAYC a well-liked NFT collection. MAYC may continue to gain value over time due to its vibrant community, ambitious roadmap, capable team, and expanding network of alliances.
Whitelabel MAYC clone software
Our Whitelabel MAYC clone software is a 100% customizable solution that has a modification feature, enabling business users to integrate more APIs and blockchain technology. Hivelance offers Whitelabel MAYC clone software solutions to create your own branded NFT marketplace where users can purchase digital assets.
How unique Is Mutant Apes Yacht Club clone?
Community Advantages from the BAYC Ecosystem
The Mutant Ape NFTs provide you immediate access to the Bored Ape community and the same benefits as yacht club members. The considerable community benefits include access to premium items, insider information on fresh NFT drops, and tips and updates on them.
Rare Mutant Serum
The distinctiveness of Mutant Ape Yacht Club clones should also stand out as a noteworthy highlight for newcomers to the BAYC atmosphere. Among the different types of mutant serums, the M3 Serums offer the most uncommon qualities. The need for MAYC NFTs is significantly increased by the lack of serums.
Business Worth
NFTs from mutant apes could seem like just another NFT collection project. However, one must also take into account the commercial potential of mutant apes. Having a Mutant Ape NFT is also an obvious indication of social standing.
What are the reasons to Purchase Mutant Ape Yacht Club Clone NFTs?
MAYC clone might be a valuable addition to your library of NFTs for a number of reasons:
Several ways to build value association: With BAYC, a strong and exclusive community, special benefits, and the rarity of the collection all have the potential to increase demand and price.
A sizable and Vibrant community: The fact that MAYC clone NFTs have a well established private community makes them desirable to people wishing to join an exclusive social club.
A detailed project roadmap: The team was open about the dates and milestones on their roadmap 1.0. All deliverables have been completed , and a roadmap 2.0 with significant checkpoints has already been public.
A solid and trustworthy group: The same group that started BAYC is the group behind MAYC clone. The likelihood of the project succeeding increases with a strong and knowledgeable workforce.
Partnerships could encourage widespread adoption:BAYC and MAYC are already well-known brands in the NFT industry. New collaborations with companies like Animoca brands and others could spur increased usage globally.
How to develop an NFT Marketplace Like Mutant Ape Yacht Club?
The Mutant Ape Yacht Club NFT collection was created to give Bored Ape NFT holders a second NFT that is mainly separate but still based on Bored Ape features and attributes. In fact , people call them Mutant Apes. With the help of our MAYC clone script , you can easily develop an NFT marketplace where users can quickly exchange digital assets using MAYC NFTs.
How does the Mutant Ape Yacht Club clone function?
The Mutant Ape Yacht Club clone has up to 20,000 NFTs. There were 10,000 vials of mutant serum sold to the general public and 10,000 airdropped to owners of Bored Apes. The mutant serum is available in three different sizes: M1, M2, and Mega Mutant.
A new Mutant Ape is created by giving a bored ape a vial of mutant serum. The Mutant Ape clone will look like the original Bored Ape if an M1 or M2 serum is applied.
If a Mega Mutant serum is utilized, the Mutant Ape will be drastically transformed and may exhibit unusual characteristics. Mutant Ape NFTs, like Bored Apes, are created on Ethereum and stored as ERC-721 tokens.
Why choose for the development of the NFT Platform Like Mutant Ape Yacht?
Hivelance is a leading NFT Marketplace Development Company with highly competent blockchain developers who have worked on a wide range of NFT applications. After thoroughly comprehending the clients' needs, we start a plan to complete the job by the deadline. We can offer you high-quality, cost-effective solutions. We employ unique designs to set your business apart from the competitors.
If you are aware of developing an NFT marketplace like Mutant Ape Yacht Club then contact our experts !!