Cryptocurrency
Start Your Own Crypto Exchange Platform Like OKX with Hivelance's 100% multi-tested OKX Clone Script
OKX clone is a ready-made crypto exchange solution used to build an attractive and web3 ecosystem-based crypto exchange platform with feature-rich and advanced features.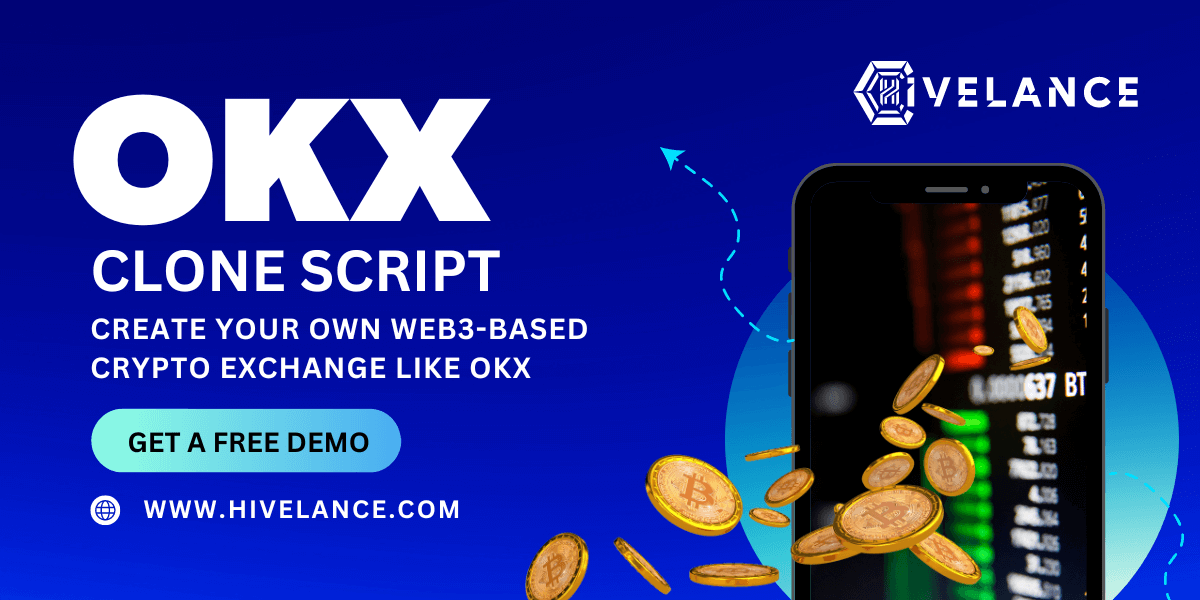 What is OKX Clone Script?
The OKX clone script is a ready-to-use website clone software that enables you to quickly launch an exchange platform for cryptocurrencies that is identical to OKX. The trading options and security features of the OKX platform are all present in the OKX clone script. The OKX clone script was entirely created using the most modern technology stacks and source code. This cloning software, like OKX, provides a variety of crypto trading pairings and major digital assets. Additionally, with OKX clone script solutions, you may effortlessly customize your favorite crypto trading pairings.
What is OKX Exchange Platform?
OKX is a cryptocurrency centralized exchange (CEX) and wallet platform based on Seychelles country that services millions of customers worldwide. The exchange provides fundamental trading options including spot and simple options, The OKX exchange supports both traditional crypto-to-crypto and fiat-to-crypto trading. Initially this exchange is started with the name of OKEx In January 2022, OKEx was rebranded as OKX
How does an OKX clone script operate?
A software program created to replicate the features and functionality of the OKX cryptocurrency trading platform is known as an OKX clone script. Here are a few example actions taken by an OKX clone script:
User registration: Users can sign up for the site by setting up an account, entering personal data, and proving their identification.
Deposits and withdrawals: Users can make deposits their funds using a variety of payment methods and withdraw money whenever they desire.
Trading: Using different trading pairs like BTC/USD or ETH/BTC, users can purchase and sell cryptocurrencies on the exchange.
Order book: The exchange keeps track of all user orders, including buy and sell orders, and matches them according to the best price at the time.
Charges: The exchange levies fees for transactions such as trading, deposits, and withdrawals. Fees are typically calculated as a percentage of the transaction value and may vary based on the type of transaction.
Security: The platform includes security features to secure user accounts and funds. This covers SSL encryption, two-factor authentication, and cold storage for funding.
An OKX clone script often operates on a centralized exchange model, where the exchange stores customers' funds and makes deals on their behalf.
What are the primary factors luring cryptocurrency traders to OKX exchange?
C2C OKX exchange
The abbreviation of C2C stands for customer-to-customer or peer-to-peer exchange platform, which enables users to purchase and sell digital assets like Bitcoin.
Exchange spot trading on OKX
The trader has access to 100 different token kinds during spot trading. There are numerous varieties of limit orders, including advanced limit, iceberg, triggered order, and algorithmic order, Trail order.
Future contracts on OKX
The futures contract of OKX is established to trade contracts of the Crypto assets such as BTC and LTC. Each contract specifies either USD100 worth of bitcoins (BTC) or USD10 worth of other digital assets (such ether, ltc, etc.). cryptopreneurs may open long-term accounts to boost profits from the price of a digital asset or short-term accounts to profit from the asset's price drop.
OKX Wallet Development Features
OKX wallet claims itself as a "portal to Web3," with a crypto hot wallet, decentralized exchange (DEX), an NFT marketplace, and decentralized apps (DApps) available. More than 30 blockchain networks, including well-known blockchains like Bitcoin, Ethereum,Solana, Polygon, Avalanche, Fantom, BNB Chain, and others, are supported by the wallet.
How to Create a Cryptocurrency Exchange Platform Like OKX?
Thoroughly examined the OKEX exchange platform.
To find What characteristics should an OKEX trading clone script have
Examine other well-known exchange websites to see what features they have that lure traders to them, then strive to incorporate those elements into your website.
Chosen the appropriate technology to keep the OKEX clone script's security.
The next stage is to integrate the features that users want into your platform and address the elements or concerns that the users dislike.
And follow another easiest way to buy the customized or readymade clone script without security issues, choose a trustworthy blockchain developer and bitcoin exchange platform development firm.
What distinguishes us from other OKX App Clone development companies?
Hivelance is the leading OKX development company Offering innovative and cutting-edge solutions for OKX clone script that can also help you stand out in the crypto market. Hivelance focuses on providing value, customization, enhanced API Features, expertise, innovation, and excellent customer service that can help you distinguish your crypto Exchange from others in the market.
Why Choose Hivelance For OKX Clone Development?
We are the pioneer developers of cryptocurrency Exchange and Exchange scripts, Hivelance consists of a team of experienced developers who have expertise in the blockchain industry for over 10 years. Offering innovative and cutting-edge solutions can also help you stand out in a crowded market. Also providing excellent customer service can also differentiate your company from competitors.