DeFi
DeFi Yield Farming Platform Development - Key Factors for Developing a Profitable Yield Farming Platform
Hivelance is a top-notch DeFi Yield Farming Development Company that offers end-to-end Yield Farming Development Services & Solutions.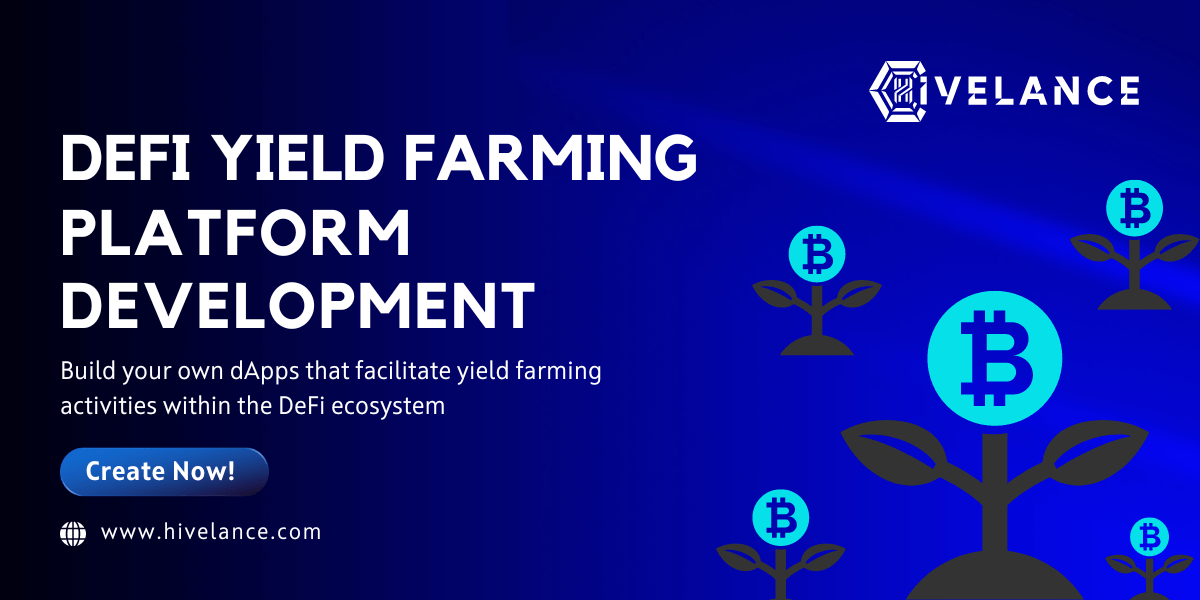 DeFi Yield Farming Development Company
Hivelance is a DeFi Development Company collaborating with major crypto exchanges globally, and we are knowledgeable about the specifics of DeFi yield farming. In recent times, DeFi Yield Farming is one of the most popular and well-liked topics in the DeFi market. We have a history of executing reliable and secure DeFi Yield Farming systems with great success.
What is DeFi Yield Farming?
DeFi Yield Farming is the practice of staking or lending bitcoin within DeFi protocols to generate substantial returns in the form of interest, rewards, or extra cryptocurrency. The term "farming" alludes to the enormous interest generated by the availability of various DeFi protocols' liquidity. DeFi protocols also give out tokens, which stand for each user's portion of the liquidity pool and can be transferred to other platforms to maximize gains in addition to prizes.
DeFi Yield Farming Platform Development Services
DeFi Yield Farming opens up revenue streams for both platform owners and liquidity providers. Thus, there is now a higher need for DeFi Yield Farming Development. Hivelance can support you in your endeavor whether you are a start-up or an established business planning to construct your DeFi Yield Farming platform. We provide the most comprehensive DeFi Yield Farming services, including the development of a smart contract-driven liquidity pool. We can assist you in realizing creative ideas to enhance user experience and accelerate time to market.
Our services for Defi Yield Farming Development
We offer platform owners using our DeFi yield Development service the option to pick whether to pay their customers in cash or coins as a kind of reward. The most common method is giving out tokens that stand in for the value and kind of each user's asset when they add it to our liquidity pool. There are more choices where users contribute new funds and in return earn bitcoins rather than traditional currency such as cryptocurrency-based reward programs.

Exchange Fee

As compensation for introducing, businesses can provide their clients a portion of the fee assessed when tokens are exchanged. You ought to reward them for the value they add on both sides by allocating them a portion of the revenue generated using incentive schemes.

Liquidity tokens

As a reward for adding liquidity to the pool, provide user tokens. These tokens are staked by liquidity providers or placed in another smart contract for later exchange for additional tokens. Users now have the possibility to increase their holdings without staking on too many risks due to this development.

Governance tokens

Use governance tokens to reward business users for increasing the liquidity pool. Holders of tokens can also take in important choices affecting the DeFi ecosystem's fundamental laws and norms. The more people who acquire tokens, the more sway they will have over how the new system functions.
Features of DeFi Yield Farming
The following list outlines the characteristics of DeFi that make yield farming possible,
Immutability

DeFi uses blockchain technology, therefore all of the data is unchangeable. Financial transactions are more secure and easily auditable due to tamper-proof information.
Programmability

Execution and the production of digital assets are automated by highly programmable smart contracts.
Interchangeability
Applications and protocols for DeFi are already combined and integrated. DeFi gives developers the freedom to extend in-use protocols, alter user interfaces and include third-party software.
Transparency
DeFi gives an immense amount of transparency in all transactions, data, and codes because it runs on blockchain technology. This degree of openness around transaction data fosters confidence and guarantees that all users have access to network activity. DeFi protocols have open-source code that is accessible to everyone for witnessing, understanding, and auditing.
Permissionless
DeFi permits open and unrestricted access. It indicates that anyone having a crypto wallet can use DeFi applications, regardless of where they are or if they have the necessary resources.
Self-custody
Participants in the DeFi market can maintain custody and control over their assets and data. Using web3 wallets like Metamask, they can connect with permissionless financial applications and protocols.
Benefits of Developing DeFi Yield Farming
There are several benefits of DeFi Yield Farming Development, some of which are described here.

Simple user interface

Investors use a variety of apps to keep track of their finances. These apps are made with an excellent user interface to assist you in checking the projects that require staking and choosing for cryptocurrency contribution.

Easy Begin

Due to DeFi software's high degree of compatibility, you can get going right away. The only two requirements are Ethereum and a crypto wallet.
Revenue Potential

Participants who invest their cryptocurrency in protocols early stand to earn.

Interoperability

The DeFi sector is highly adaptive and compatible. Several DeFi platforms stake bitcoin and transmit it instantly from platform to platform to increase investment outcomes.
How Does DeFi Yield Farming Work?
Initially, Funds from liquidity providers are deposited into liquidity pools which are effective collections of smart contracts. Stablecoins with a USD peg such as DAI, USDT, USDC, and others are frequently used as deposit money. Smart contract restrictions and yield farming platforms unlock this money which was previously locked by smart contracts.

Then, the marketplace where users can trade, borrow, and lend money is under the supervision of these liquidity pools. Users of the DeFi platform are responsible for paying the costs. Thus, the advantage of earnings based on the value of their funds can be reaped by liquidity providers.

Next, by placing their money in the pool, the liquidity providers are compensated with fees. According to the amount spent, the returns are generated in either cash or tokens.
Finally, the cash rewards or tokens are placed in liquidity pools. By reinvesting and moving the awarded tokens into different liquidity pools to reap higher yields, the liquidity providers seize this chance to develop complicated investments. It will support the LP's efforts to diversify its holdings of cryptocurrencies. They can maximize the advantages of yield farming by implementing an effective approach.
Thus, it implies how a more active pool could bring in greater revenue from fees for liquidity providers. Most of the money deposited in yield farming is in stablecoins like USD, DAI, USDT, and BUSD which are pegged.
Earnings in DeFi Yield Farming Calculation

Total value locked (TVL)- Give your users the chance to comprehend how much money is locked in a pool for generating money.

Annual percentage rate (APR) - Users can also make investment decisions by looking at the annual payment amount, without taking compound interest into account.
DeFi Yield Farming App Development
DeFi Yield Farming App Development entails building a decentralized platform that allows investors to receive returns on their bitcoins holdings by ending or staking them to liquidity pools. Such an app goes through several stages of development, including frontend and backend development, testing, and deployment.

As a renowned DeFi Yield Farming Development, we can offer end-to-end solutions for creating a custom app that complies with industry standards and fits the particular needs of your business.

Several DeFi Yield Farming Platforms and Protocols

There are numerous platforms and protocols available on the market for DeFi yield Farming. Each yield farming method has its own set of restrictions and hazards. Some of the platforms and protocols for cultivating cryptocurrency yields are,
Aave
Balancer
Curve Finance
MakerDAO
Synthetix
Compound Finance
Yearn Finance
Uniswap
Why Choose Hivelance For DeFi Yield Farming Development?
As a DeFi Yield Farming Development Company, Hivelance is an expert in offering all-inclusive solutions for yield farming development. We provide experience in the base of yield farming and cutting-edge technology capabilities in finance. Our team of blockchain developers works to supply you with the best services so you may start your own DeFi Yield Farming platform.
If you are trying to use DeFi Yield Farming to increase high liquidity on your exchange platform then we are ready to assist. We guarantee to provide you with highly unique and immutable DeFi solutions.