Cryptocurrency
KuCoin Clone Script: A Complete Guide to Build Your Own Crypto Exchange
Create a business oriented and user centric cryptocurrency exchange like Kucoin.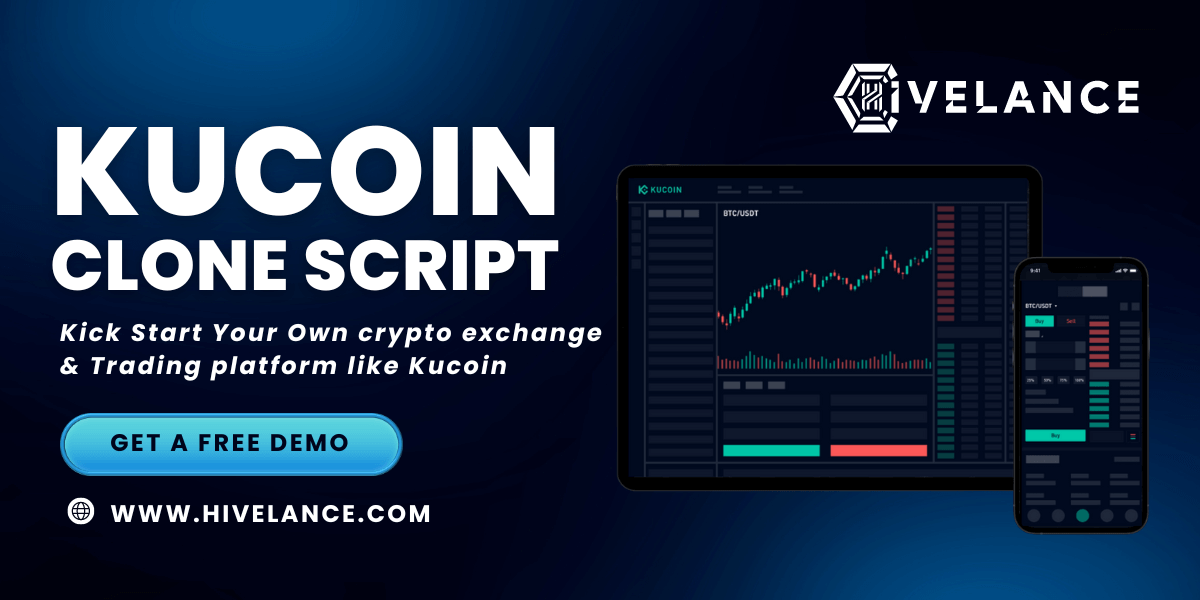 Create a business-oriented and user-centric cryptocurrency exchange like Kucoin. Our Kucoin clone script can enable you to implement all the trading models like spot trading, margin trading, futures trading, crypto lending, Trading bot, and staking options.
Read the blog completely to understand more about this Kucoin clone script.
Kucoin Clone Script
Kucoin clone script is made for people who don't have a technical development team to develop the crypto exchange from the start. Literally, Kucoin clone script can also be called a well-developed crypto exchange platform that can be customized with any implementation. It represents and works with every feature that's been seen on KuCoin exchange.
White Label Kucoin Clone Software
White-label Kucoin clone software is a fully customizable cryptocurrency exchange software that replicates core features and functionalities of the existing Kucoin exchange. Our White Label Solution offers a turnkey solution for startups and entrepreneurs who want to launch their own cryptocurrency exchange without the need for extensive development. Our white-label Kucoin clone software can be customized to match the branding and specific requirements of your business needs with advanced security features, multiple payment options, and support for a wide range of cryptocurrencies. It helps you launch your own cryptocurrency exchange platform like Kucoin in a short span of time.
User-centric features in Kucoin clone script
Spot trading
Spot trading is the primary trading mechanism followed in every crypto exchange. The trader login the platform analyzes the prize chart, and buy them at real-time pricing at the moment. The trade gets completed instantly.
Margin trading
Margin trading is made for advanced traders who have experience in trading. The crypto exchange platform lends some amount of crypto in advance and facilitates the users to trade for high profit. Interest is charged with respect to the amount borrowed.
Future trading
Trading on a p2p agreement basis with the help of smart contract code. Users are required to find the crypto price fluctuation and predict them in advance to get profits. Without owning the assets, and not being affected by volatility, the users get the benefits.
Kucoin Earn
It is generally a digital asset management service in which users can access various investment opportunities on fixed terms. The one dashboard that maintains and tracks all the investments carried out in the exchange platform.
Crypto lending
P2P lending feature that carries out the crypto lending process subject to fixed terms and conditions. The interest rate and lending limit can be manually set by the users or auto-lending is also available when users don't have time.
Trading bot
Trading bot is an AI-based trading system that has been introduced for reducing users' time in managing trading. The bot can automatically trade on behalf of the traders following all the conditions fixed priorly. It eliminates human error and reduces volatility.
Business-oriented features in Kucoin clone script
Token listing - The token listing option is designed and coded inside our Kucoin clone script. It helps entrepreneurs to monetize their platform in return of token listing as a service.
Spotlight application - Spotlight application invites crypto project owners to get spotted in the featured section of the platform. The project or coin gets maximum attention and recognition in the market.
Market maker incentive program - The users will be rewarded with incentives for providing liquidity in the platform. The token holders will be greatly benefited from the program.
NFT launch platform - The NFT launch marketplace is open for NFT creators to list their collections and sell them. This NFT launchpad program is exclusively available in our Kucoin clone script
P2P Merchant program - The pre-screening application for p2p merchants to join the p2p trading mechanism. Anonymous traders get eliminated and maximum security is ensured for users' funds using this program.
Default features in Kucoin Clone script
Order matching engine

Trade order book

Liquidity API

Admin dashboard

Security plugins

Payment gateway protocol

Third-party payment channels

Wallet support

Mobile app for Users & Admin

Market data API

Currency pairs

Multilingual translation

Lightning network integration
Why are we better than other Kucoin clones?
The Kucoin clone we developed is the fully completed functional model.

The Script is coded with an easy-to adaptability nature when making any code adjustments.

Keeping scalability in mind, our Kucoin clone script is designed with the latest tech stack and loads faster in your servers for handling all the operations.

We at Hivelance Technologies have 30+ in-house developers to take care of your exchange in case of any issues.

100% White label Kucoin clone solution that's hassle-free to make any optimization.
Kucoin Clone App Development
Kucoin clone is available with us in both web and mobile applications. You can launch the crypto asset exchange in both formats without spending much time in developing each separately.
Moreover, Flutter and React Native are the technologies we are employing in the Kucoin clone app so development cost is reduced. You can get an affordable Kucoin clone app solution with no limit on the number of screens, API integration, and UX optimization.
Why Choose Hivelance for Kucoin Clone Development?
Hivelance is the leading cryptocurrency exchange clone script provider in the crypto industry. Being a leading provider of crypto exchange platforms , we have years of experience in developing popular exchanges like Kucoin, Binance, Coinbase, Paxful, etc. Hivelance offers a feature-rich KuCoin clone script with advanced trading modules and high-end security measures. We have a team of skilled developers who are expertise in develop your Kucoin clone software based on your business requirements. We specialize in providing all types of cryptocurrency exchange solutions with superior results at an affordable cost.