Metaverse
Alienworlds Clone Script - Create NFT Metaverse game like Alien Worlds
Hivelance is one of the few blockchain companies efficient in developing Alien worlds clone scripts.Our deep expertise in NFT and blockchain gaming can make your game the best play-to-earn game in the market.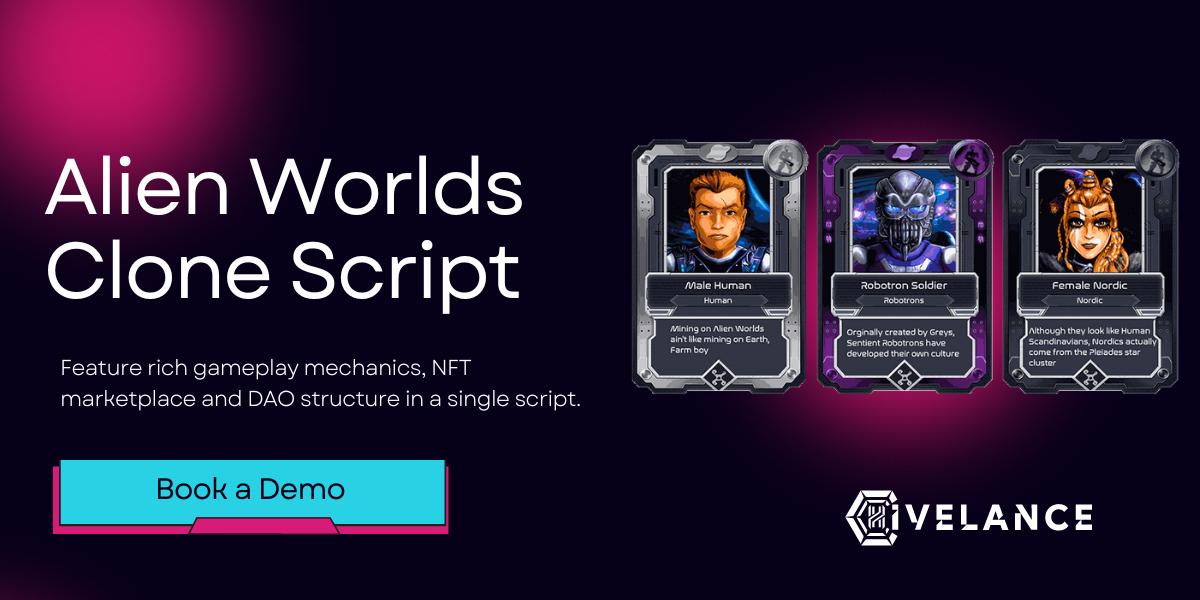 Blockchain Multiplayer games overview
Blockchain Multiplayer games are the newest kind of play-to-earn games that involves multiple players to participate and earn through that. There are different kinds of genres like Arcade, RPG, AAA games, Casino etc. The main difference between the traditional games and blockchain games lies in the ownership of the in-game items.
In Blockchain games, players can have full control over the underlying assets and they can sell it on secondary marketplaces for profit. One of the popular Multiplayer games is Alien worlds.
Alien worlds is the science fiction multiplayer game that is operated under the blockchain protocols. Combining both the NFT and attractive game play mechanics together, this game surpassed all other decentralized games in its user base volume.
Moreover, the trading volume is increasingly higher than popular games out there. Let's see the detailed analysis of Alien worlds clone script and its specifications here in this blog.
Alien Worlds Clone Script
Alien worlds clone script is the NFT Metaverse game script that contains all the features and specifications similar to Alien Worlds. The script has in-built blockchain architecture, smart contract integrated and utilizes NFT gameplay mechanics. Entrepreneurs and Developers can use the alien worlds clone script to kick-start their NFT gaming metaverse in a swift.
Features of Alien Worlds Clone Script
Hivelance have built Alien Worlds Clone Script that's powered with the most robust features similar to the original game as you can find them in detail.
1. Staking Program
Players can stake their native cryptocurrency inside the game to yield the rewards. Whoever holds the coin for a long period of time can earn the maximum returns as per DAO protocols.
The staking program would likely refer to a process in which players can earn rewards for holding and staking their NFTs, which represents the ownership of a specific area on a virtual planet. This can be used to gain access to exclusive content, in-game bonuses, or other benefits.
2. Mining Adventure
Mining adventure refers to the gameplay feature which is the hypothetical extraction of resources from extraterrestrial bodies, such as asteroids or moons. This type of mining would likely be done by spacecraft machines and would require significant in-game assets to make it possible.
3. Multiple DAOs
A multiple DAO system in alienworlds.io would allow for the creation of multiple independent organizations within the platform, each with their own distinct governance structure and decision-making processes.
It would enable a more decentralized and autonomous ecosystem, where players can have more control over the virtual worlds they are part of and create more diverse and competitive virtual planets.
4. Cross-chain NFT Trading
The in-game assets like NFTs are compatible in cross chain blockchain networks. The NFTs can be traded on different games or virtual metaverse where individual players can make money while playing.
Alien worlds can support cross-chain operability and give the users more economical freedom to utilize their earned NFTs.
Benefits of Alien worlds Clone Script
Customizable
Alien Worlds Clone script is designed with full customization options, that you can modify and adapt the script to your specific needs and requirements. This can be done through simple modifications to the code, or by adding new features and functionality.
Pre-loaded Features
Pre-loaded features in a clone script is nothing but the set of functionalities and features that are already built into the script and ready to be used. These features are included as part of the script, and can be used or customized to suit the user's needs.
Cost effective
Customizable clone scripts can help to reduce development costs, as they provide a pre-built codebase that can be easily adapted to suit the needs of the project.
Efficiency Tested
Efficiency testing is done already in the Alien worlds clone script. It is the process of evaluating the performance of the script in terms of its speed, scalability, and overall performance. This type of testing is important to ensure that the script can handle a high volume of traffic and user requests, and that it can scale to meet the demands of a growing user base.
Why choose Hivelance for Alien Worlds Clone Development?
Hivelance is one of the few blockchain companies efficient in developing Alien worlds clone scripts.Our deep expertise in NFT and blockchain gaming can make your game the best play-to-earn game in the market. We have made blockchain games for our clients with efficient scalable infrastructure. Cross-chain bridging, encrypted security features, intuitive user interface development, and customization are the unique functionalities you can never find somewhere else.
Need more about this? Book a Demo for Alien Worlds Clone Script