BC.Game Clone Script for building Feature-Rich Crypto Casino Games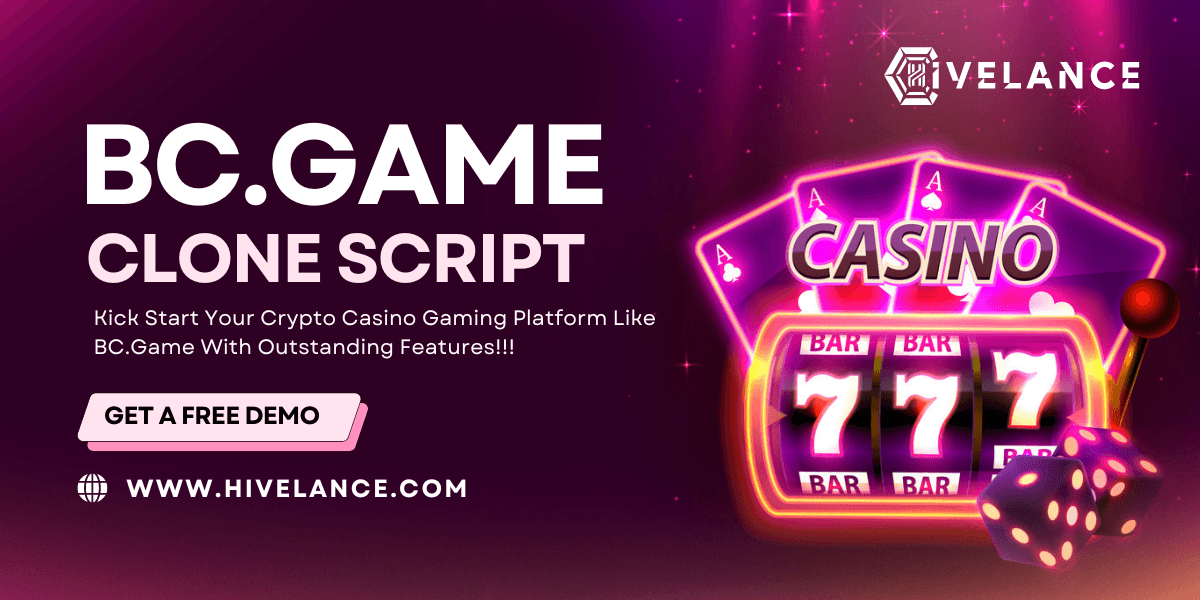 People get attracted by casino games as the rewards obtained are huge. In recent times, after the evolution of cryptocurrencies the casino game markets are at a high peak. Players are showing more interest to invest in such platforms and win rewards in the form of crypto coins or tokens. BC game is one such casino game in trend now. As this gaming platform is built using blockchain technology, security and reliability prevail at the maximum level.
Be a part of the crypto world by earning special rewards like loyalty programs, ability bonuses, and so on. In this blog, Building a BC game clone with the vital rewards offered to the players are discussed in detail.
What is a BC game?
BC.Game is an online crypto casino game platform where users can engage themselves in gambling games. These slot and crash games tend to provide various gaming options and casino live streaming. By depositing bitcoins, players can begin their gaming journey and start to gamble with their opponents.
Related - Blockchain Game Development
What is BC.Game Clone Script?
BC. Game clone script is the cloned version of the popular Crypto casino game BC.Game. This crypto casino game source code can be purchased and installed directly installed to servers by doing little customization. The gaming modules, user interface, administrative panel, Gaming mechanics, and Payment gateway support are developed as per BC.Game.
White Label BC Game Clone Software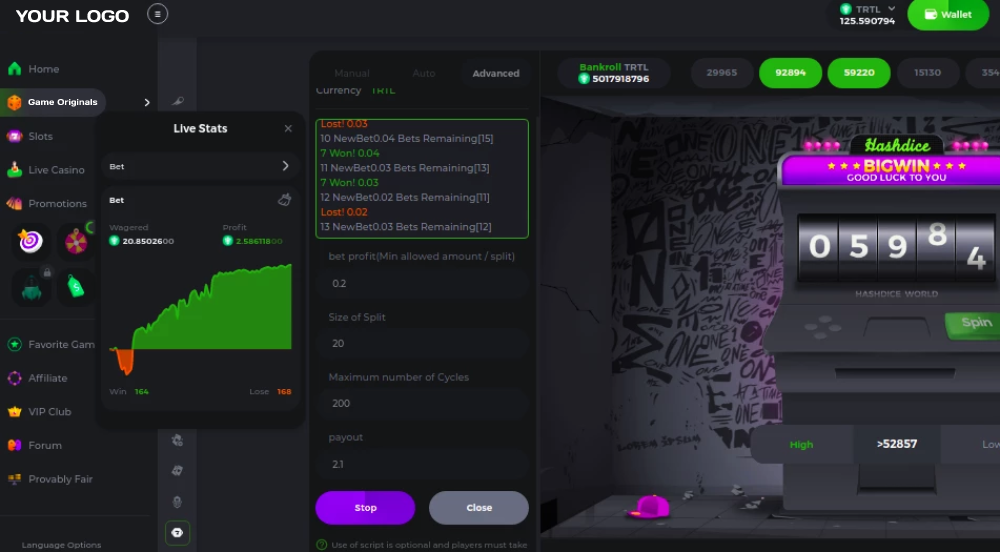 BC Game clone software is a customized solution and a replica of BC games with all add-on features as per the user's demand. We at Hivelance can develop your BC game clone software with high-end programming codes with high standardized business operations and performance. Startups and entrepreneurs with an aim of capturing the top position in the crypto industry can adopt solutions to create your BC game clone software for an engageable gaming experience.
Key Benefits of our BC.Game Clone Script
Shit codes: While users enter the shitcode, Users get a bonus or free money credited to their BC Game account. Players receive rewards for completing tasks like inviting a friend to play, making bets, recharging/ topping up their account, and for chatting purposes too.
Cross-chain facility: Our BC game clone script is designed with an interoperability feature enabling users to get access to the in-game assets that can be used for further processes.
Slots: There is an option for the players to select the best slots and maximize the rewards with the ability to participate in new games.
Multi-currency support: Our BC game clone script is built in such a way to support multiple cryptocurrencies and helps in easier transaction processes.
High security: Our BC game clone is powered by Blockchain and hence it comes with hi-tech security features and every transaction here is transparent and traceable easily.
Extra rewards: Our platform provides special features that allow the players to receive an ability bonus, daily bonus, lucky prize, and so on.
Online forums: With our BC Game clone platform, Gamers can discuss a variety of topics with other players and post content on the online forum.
VIP unlocked rights: VIPs of the platform will have the access to exclusive features, cashback offers, and so on. SVIP levels are the upgraded version of the VIP Program and gamers can obtain daily coin drops, giveaways, an exclusive chatting menu, a celebrity specially treating facility, red carpet parties, and so on.
BC Game Hash Dice Clone script
BC Game Hash Dice Clone is the most popular crypto gambling script that helps to launch BC Game Hash Dice. Our script typically includes a user interface that allows players to place bets and view the outcome of each roll. The script also includes backend functionality that manages the betting process, calculates payouts, and ensures the randomness and fairness of each roll using a provably fair algorithm. Hivelance offers a BC.GAME Hash Dice Clone Script that is a complete and efficient solution for starting an online crypto dice gaming platform. Our script is built on a secure blockchain platform and includes advanced features for fair and transparent gameplay. It is highly customizable and supports multiple cryptocurrencies.
BC Game Crash Clone Script
A BC Game Crash Clone Script is a software program that replicates the functionality of the popular online casino game, BC Game Crash. The game involves placing a bet and watching a multiplier increase until it crashes, at which point the player either wins or loses their bet depending on their timing.The BC Game Crash Clone Script ability to customize various parameters such as the multiplier rate, the crash point, and the maximum bet amount. Hivelance offers a customizable BC Game Crash Clone Script, built with advanced programming languages and high-security features. It offers real-time updates, secure payment gateways, and user-friendly interfaces, enhancing player engagement and retention rates. The clone script is a cost-effective solution for novice and experienced entrepreneurs seeking to enter the online gaming market.
How to build Crypto Casino Games like BC.Game?
Many Crypto Entrepreneurs had the dream of building a Crypto casino game like BC.Game. But half of them ended up in halfway stage due to technical obstacles.
What's the solution? If you are the kind of serious entrepreneur who still wants to develop games like BC. Game? You can make use of the BC.Game clone script to get started immediately. The expense for the script is comparatively lower than from scratch development. Additionally, you can make any new changes in the game post-release.
Follow the simple stages of development as follows.
Step 1 - Idea visualization
Step 2 - Build Prototype or MVP version
Step 3 - Game engine development
Step 4 - Game UI Design & Integration
Step 5 - Database architecture development
Step 6 - Testing phase
Step 7 - Game Release
Features of our BC.Game Clone Script
We at Hivelance have prepared the BC.Game clone script with ample features & benefits. You can get our script license and continue tweaking its features if needed.
1. Sign-up and profile management
The user signup process and profile management is intuitive in our script. Users follow a simple step process for creating their gaming profile. They can even opt-in to sign up as game developers and upload their own games.
2. Payment integration
Payment in crypto casino games is processed with multiple cryptocurrencies. The payment gateway we integrated inside our script can handle cryptocurrency transactions faster than ever.
3. Customer support system
The user queries, technical glitches, refunds, and platform usage guides are easily clarified through the best customer support system. It includes forums, a ticketing system, Q/A, and a chat system.
4. Social Media sharing
To grasp the millions of other gaming peers, players should access powerful social media platforms. We designed the crypto casino game clone with in-built social media sharing APIs which is handy for developers.
5. Bonus & Rewards
The bonus & rewards sections are powered by the automated commission distributed protocols. Managing the user funds, allocating referral commission rewards, and game rewards are all regulated by the administrative panel.
6. Multi-gaming modules
There are different types of gaming modules embedded in our BC.Game clone script. Casino games, Lottery games, and General Sports games are packed to attract users in an engaging way. You have the option to add customized game types after the game is released.
Security features incorporated in our BC clone script:
As we focus on the security of the players vitally, some of the enhanced security features we have included in our script are:
Virtual private network( VPN)
End-to-end encryption
Firewall implementation
Secure shell( SSH) network communication protocols.
Vital factors supported by our BC clone script for players' convenience:
Stablecoins are accepted for easier processing
Rewarding special bonuses for the players
DeFi tokens are supported while participating in the casino games
Multiple cryptocurrency support.
Game modules in our BC. Game clone script
ATM Game

Roll game

Noce Dice Game

BlackJack game

Casino game

Lottery game

Sports game
Why is it Essential To Make Use of a BC.Game Clone?
Gaming platforms have grown in popularity in this digital era, with an increase in the number of people using these platforms to play their preferred Casino, Dice, Wheel, Poker, and so on. As a result, crypto casino platforms such as BC.Game, Betfury, and Bitcasino have seen phenomenal growth worldwide. The tremendous growth of the crypto casino gaming sector has piqued the interest of many entrepreneurs in entering this thriving field. However, developing a well-developed crypto casino gaming platform from the ground up will undoubtedly be a never-ending task requiring a significant amount of time and money.

So, the best option is to go with a readymade and customizable BC.Game clone script. This is because of a ready-to-use BC.Game clone will be pre-built with all necessary inclusions to arrive at a comprehensive crypto casino like BC.Game. Also, you can add the required features without any troubles with a scalable BC.Game clone. Therefore, go for a reliable BC.Game clone to build your own unique community-based crypto casino gaming platform on different blockchain networks such as Ethereum, EOS, Binance Smart Chain, Solana, Polygon, and more.
How our BC.Game clone helps in building a robust Crypto Casino Gaming Platform?
Our team of experts has rich expertise in delivering optimal clone scripts for crypto-based casino gaming business models over the years. Our precisely crafted BC.Game clone script includes many alluring features and leading-edge technologies to arrive at a complete crypto casino game like BC.Game
Also, our BC.Game clone supports the formation of additional features and functions based on the crypto casino gaming platform requirements and so will perfectly suit crypto casino business models. Our BC.Game clone is also subjected to strict testing steps to ensure unparalleled performance.
To say in a nutshell, our BC.Game clone script will be the apt choice to build an outstanding crypto casino gaming platform with avant-garde inclusions. So, utilize our BC.Game clone and set a strong footprint in the gaming business
Simple Steps To Create A Crypto Casino Gaming Platform Like BC.Game
Get our customizable, ready-to-market BC.Game Clone Script

Understanding business objects and unique requirements, We will customize the BC.Game Clone Script with help of expert developers

Add custom features and integrate Third-party APIs exclusively to run effortless services

Now launch your community-based crypto casino gaming platform into the market and we provide maintenance/support services for future upgradation
Cost to develop Crypto Casino like BC. Game
There should be a lot of resources needed to develop such a game project. The game founder should employ expert game developers, crypto payment support engineers, Front-end backend developers, Game designers, and smart contract developers to do that.
From scratch, development seems to be a tedious process too. To know the exact cost breakdown of such crypto casino game development, connect with our team. We will explain the cost aspect of every process in detail.
Hivelance's Experience in Crypto Casino game development
We at Hivelance, have rich experience in building crypto-based casino games development. In specific, we have developed a gaming infrastructure for blockchain games with less complexity.
Our team includes dedicated resources like UI/UX designers, gaming architects, web developers, mobile app developers, blockchain specialists, and expert project managers. From creating a prototype to validating the testing phase, our team takes the entire process on its shoulders and guides your project toward the vision.
Why Hivelance for BC.Game Clone Script Development?
As a leading blockchain game development company, Hivelance can build a properly structured BC gaming clone platform with all your customized ideas and agnostic technologies. Our BC game clone script is fully furnished with attractive UI/UX designs and hence can attract millions of users to the platform. Are you waiting to rule the crypto sector with huge profits? Get our BC game clone script with unique patterns and the safest transaction processes. Our expert panel can assist you in providing the roadmaps along with development procedures with all cost-effective guidelines.
Loyalty programs

Multi-platform compatibility facilities

The safest platform for transactions

Customized ideas implementation with an online inquiry option

A team of well-talented and trained resources for BC game development.

On-time rendition of the gaming platform

24/7 technical support

Video calls for assisting the clients with clear ideas.