Cryptocurrency
Benefits of Custom P2P Crypto Exchange Development for Business
Learn about the main characteristics and potential revenue streams connected to P2P crypto exchange software development. Investigate the realm of decentralised finance and discover new opportunities in the Cryptocurrency space.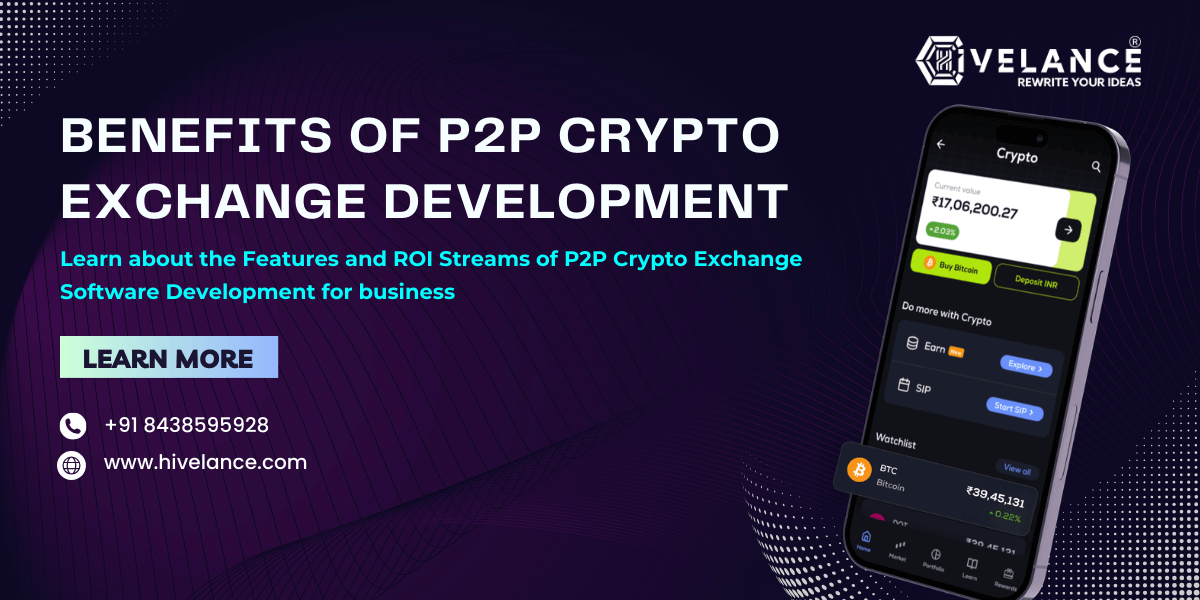 Building a P2P cryptocurrency exchange is an exciting business project in the blockchain and virtual currency realm. P2P exchanges offer a decentralized environment and direct way to trade cryptocurrencies, offering advantages including enhanced anonymity, control over funds, and no intervention of middlemen. Through the use of smart contracts or escrow services, these platforms enable safe and trustworthy transactions. Strong security measures are being put in place, such as encryption, two-factor authentication, cold storage for user funds, and security audits.
Features that are enticing to adhere your Crypto Business:
P2P cryptocurrency exchange launch requires a variety of qualities that guarantee security, convenience, and reliability. Following are the features required:
User Profile: Administration of profiles, including personal data , verification status, Ratings and transaction history are displayed.
Trading pairs: Order book that shows purchase and sell orders in real time is integrated and supports several cryptocurrency trading pairs.
Integration of smart contracts: The use of escrow services or smart contracts to store cryptocurrency plays an important role until the transaction is finished.
High end Security aspects: User funds are kept in cold storage to avoid hacking and vulnerability analyses, regular security audits are done to
Encrypt the user data.
Order matching Engine: A speedy and effective order matching engine for trade execution is incorporated to deal with large trade volumes.
Liquidity management system: Order routing and liquidity pools are two tools for managing liquidity included in the platform.
Multiple Payment methods: Multiple payment options, including bank transfers, online wallets enhances the easier transactions.
Unlocking the Benefits of Launching your P2P Crypto Exchanges:
Peer-to-peer (P2P) cryptocurrency exchanges provide users and the overall bitcoin ecosystem with a number of advantages. Among these advantages are:
It incorporates the dispute management system
Deposit and withdrawal functionalities plays a vital role
Robust admin dashboard to manage the transactions
Regulatory compliance and audits
Mobile apps format available enabling both android and ios versions
No need for central authority
User privacy enabled
Lower trading fees
Global accessibility
Full control over user funds
API Integration
Multi-lingual support
Cost for developing the P2P Cryptocurrency Exchange:
Developing a P2P Cryptocurrency exchange depends on various factors. Subjecting to the features and functionalities, the needs for businesses vary. Based on it, the cost for designing, developing and launching might differ. Hivelance is the leading Cryptocurrency exchange development company who are well famed in developing the P2P crypto exchanges in a reliable and cost-effective way. We have a team of developers who are proficient in establishing all features that are in market trend into your exchange platform.
Revenue Streams of Our P2P Crypto Exchange Platform:
Different revenue sources and business methods are involved in running a P2P cryptocurrency exchange. The following are some significant revenue considerations:
Withdrawal and deposit fees
Listing fees
Trading fees
Lending fees
Margin trading fees
Advertisements
Referral programs
Sponsorships
Token sales
Staking and yield farming
Hivelance, the trustworthy Partner in developing your P2P exchange
Hivelance is a renowned and specialized company with a focus on developing cryptocurrency trading platforms, especially the development of P2P cryptocurrency exchange that lets users purchase and sell digital assets directly with one another without the necessity of a centralized middleman. Our professionals have in-depth knowledge of smart contracts, cryptocurrency protocols, and blockchain technology. We provide tailor-made solutions to satisfy each client's particular needs and goals. To draw and keep traders on the platform, we build a seamless and user-friendly UI and UX. Increased trading volume and user growth are accommodated by our P2P exchange platforms. We offer continuous support and upkeep services after launch, such as bug modifications, software updates, and user assistance.
Contact our Developer team for build your P2P Crypto exchange Software