DeFi
Maximizing Returns: How Our PancakeSwap Clone Script Empowers DeFi Investors
Explore the startup guide to learn about the business benefits of the Pancakeswap clone script, which allows cryptopreneurs to rapidly create their DEX like PancakeSwap.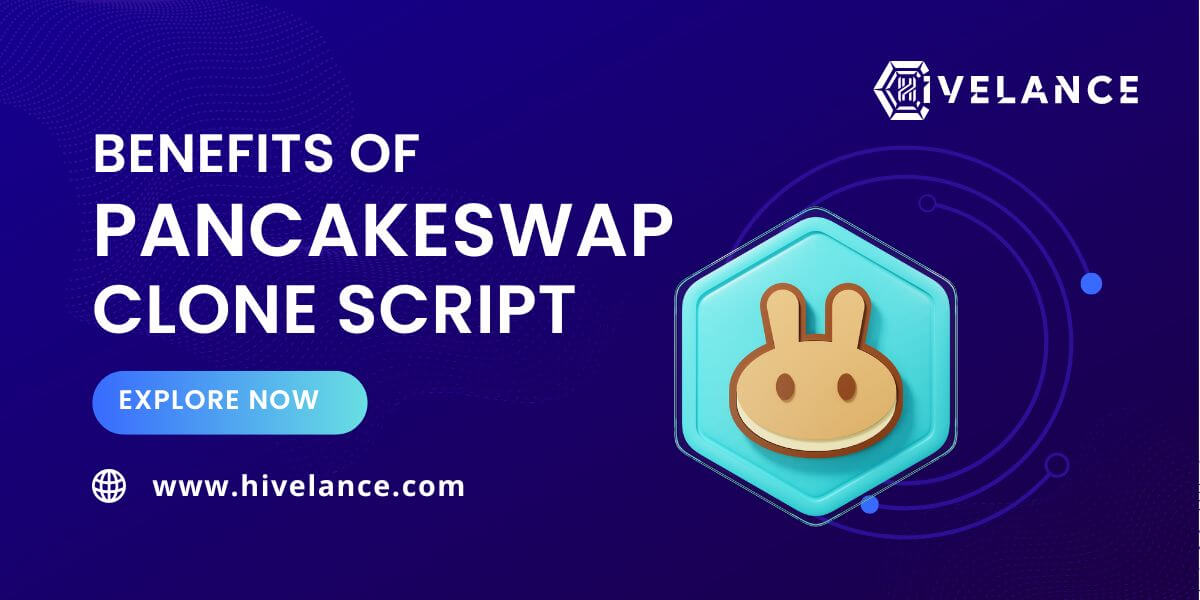 Recently, decentralized finance has emerged as the hyped-up trend in the cryptocurrency world, and many startups and cryptopreneurs are eagerly waiting to create a DeFi-based exchanges with advanced features. The development of a new business model and the exploration of its market are both revenue-generating ideas.
DeFi, which stands for Decentralized Finance exchange, provides numerous beneficial programmes to startups and investors to help them begin their businesses and can provide multiple possibilities for those looking to expand their business in the crypto market. If you're ready to create your DeFi exchange like Pancakeswap to the next level and reach your global audience, keep reading our blog. We provide complete solutions, in this blog we explore the benefits of Pancakeswap clone script to materialize your decentralized exchange business dreams..
PancakeSwap Clone Script:
PancakeSwap clone script is a revolutionary and innovative way to create a decentralized finance (DeFi) exchange like PancakeSwap on the Binance Smart Chain (BSC). It allows entrepreneurs and cryptocurrency enthusiasts to build automated decentralized finance protocols without any coding knowledge. Easily deploy the PancakeSwap clone script on BSC to set up a productive DEX liquidity pool within minutes. The clone script is a comprehensive and powerful solution that enables users to start trading digital tokens like ETH, BTC, BNB, and others instantly.
Benefits of PancakeSwap Clone Script:
Crypto entrepreneurs and enthusiasts have much to gain from PancakeSwap Clone Script. Here are some of the most common benefits of deploying this clone script:
Instant Deployment:
Using the PancakeSwap Clone Script, crypto entrepreneurs and enthusiasts can launch their DEX liquidity pool with one-click without any hassle. It is simple to set up and the script has a ready-made UI for users to customize as per their branding needs.
High Security:
PancakeSwap clone script is built with robust and secure protocols to ensure a safe trading experience. It comes with advanced security modules that protect user accounts and assets from any unexpected hacks or viral attacks.
Custodial Services:
An entrepreneur deploying the PancakeSwap Clone Script does not have to worry about the custodial services as the clone script takes care of the entire security system itself. With end-to-end encryption and account-wide security protocols, PancakeSwap clone script eliminates the need of any custodial services and ensures a secure user experience for traders.
On-chain Liquidity:
With PancakeSwap clone script, entrepreneurs can easily offer on-chain liquidity to the users, with quick automated liquidity trades and no need of manual labor. This allows the users to perform trading activities seamlessly and exchange digital tokens without difficulty.
Highly Cost-Effective:
Another great benefit of PancakeSwap Clone Script is that it is cost effective to deploy. Entrepreneurs only have to pay for the clone script once and they can use it for a lifetime. Entrepreneurs no longer have to worry about paying for costly third-party services and expensive personnel.
PancakeSwap Clone Script Development:
PancakeSwap Clone Script is a great way for any crypto entrepreneur or enthusiast to get started in the world of DeFi. With its dazzling range of features, user-friendly design, and highly secure protocols, it has become a go-to choice for DeFi entrepreneurs across the world. With PancakeSwap Clone Script, entrepreneurs can quickly set up their DEX liquidity pool with minimal effort and maximize their potential for profit.
Summing UP:
The demand for a more efficient and secure DEX platform has driven the need and demand for PancakeSwap Clone Script development, to ensure smooth transactions across the blockchain. In the cryptocurrency industry, Hivelance is the leading and outstanding DeFi exchange clone script software provider. We have years of solid experience developing and offering feature-rich decentralized exchange software with prominent features at the best market price. Our readymade and multi-tested PancakeSwap clone script with unmatched performance will be the best choice for aspiring entrepreneurs like you to materialize a decentralized exchange like PancakeSwap. This is because a ready-to-use and scalable PancakeSwap clone will include all key features to build a feature-packed decentralized exchange platform. So, get ready to turn your decentralized exchange business dreams into reality with a reliable PancakeSwap clone