NFT
Hivelance's Latest Blockchain Development Initiative: Revolutionizing the NFT Market with Bitcoin Ordinals
HiveLance is at the forefront of the NFT revolution with Bitcoin Ordinals NFT marketplace development. Discover how this platform leverages the power of blockchain to provide secure and transparent ownership of unique digital assets.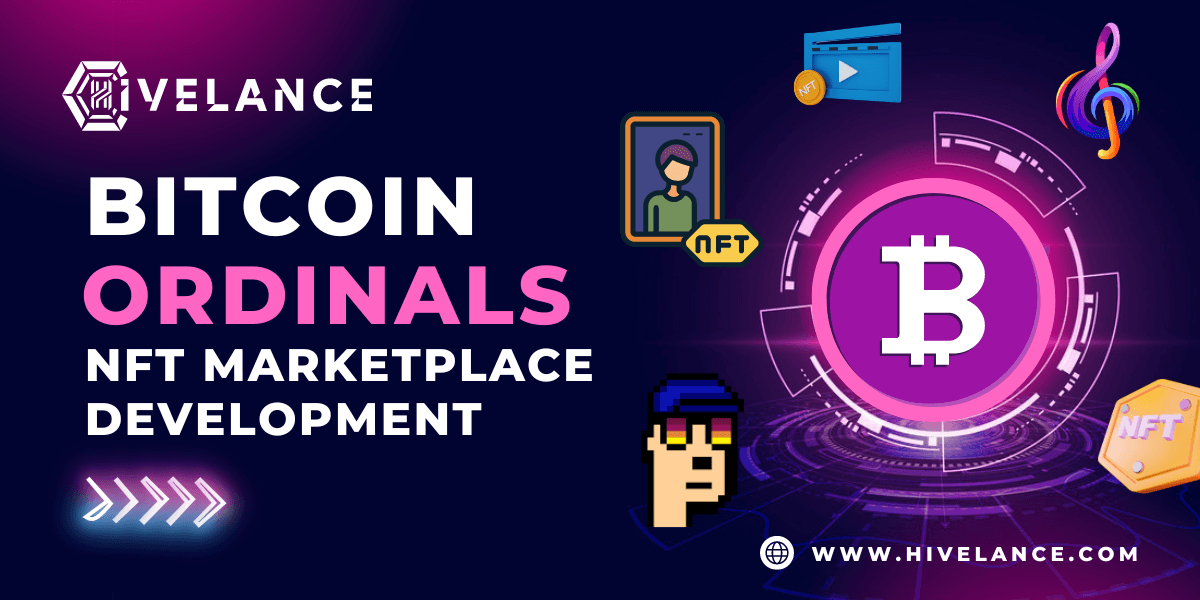 What are Bitcoin Ordinals?
Bitcoin Ordinals otherwise known as bitcoin NFTs are clearly the NFTs built on the Bitcoin blockchain. In other words, they are marked as the protocols that imprint the digital contents upon the bitcoin blockchain. Bitcoin Ordinals are creating a mammoth in the NFT markets in recent times. In simpler terms, Ordinals are the identical form of digital assets enhancing the bitcoin blockchain to generate data. Ordinals are set at the ease of writing data directly to the satoshi, thereby enabling smart contract codes to create Bitcoin NFTs. According to reports, Ordinals are notified as the highest recognized aspect which offers ownership and authenticity at a peak level. It is expected that the economic value will reach more than $5B in the future.

Ordinals use the latest mechanism " Taproot update ", for creating assets. Inscriptions inscribe sats with arbitrary content, creating bitcoin-native digital artifacts, more commonly known as NFTs.
Bitcoin Ordinals NFT Marketplace Development
Sweeping through a variety of Marketplaces for NFTs, the Most keenable and prominent marketplace that fetched the attention of many business owners is the Ordinals Marketplace. Magic Eden has integrated the Ordinals marketplace as one of the vital components for enhancing the purchase of Bitcoin NFTs in a safe way. As they are on-chain-based processing, the transactions happening are very protective and are faster in speed. Hivelance is the foremost NFT Marketplace development company, that can show its expertise in building Ordinals Marketplace instantly. As NFT markets are continuing to mature, developing these kinds of marketplaces are welcomed by top investors.
Bitcoin Ordinals NFT Marketplace Clone Development
We are an elite Blockchain development firm, working with more than 300+ clients all around the globe, and have delivered our finest services to enhance their businesses. Putting into the ideology of starting a business by launching an NFT Marketplace can be the best recommendation to earn income at a high level. On a daily basis, millions and billions of users are entering the NFT world to experience fruitful benefits. Being on the queue, Ordinals Marketplace is creating a hype. At Hivelance, Our developers can build Ordinals Marketplace clones with all required features and functionalities in a cost-effective manner.
How does Bitcoin Ordinals NFTs differ from Ordinary NFTs?
Traditional NFTs developed from networks like Ethereum or others, depend upon off-chain storage, to safely store the data. To have a clear understanding, off-chain transactions resemble the value transfer outside the blockchain, which basically depends on external sources. To overcome this, Ordinals infuses data into the blockchain directly eliminating all drawbacks. As techie people, we should understand the importance of these strategies, and are going to bring a paradigm shift by assuring digital art ownership and authenticity.
How are Bitcoin ordinals NFTs going to transform the future?
As predicted above, Ordinal NFTs are on their way to establishing newer records, because it depends on the on-chain mechanisms. Creating and launching these types of NFTs can help users in many ways, and the benefits are astonishing. Creating marketplaces, and wallets based on this ideology are developing in a progressive way. Ordinal marketplaces are termed as ORDX and will serve a number of use cases that wish to adopt them for their business initiation, development, and growth.
Why are Ordinals Unique?
Ordinals are becoming more popular and unique in the markets because of the trendy and top-notch collections of NFTs and the sales happening at a rapid pace. It is found that the purchase and sale of these NFTs are peaking to millions of dollars right now. Among the crowd, Cryptopunks are the richest collection which in the beginning had 100 Bitcoin NFTs minted with 650 Inscriptions on the bitcoin blockchain. The future is predicted to be Web3.0 projects using Ordinal NFTs, creating a huge transformation.
Some of the important Ordinal Inscriptions:
Ordinal Punks
Taproot wizards
Bitcoin rocks
Time Chain collectibles
Ordinal Loops
Ripcache's power source
Bitcoin shrooms
The shadow hats
The Dan files
Toruses
How Does Bitcoin Ordinals Work?
Bitcoin ordinals protocol works based on these techniques and they are Ordinal theory and Ordinal inscriptions. The ordinal theory is the process of allotting satoshi numbers for tracking, transferring, and assigning. Ordinal Inscription means insisting the content to a satoshi, Separate explorer is available there to read the inscriptions. They are totally stored on-chain in a taproot transaction script.
Features of Ordinal NFT Marketplace:
Multiple Payment gateways
Encryption at a peak level
Multiple crypto wallets for storage, selling/ buying NFTs
Avant-garde security amenities
Wide range of NFTs collections
Robust admin panel
Display of transaction history.
Some of the Important Advantages of Bitcoin Ordinals:
It can be used to represent arts, culture, and money
Meets and satisfies the market's demands
Can attract millions of users towards adopting the blockchain
Why Choose Hivelance for Ordinal NFT Marketplace Development?
Being illustrated as the top-notch Ordinal NFT Marketplace development company, we have the capability of creating bitcoin NFTs and the marketplace over the bitcoin blockchain network. Each scholar on our team is inhibiting their own certifications in blockchain technology with the best ratings. At an interval of 6 months, we train them with the latest updates in technology and they are fast learners to build your project in a delicate way. First of all, try to understand what's going in and around the market to grasp the strategies that are transmuting the markets. Then we lay our footprints to implement them in your projects.
150+ Well-proficient blockchain developers
NFT creation in an astounding pattern
Cost-effective solutions
Quicker responses when errors are encountered
Round-the-clock support.