Cryptocurrency
Bitget Clone Script To Kick Start Your Own Crypto Derivatives Exchange With Advanced Features
Bitget clone script is a pre-built crypto derivatives exchange script that comes with automated trading features and high-end functionality. You can customize your crypto derivatives platform like Bitget on time by using our white-label Bitget clone software.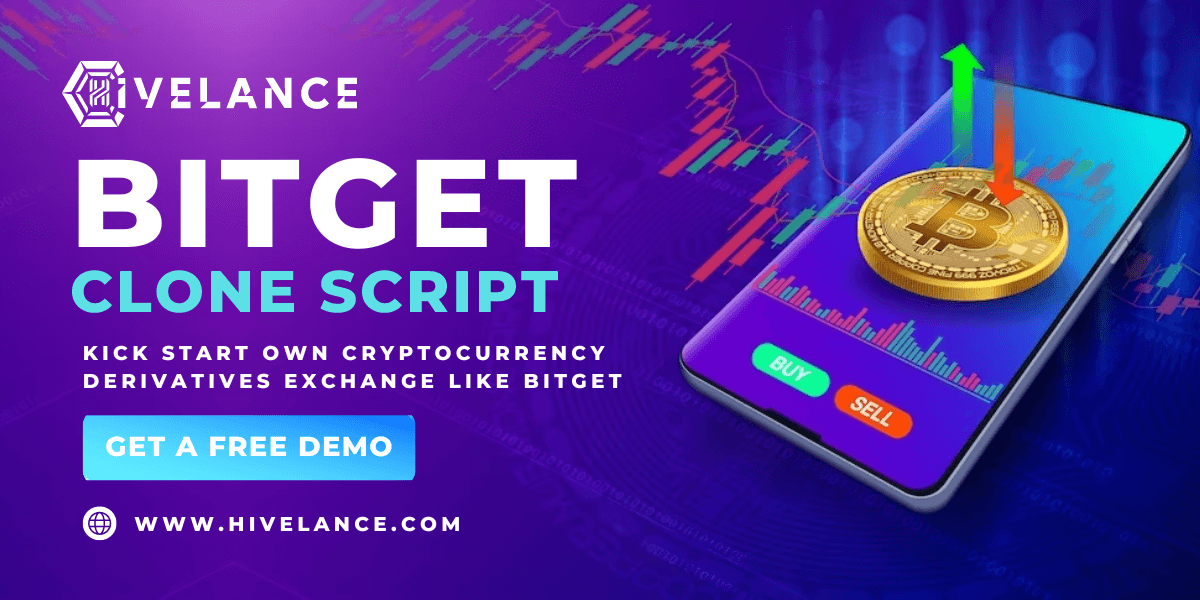 Bitget Clone Script
Bitget Clone Script is a ready-made and customizable centralized cryptocurrency derivatives exchange source code that holds all the core features and plug-ins of the existing Bitget. This script enables the trading of a wide range of crypto coins and tokens on the spot or futures markets, with low trading fees. Our Bitget clone script developed with the Copy Trading feature allows users to copy other traders' strategies on the platform for free.
White Label Bitget Clone Software
A White Label Bitget Clone software is a multi-tested, customized crypto derivative exchange with exceptional trading features and high-level security mechanisms. Our White Label solutions allow you to add, remove, or modify features, functionalities, and UI to meet your specific business needs. The technical features and security procedures of Bitget Cryptocurrency Derivatives Exchange have been included in our White-Label Bitget Clone Software. Our ready-to-launch Bitget clone software helps startups and entrepreneurs to achieve success with huge revenues in a short time.
Salient Features of Bitget Clone Script
Below are some remarkable features of our Bitget Clone Script that can fascinate users to engage on the crypto derivatives exchange platform.
Battle-tested Technology
Margined Futures Accounts
Comprehensive Trading Tools
Robust trading engine
Advanced Order Types
Auto Deleveraging
Insurance Funds
Uses Stop Loss Orders
Multi-layered security features
User-Friendly Interface
Power Admin Panel
Security Features of Bitget Clone Software
Hivelance developed the Bitget Clone Script with advanced security measures to safeguard your crypto derivatives exchange platform.
Cold Storage Wallet
Registry Lock
Two-Factor Authentication
KYC/AML Verification
Jail Login
Anti-DDos Protection
Data Encryption
HTTPs Authentication
CSRF Protection
SSRF Protection
Web Protocol Security
End-to-End Encrypted Transactions
Benefits of Our Bitget Clone Script
Completely Customizable
Pre-loaded Features
Cost-effective
Efficiency Tested
High ROI
Ease to Use
Time-Efficient
Scalability
Proven Technology
Why should you Create a Cryptocurrency Derivatives Exchange Like Bitget?
Bitget is the most popular cryptocurrency derivatives exchange platform in the crypto sector having millions of users on the go. Bitget expanded its crypto trading services in many major countries. By launching a Bitget clone crypto derivatives exchange, you can also gain a more crypto user base globally with fewer efforts.
Below are some important reasons to create a crypto exchange like Bitget.
Bitget has developed an appealing and user-friendly interface that allows users to buy/sell and trade cryptocurrencies with confidence.
When it comes to security, Bitget is fully encrypted with high-end security mechanisms, giving users the confidence that they are trading on a safe platform.
Bitget is a sophisticated crypto derivatives exchange that provides free copy trading for its users as well as significant incentives for pro traders, allowing users to follow the strategies of other traders.
Bitget uses referral programs that enable users to earn more revenue. Not only users, but the owner of the exchange also can yield great income through many streams by establishing a crypto derivatives exchange like Bitget.
How to Create a Crypto Derivatives Exchange Like Bitget?
In the modern administrative cryptocurrency market, establishing your own crypto derivatives exchange will be more beneficial. With our Bitget Clone Script, anyone can simply establish their own desired and customized Crypto Derivatives Exchange. We Hivelance, the top Crypto Derivatives Exchange Development Company, have a team of developers with Crypto Derivatives development experience who can build the script using cutting-edge technologies and tools. We provide a Bitget Clone Script to help you establish a Crypto Derivatives Exchange Platform with appealing features and high-level security at a low cost.
Development Approach of our Bitget Clone Script
We at Hivelance follow the basic methods listed below while developing a feature-rich Bitget clone script.
Requirement Analysis
Our team will collect all of your requirements, and the developers will analyze and document the project's requirements. This will assist the team in understanding the scope of the project and developing a plan for the development process.
Design and Architecture
Our design team will sketch the software as per your wish. The design will include the complete user interface of the Bitget Clone.
Development
Our experienced developers will develop a Bitget clone with the latest technologies and tools. Our developers will integrate the software with necessary features like Crypto Wallets, trading engines, and user authentication.
Testing
Our QA team will conduct extensive testing to ensure that the script works perfectly and is free of bugs and errors.
Launch
The script will be deployed to the server and made available to users after successful testing.
Maintenance and Support
After deployment, our development team will provide ongoing maintenance and support for the Bitget clone script.
Why Choose Hivelance for Bitget Clone Development?
Hivelance is a well-known Bitget clone script software development company in the cryptocurrency industry. We specialize in offering cryptocurrency derivatives exchange clone scripts with optimal trading modules. Being the pioneer in the crypto industry, we provide bug-free and customizable Bitget clone software with superior results. Our Bitget clone script is a pre-made software with fully customizable options, allowing you to add your preferred trading features based on your company's needs. We have a pool of skilled blockchain developers who can build your Bitget clone software using cutting-edge technology and infrastructure. As security is our first priority, we provide advanced security measures in our Bitget clone script, alongside additional settings options.
The highly skilled crew of blockchain developers
Ardent blockchain-enabled solutions
Immediate responses for clearing your queries
Team to provide guidelines to initiate the project
Support throughout the development phase
Post-delivery maintenance services