Cryptocurrency
BitOasis Clone Script to Launch MENA's Leading Crypto Exchange Platform Similar to BitOasis
Bitoasis clone script is the replica of Bitoasis cryptocurrency exchange in both functionalities and features.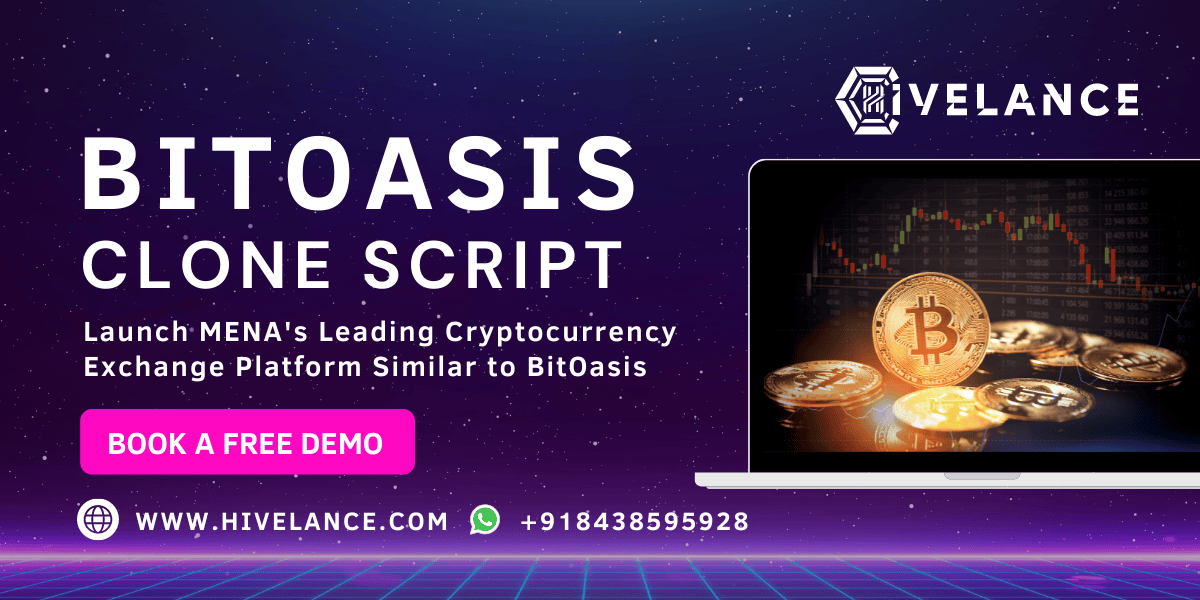 Cryptocurrency exchanges are the right medium for performing seamless trading. With low trading costs, traders can purchase crypto coins without any hassles. Users can undergo trusted trading with the quickest order matching and transaction processing. This can satisfy the significant expectations of traders. Cryptocurrency exchanges enable the seller confirmation for processing the transaction with a powerful trade engine. Bitosis is the latest cryptocurrency exchange where users can buy/sell 60+ digital assets with a 0% commission fee. It is a secured platform that utilizes multi-signature technology. In this blog, the entire functionalities and the benefits of using Bitoasis crypto exchange are discussed.
Bitoasis Crypto Exchange Clone Script Development Company
As a dominant blockchain organization, we can design and develop Bitcoasis crypto exchange with your customization and security features. Users can easily manage and track their portfolios from their laptops or mobiles. We create easily accessible mobile apps for users' convenience. Start developing yours…!!!!
Bitoasis Clone Script
Bitoasis clone script is the replica of the Bitoasis cryptocurrency exchange in both functionalities and features. Users can trade cryptocurrencies in real-time with sophisticated trading charts and order types. The exchange of crypto coins is concluded with a trusted smart contract and with salient features to prevent the mishandling.
Industry-leading Features of Bitoasis Clone Script
User accessible dashboards
Price charts
Powerful APIs
Enterprise-class wallets
High-powered trading engine
KYC and AML
Referral and reward programs
Payment gateway integration
Advanced admin dashboard
High liquidity in all market conditions
Security Features Underpinned
Data encryption
HTTP authentication
Jail login
Two-factor authentication
CSRFand DDoS protection
Bitoasis Clone App Development
Traders use Bitoasis cryptocurrency exchange as it has the best feature like they can execute large orders with a minimum amount of USD 100,000. It enables highly competitive pricing with low no additional costs. This trading platform can be portrayed in apps for easier access. Our developers can design mobile apps for performing hassle-free trading.
Business Benefits of Using Bitoasis Clone Script
Ready to market
100% customizable
Cost efficient
High scalable solution
Resilient architecture
Rigorously tested and proven platform
Multiple language support
High quality and security standards.
Requirements To Perform Trading in the Bitoasis Platform
The minimum transaction amount should be USD 100,000.
Eligibility for OTC trading is subject to AML, KYC, and other requirements.
Users must be Tier 3 verified in order to transact an OTC trade.
Why Choose Hivelance for Bitoasis Clone Script Development?
Hivelance is the foremost Bitoasis clone script development company that can render scalable solutions for trading. Incorporating the high classic features, our developers frame your Bitoasis clone script based on your requirements. Our team of blockchain developers are highly talented professionals and we have a proven record of many crypto platform delivery. High-end security features with transaction tracking facilities are the main highlight of our Bitoasis clone scripts. We have the best front-end and back-end developers with strong technical skills and they can assist you in your project to be relished successfully.
10+ years of experienced crypto & blockchain developers
Strong support from the blockchain enablers
Quality assurance team for the best quality rendition
Top preference for users customization
Round-the-clock support
Video call assistance
Healthier interactions between clients and business analysts
On-time project delivery.
If you are a crypto enthusiast, Hivelance has feature-rich and robust solutions to meet your business requirements. Reach out to our expert team now!