Blockchain
Blockchain Games Ideas 2023
Blockchain Games Ideas 2023: Check out our in-depth guide to developing your own blockchain-powered games to earn passive income.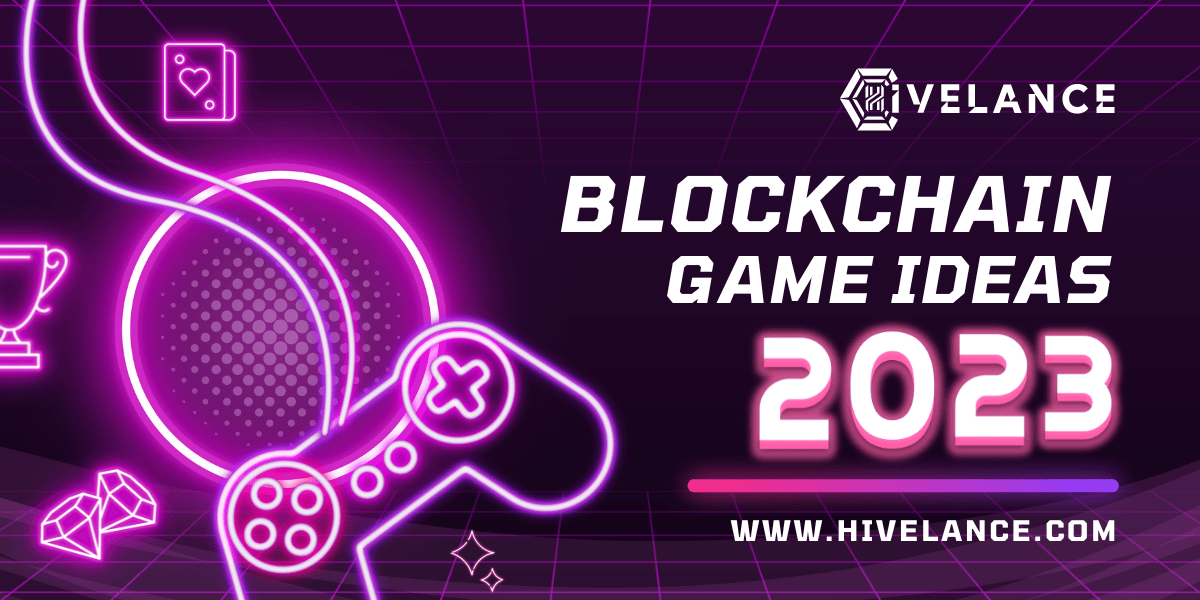 Blockchain gaming is remodeling the multi-billion dollar industry and establishing many ambiguities with exciting gaming features. Blockchain gaming allows players to earn money and become the real owners of assets.The notable and empowered traits are these platforms are very secure, transparent and anonymous transactions take place. In this gaming platform, players' ownership will be recorded in a decentralized ledger and the blockchain network can be chosen according to requirements. It provides access for the players to enter the fantasy world. Blockchain's gaming industry has reached nearly a 1.5Billion market value extending the player's activities and also sales. Probably it can be the highest position of market capitalization. Some Blockchain game business ideas for 2023 is listed below:
Crypto Games
The advent of blockchain technology is introducing many crypto gaming opportunities that are considered to be the main element of real-world economics to their games. Crypto gamers can earn Non-fungible tokens( NFTs) or crypto coins by winning the competition in the games. With the obtained rewards players can own real digital assets. These assets can be exchanged or sold within the marketplaces or converted directly to fiat currencies. Few crypto games enable gamers to earn money through advertising or selling in-game assets like weapons, accessories, virtual lands, and so on. Some of the top crypto games are Calvaria, Axie infinity, decentraland, Illuvium, sandbox, and so on.
We are the frontrunner in Crypto gaming development and with the best team of blockchain developers, we can design your games with all the required features. White-label scripts are also available which can be rendered within a few weeks by including the options requested by our clients. Users can take a demo by contacting our efficient resources.
Role Play Games (RPG)
A role-playing game is where the characters are assumed to play the characters in a fictional setting. The responsibility of playing the roles of anime characters and earning rewards takes place in these games. Role-playing games also include a single-player role or multi-role in which players control a character with advanced playing strategies. Some of the role-playing games that are popular in the markets are:
Tabletop role-playing game
Live-action role-playing game
Hivelance is the master in developing Blockchain-based games that turns the whole gaming business with massive incomes. Blockchain role-play games allow game developers to create realistic animations, next-gen graphics, and interactive experiences. When considering pricing, we afford services that are cost-effective and deliver highly programmed platforms.
Play-To-Earn Games (P2E)
Play-to-earn games are playing a major role in today's world and are attracting 99 percent of the players with NFT-driven options. P2E games offer the responsibility to take ownership of their in-game assets. These games reward the participants with digital cash or NFTs and are considered to be the mainstream of the metaverse too. The platform boosts real-world value and players are paid for winning the battles. When players win the battles they earn the tokens which can be used as the utility token for further purposes. Some of the top play-to-earn games are:
Axie Infinity
Decentraland
Alien worlds
The Sandbox
Zed Run
Blankos Block party
Gods unchained
Star Atlas
Crypto Blades
As the top prioritized and well-experienced Blockchain development company, Hivelance can build play-to-earn games that generate high incomes to the players. In the coming days, this can be the main means of revenue generation and can be the futuristic business plan for 2023. With the top-picked team of efficient game developers, we can render you the best solutions in developing the gaming platform.
Sleep-To-Earn Games (S2E)
Sleep to earn is the term that is emerging rapidly and indicates that people are being rewarded with cryptocurrency for sleeping well. The rewards are in the form of tokens that can be used for exchange for another activity. The main concept behind these are users must get enough rest for maintaining overall good health condition and well-being. Apps are available for this activity, where everything is being tracked and the rewards earned will be displayed in the app. Some of the best sleep-to-earn apps are:
Meta Gym( MGCN)
SleeFi ( SLFT)
Sleep Future ( SLEEPEE).
If Users are in need of the above top-notch sleep-to-earn apps, Our team can develop and deploy them from scratch following your instructions.Get in touch with our professionals and grasp your apps for business growth.
Move-To-Earn Games (M2E)
Move-to-earn games are the advanced upcoming ideology exploring the crypto businesses to a greater extent. Users will get their rewards( cryptocurrency) for working out. These games use blockchain technology and the tracking of players' movements are done easily. People who are fitness freaks can utilize these games and earn passive income.At Hivelance, we help you in creating the move to earn apps and assist you throughout the entire phase of generating revenues. Some of the top move to earn games we can develop are :
MetaGym( MGCN)
STEPN ( GMT)
Genopats ( GENE)
Dot Moovs( MOOV)
Sweatcoin( SWEAT)
Step ( FITFI)
Olivex( DOSE)
Calo ( CALO)
NFT Games
NFT games are the buzzing concept in the crypto and blockchain space. Play-to-earn games accompanied by financial amenities are occupying the entire gaming industry and are known as GameFi which provides opportunities to earn income by engaging in the games. NFT games involve non-fungible tokens which are used for player interaction in the gaming field. Players can utilize the tokens to swap or trade with other players and are brought into existence by implementing rules and conditions in a smart contract.
Metaverse Games
Metaverse gaming is the talk of the town and has significant investments from many bigger firms. Metaverse gaming sector not only relies on playing the games but also helps in earning money. Different types of metaverse games are being launched now by bigger technique giants that in return pays you the NFTs as rewards. Gaming in the metaverse incorporates virtual reality, and augmented reality and brings out the real world. Metaverse gaming has become the most dynamic and exciting one in the entertainment field giving immersive experiences and fantasy worlds. The best games that work on metaverse are:
Fortnite( VR game and an event destination)
Decentraland( 3D VR platform with real estate and multiplayer gaming options)
The Sandbox( Can play, own and create real estate).
Casino Games
In this gamblers will use cryptocurrencies to make deposits or withdrawals. Some noteworthy highlights are it requires zero fees on transactions, Unlimited free daily transactions, Instant payouts, and the security of players' funds and identities are guaranteed. It represents that crypto casinos are completely decentralized and are very safer. Both deposits and withdrawals take place within a few minutes to reflect in the bank accounts. There is no middleman to take out of the winning rewards.
3D/2D Games
Many 3D/2D games are ruling the gaming industry these days. Players are becoming fond of these games as the animation works are very attractive and engaging. Perfect programming, animation with audio rendition, marvelous designs, appropriate modeling with AR/VR specialties, and preferred character inclusion will be the main part of the gaming platform. With 10+ years into the gaming development stream, Our team can create picture-perfect gaming ecosystems to earn incomes too.
How Do Blockchain Games Make Money?
There are various ways through which owners of the gaming platform and the players can earn money. The crypto gaming industry is worth billions of dollars due to blockchain technology enabling genuine, real-world trading of non-fungible tokens (NFTs). There are even digital economies that pay you for playing. Some of the ways are listed below
Transaction fees
In-game assets
Features of Blockchain Game Development
The impeccable features of blockchain game development enhance the functionalities of the platform to have a realistic experience.A few of the entitled features are discussed below:
Enhanced security
Smart contract inclusion
Consensus algorithms
Digital collectibles
Easier exchange of digital assets
Payment gateways
In-game asset management
NFT development
Entire ownership of the assets
Rule out fraudsters
Micropayments
In-game assets
Top Blockchain Games Clone Script
Aliens world clone script
Ember sword clone script
Neondis clone script
Second live clone script
Sandbox clone script
Horizon worlds clone script
Axie infinity clone script
Zed run clone script
F1 delta time clone script
Sorare clone script
Gods unchained clone script
My crypto Heros clone script
FoxyNFT clone script
Splinterlands clone script
RaceFi clone script
Star Atlas clone script
Top Blockchain Network For Game Development:
Solana
Ethereum
Polygon
BSC
TRON
Eos
Avalanche
Tezos
Hivelance - The Best Blockchain Game Development Company
Hivelance is the frontrunner in assisting you in the development of attractive and engageable blockchain games that offers a safer gaming ecosystem for the players. We can render gaming development services on different blockchain networks. We enclose 100+ enthusiastic blockchain game developers who are very skilled in developing user-friendly, feature-enriched games based on blockchain technology. Our service includes automated and audited smart contracts for performing hassle-free transactions. This can transform gamification to the advanced level by enabling seamless integration of the latest tools. Our business models are cost-effective and provide a high return on investment. Users can play the games interactively with high-end security.