Cryptocurrency
Exploring BRC-721E Token Standards: From ERC-721 to BRC-721E
Hivelance is a top-notch BRC-721E token development company offering complete BRC-721E token development solutions that helps to create and convert ERC-721 NFTs for BRC-721E tokens on the Bitcoin network.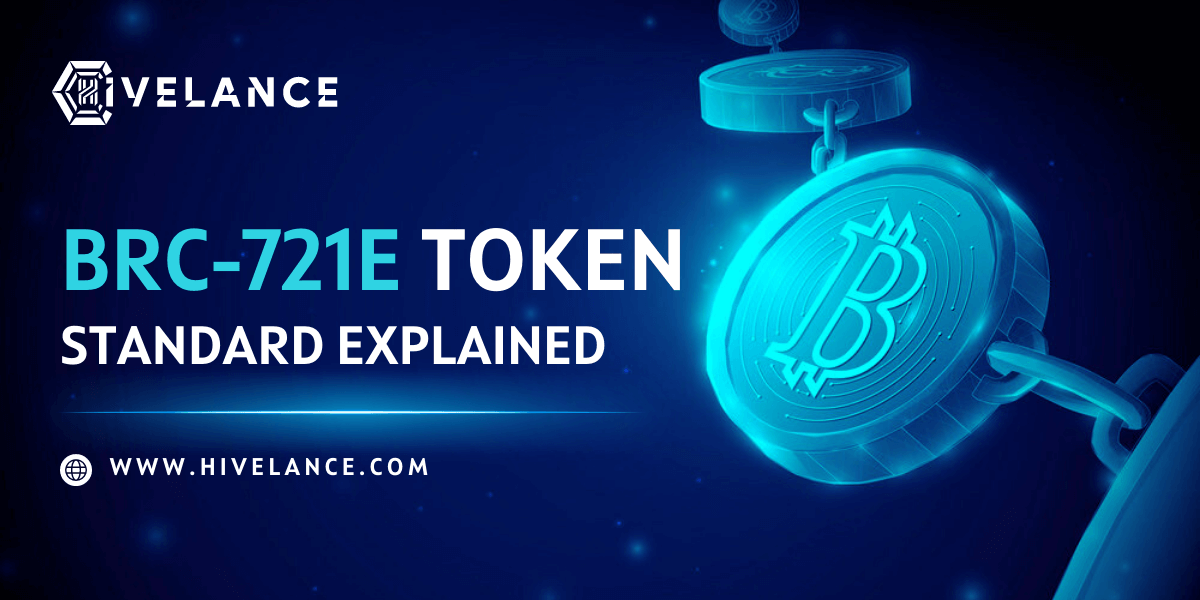 An introduction to the BRC-721E Token Standard and how BRC-721E token benefits the business
Let's explore what the BRC-721E token standard entails for the world of NFTs and how it makes it easier for NFT collectors to transition to the Bitcoin network. But before that, you should know the concept of the BRC-721 token standard.
What is the BRC-721 token standard?
BRC-721 is a token standard built on the Bitcoin network which replicates the BRC-20 token. BRC-721 is mainly developed for NFTs and has a unique identifier, whereas BRC-20 tokens are preferred for Fungible tokens.
What is the BRC-721E Token Standard and What Makes it Unique?
The BRC-721E token standard is a ground-breaking innovation that enables ERC-721 applications created on the Ethereum platform to seamlessly transfer to the Bitcoin network. The ERC-721 token is delivered to the burn address, and then the NFT is added to the Bitcoin network. The NFT and its related information will be visible on the ordinals. market website once the bridging is completed.

The BRC-721E token standard permits traders to switch their Ethereum-based NFTs to Bitcoin-based NFTs. This makes it simple for traders to switch between blockchain platforms. This token standard is meant to serve as a connection between the Ethereum and Bitcoin networks, allowing traders to convert their ERC-721 NFTs into BRC-721 tokens on the Binance network.
BRC-721E Token Development
The BRC-721E Token Development brings up possibilities for cutting-edge use cases, like tokenizing physical assets, making one-of-a-kind collectibles, and enabling decentralized financial applications. Hivelance is a leading BRC-721E token development company, providing services for BRC-721E token development. With the assistance of our skilled token developers, you can launch your NFT marketplace and other platforms that support BRC-721 token standards.
How is the BRC-721E Token Benefiting Businesses and empowering decentralized applications?
Here are some key advantages of the BRC-721E token,
Improves Digital asset ownership: The BRC-721E token is a revolutionary concept that dramatically improves digital asset ownership and interoperability. Users can represent and transfer ownership of distinctive digital assets securely and irreversibly by utilizing the power of blockchain technology.
Creates verifiable ownership rights: BRC-721E enables people and businesses to create verifiable ownership rights, reducing fraud and facilitating smooth digital transactions.
Interoperability and opportunities for collaboration: BRC721E offers the capacity to guarantee interoperability between ecosystems and platforms. It is simple to transfer and use BRC-721E tokens on different blockchain networks. Users can make use of these new possibilities for collaboration, liquidity, and income generation in decentralized ecosystems.
Standardization and compatibility: The standardization and compatibility of the BRC-721E token make it simpler for developers and companies to integrate and expand upon.
Creating decentralized applications: Due to its laid out set of rules and features, it is possible to develop decentralized applications(dApps) that can pull the benefits of digital asset ownership and transfer.
NFT conversion from Ethereum to Bitcoin
An ERC-721 NFT's migration path begins with the burning operation, which is carried out using the ETH call function. This method leaves a unique inscription on the blockchain and is irreversible.
To authenticate the ETH burn on the Bitcoin network, the user must input accurate BRC-721 data. Upon successful completion, the submitted NFT appears on a unique collection page on the marketplace with detailed metadata.
The burned NFT's engraved data is examined by indexers, who serve as vigilant gatekeepers. Due to the rigorous validation, the genesis address must match the burn transaction call data, and each token must only have one valid inscription.
Bottomline
As the usage of blockchain technology keeps increasing, the BRC-721E token is positioned to play a pivotal role in reshaping the digital economy.BRC-721E token has many esteemed benefits that improve business growth on various platforms. Blockchain art transactions have advanced significantly due to the cutting-edge BRC-721E standard which solidifies the connection between Ethereum and bitcoin.

Are you looking to do business with BRC-721E token development in the digital world? This could be the right time to snatch the opportunity. Get connected with our experts and discuss your project ideas with our knowledgeable developers. Then plan your project regarding BRC-20 or BRC-721E token development with us.