NFT
Create Your Own NFT Marketplace on Cardano Blockchain
Hivelance is a top-notch Cardano NFT marketplace development company offering end-to-end Cardano NFT marketplace development services and solutions based on client's requirements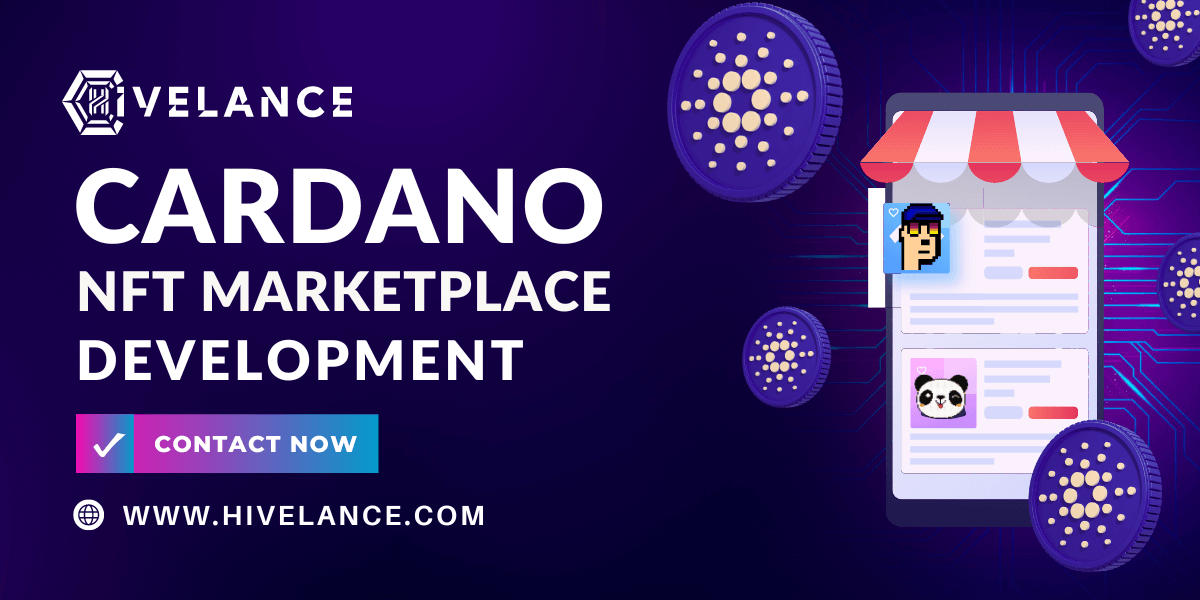 Non-Fungible Tokens are digital assets that cannot be destroyed or duplicated by either external or internal sources. These NFTs are extremely adaptable since they can be built on a variety of blockchain networks. It can be seamlessly traded across multiple NFT marketplace platforms and integrated across various generation-based blockchain platforms. It is mostly being built on second-generation blockchains like Ethereum, although it, comparable to any other software platform, has challenges. To overcome these challenges, the third-generation blockchain was created, with Cardano serving as a trailblazer in this industry.
Cardano NFT Marketplace Development
Cardano NFT marketplace is the common destination where unique NFTs can be bought, sold, and traded and is built on the Cardano blockchain. The Cardano NFT marketplace will leverage the Cardano blockchain's speed, scalability, and security to enable smooth and secure transactions. Hivelance is a well-known Cardano NFT Marketplace Development Company that offers first-rate Cardano NFT Marketplace Development Services and solutions for establishing a Cardano NFT Marketplace.
What is Cardano Blockchain?
Cardano is an open-source blockchain network that employs the ADA cryptocurrency token to support globally decentralized systems and applications. Cardano blockchain is one of the most widely used blockchain networks in the cryptocurrency world, with several user-friendly features that entice consumers to participate. Cardano is a blockchain technology of the third generation. It is based on the Ouroboros consensus mechanism's decentralized proof of stake (PoS) consensus process. This is a fast network approach designed to address the flaws of the Proof of Work (PoW) consensus process. This blockchain technology offers complete scalability, sustainability, and interoperability for non-fungible tokens.
Cardano NFT Marketplace Development Services
We at Hivelance provide Cardano NFT Marketplace Development Services for businesses and industries. Some of our Cardano NFT marketplace development services are
White Label Cardano NFT Marketplace
Cardano NFT Marketplace App Development
Cardano NFT Storage Solutions
Cardano Fractional NFT Marketplace Development
Cardano-Based Metaverse NFT Marketplace Development
Cardano Based Cross Chain NFT Marketplace Development
Cardano Based Multi Chain NFT Marketplace Development
Cardano-Based Fractional NFT Marketplace Development

Salient Features of Cardano NFT Marketplace Development
Store Front
The dashboard will show collective information of NFTs like Previews, bids, owner details, price history, and more to attract more customers.
User-Friendly Dashboard
A dashboard is the most renowned component of the marketplace that is user-friendly in presenting all relevant data.
Admin panel
Our Cardano NFT Marketplace has a powerful admin panel that contains CMS, information about users and their activities.
Filters
Users may use this option to filter pricing, top sellers and deals, new items, and so on.
Consensus Mechanism
Cardano's proof-of-stake blockchain is one of the most eco-friendly and sustainable blockchain systems accessible. One of the first and most well recognized peer-reviewed blockchain technologies
Payment Methods
The integration of multiple payment methods allows for the secure and effective completion of transactions.
Wallet Integration
Our Cardano NFT Marketplace allows customers to access crypto wallets while maintaining the highest level of security and is utilized for storing.

Benefits of Cardano NFT Marketplace Development
Liquidity
The interoperable features of the NFT allow for immediate liquidity for customers. After executing a transaction on an asset that is based on the Cardano blockchain, traders on the NFT marketplace can rapidly buy or sell that asset. Due to the time frame for customers in between transactions, instant liquidity may be achieved in the development of the Cardano-based NFT marketplace.
Transparency
The buying and selling of NFTs, as well as other transactions, will be completely transparent to all users.
Security
Our development team ensures that your Cardano NFT marketplace has top-notch security measures to eliminate any flaws.
Cross-chain Compliance
The Cardano-powered NFT marketplace will support and interact with a wide range of blockchain-based assets. This helps to increase the number of people who visit your NFT marketplace.
Integration of Smart contracts
Smart contracts serve as the foundation for all blockchain-related projects. Similarly, our Cardano NFT Marketplace is built using smart contracts with strong codes.
Various Business Models Involving Cardano NFT Marketplace Development
We at Hivelance provide various business models on Cardano-powered NFT Marketplace development
Cardano NFT Gaming Marketplaces
Cardano NFT Real Estate Marketplaces
Cardano NFT e-Commerce Marketplaces
Cardano NFT Art Marketplaces
Cardano NFT Music Marketplaces
Cardano NFT Fashion Marketplaces
Cardano NFT Ticketing Marketplaces
Cardano Celebrity NFT Marketplaces
Cardano NFT Marketplace for Sports
Cardano NFT Marketplace Development Process
Choosing A Target Niche
The first stage in creating an NFT marketplace is defining the platform's target niche, such as digital artists, audio-video content makers, gaming professionals, or collective users.
Creating conditions for specific blockchains
Several different blockchains are used to build NFT marketplaces. One of the requirements, if you want to build or run a marketplace on Cardano, is that you must first acquire control of a node. To create an NFT platform, developers need to have a basic understanding of the Cardano command-line interface.
Identifying and Defining User Roles
To provide the optimum user experience for both makers and traders, it is crucial to define user roles before creating the user interface.
User Interface Design
The marketplace's user interface plays a key role in determining the user experience. The user interface should take into account both buyers and sellers. Many features must be hosted on an NFT marketplace, and pricing changes must be displayed. In order to ensure users' consistency and simplicity of navigation, a high-performance, simple UI design is required. The UI design needs to be scalable in order to enable increasing features and functionalities.
Smart Contract Development, Auditing, and Integration
The creation of smart contracts that specify the terms of a transaction between a buyer and a seller is the next stage in the development of the Cardano NFT marketplace. It also monitors the self-executing digital contract codes on the Cardano network.
Integration of Wallets
The native coin of Cardano is commonly used for all transactions on the Cardano NFT marketplace. To enable buyers and sellers to transact using NFTs, it would be useful if the Nami wallet could be incorporated. To reach a larger audience, you would need to connect more cryptocurrency wallets. The information from the NFT transactions will be kept in the wallet rather than the NFT files. The owner files that are kept on the blockchain were referenced by the information in the wallet.
Testing
Before making the code accessible to the general public on the main net, carry out rigorous property-based testing on several Cardano-specified test nets. Throughout testing, the platform should be properly optimized.
NFT Storage Solution
For the off-chain NFT data to be stored, a reliable NFT storage solution is required. There are several decentralized storage options available. One well-liked one that supports decentralized data storage for producers and NFT marketplace owners is IPFS.
Cardano NFT Marketplace Clone Script
A Cardano NFT marketplace clone script is a ready-made solution that allows you to build a marketplace on the Cardano blockchain for buying and selling NFTs. The script includes all of the features and functionality required for developing a marketplace similar to popular Cardano NFT marketplaces.
Some of the popular Cardano NFT Marketplace's cloned versions that we offer
JPG.Store Clone Script
CNFT.io Clone Script
Cardano Cube Clone Script
Tokhun Clone Script
ADANFT Clone Script
Cardahub Clone Script
Galaxy of Art (GOA) Clone Script
Why Choose Hivelance For Cardano NFT Marketplace Development?
Hivelance is a premier NFT Marketplace Development Company, providing end-to-end services for Cardano NFT Marketplace with cost-effectiveness. Our pool of skilled developers has expertise in developing NFT marketplaces on various blockchain networks like Ethereum, Solana, and Polygon, especially on the Cardano blockchain network. We also provide White Label solutions for our NFT marketplaces that allow clients to customize the software based on their requirements. Having 10+ years of experience in the blockchain industry, our experienced developers will develop your Cardano NFT Marketplace with imposing modules and digital assets collections. Hivelance makes it simple to discover the perfect talent to assist you in creating a safe and trustworthy marketplace that matches your specific requirements.