Metaverse
Chain of Alliance Clone script - Launch Your Metaverse game like Chain of Alliance
Chain of Alliance Clone Script is a pre-made solution that helps to launch your blockchain-based RPG and strategy NFT gaming platform like Chain of Alliance instantly.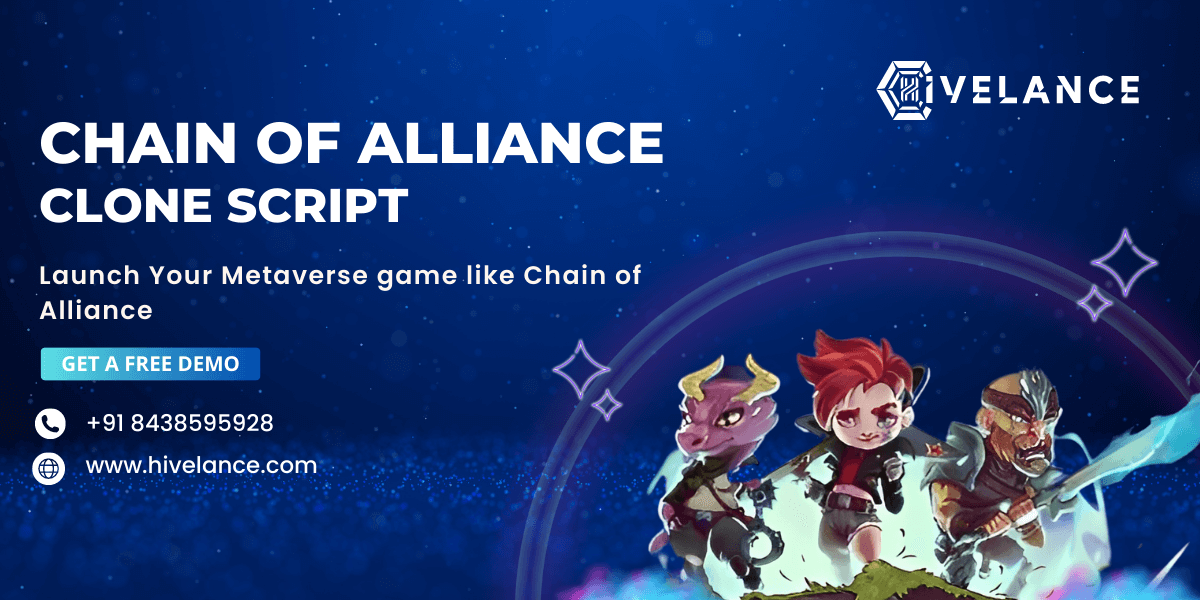 Chain of Alliance Clone Script
A Chain of Alliance clone script is the ultimate replication of the original chain of alliance gaming platform and is a market ready solution to explore adventure games. It has all essential features and functionalities alike in the chain of alliance platform to engage users in an interactive and effective way. Three game roles like adventurers, landlords, and creators are highlighted in this game. Players can compete in PVP combat for rewards and gain points. Important elements of land management will be covered by the landlords' experience in this platform.
Hivelance is the top rated role-playing game development company having ardent experience in designing and launching the games with specialized specifications. Our readymade solution will help business entrepreneurs to launch the gaming platform and attract millions of users towards it. Each and every gaming character is designed to meet your requirements. We have previous experience in developing the gamings with avatars that plays an important role in adhering to the main play-role.
Overview of Chain of Alliance
Chain of Alliance is an on-chain role-playing and strategy game and has NFTs, which players may use to join the adventures. In order to develop and enhance their individual heroes, players can also earn experience points in this game.It merges the well-liked GameFi and DeFi elements together. Each story-driven campaign can be shared and used by players and also incorporates the game's API, comprehensive backstory, fully customisable characters, and player-owned Land. In addition to these elements, it also offers a truly immersive gameplay that links the communities of gamers.
White Label Chain of Alliance Clone software
A white label chain of alliance clone software is the customized solution to create role-playing games like Chain of alliance where add-ons and functions can be included based on the requirements from our clients. To make it more fascinating, our team of developers can implement the appropriate strategies with strong security features. Rendering the feature rich and cost-effective solutions will be our ultimate aim and we follow that in the right pattern. Get in touch with our experts to create your platform.
Utility Token Used in the gaming platform
Chain of Alliance's native token, $COA, serves as the primary medium of exchange and has in-game functionality. In addition, it serves as a governance token that allows holders to make Chain of Alliance decisions. Character parts, complete characters, blueprints, and resources can all be traded by players. Each transaction on the marketplace will incur a $COA transaction fee. These tokens can be staked in order to gain additional rewards later.
Elite Features of Our Chain of Alliance Clone Script
Versatile characters with Entire ownership: By mixing parts, adding weapons and armor, and customizing them, you may create your very own playable characters. To ensure full ownership of your in-game assets, all metadata will be saved on-chain utilizing Chromia Originals.
PvP and PvE: Play as your characters in PvP battles with other players or decide to advance in lore-based PvE storylines.
Easy Onboarding: Regardless of your familiarity with blockchain technologies, you may still play Chain of Alliance and gain from its benefits.
Multichain support: Users can export your NFTs to any EVM-based blockchain of your choosing.
Benefits of creating Chain of alliance clone script
Being the most reliable and engaging gaming platform, Chain of alliance clone can deliver the benefits to the players as follows:
Entire customization
Preferred role-playing characters can be created
3D animated graphics
Cost-effective solutions
API integration
Social interaction
Adaptability and flexibility
Community engagement
Play-to-earn rewards can be gained
How Can revenues be generated through Our chain of Alliance clones?
Our chain of alliance Clone script can generate revenue through a variety of ways, including both conventional sales structures and more modern monetization techniques. Here are a few typical RPG revenue sources:
Through game assets purchase
To get random loot boxes, users pay a certain amount of fees
Purchase of in-game currencies
Subscriptions
Battle and seasonal passes
Purchasing assets in the cosmetic marketplaces
Freemium model.
Why Choose Hivelance for Chain of Alliance Clone script development?
Hivelance is the renowned Metaverse Game Development Company, who can build realistic and adventure games to provide astounding experience. Mainly focussing on the chain of alliance clone development , we can offer users with top-notch solutions to acquire experience points, which are then utilized to level up characters and ultimately enhance the player's team. With the help of our script If you want to add special features or changes, we make the necessary adaptations. We create a platform with easier accessibility ensuring user authentication that enables users to safely register, log in, and manage their accounts. Our team also makes sure that encryption and best security practices are used to protect user data and transactions.