Cryptocurrency
Changelly Clone Script - An Easy Way To Kick Start Your Own Instant Crypto Exchange Like Changelly
Changelly clone script is a pre-built Instant crypto exchange script that contains all of Changelly's current trading features and functionalities, allowing you to launch your own in a matter of minutes.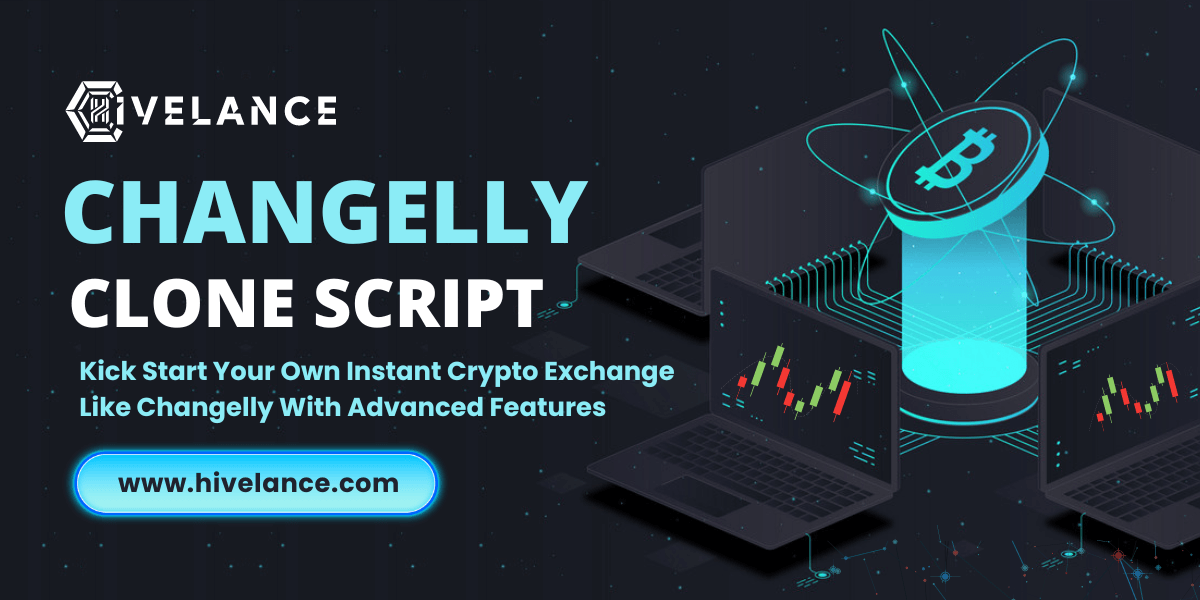 Changelly Clone Script
Changelly clone is a readymade Instant cryptocurrency exchange script that enables traders to trade their favorite cryptos instantly. Our bug-free Changelly clone script allows entrepreneurs, and startups to start their own Instant crypto exchange businesses instantly.
White Label Changelly Clone Software
White label Changelly Clone Software is the pre-designed and completely customized instant crypto exchange software that is now booming in the crypto market. The well-known Instant crypto exchange Changelly has all the current technical features and security procedures included in its white-label Changelly clone software. One of the most well-liked crypto exchange clone scripts that help to establish an Instant crypto exchange with efficient routing and DeFi swapping just like the Changelly platform is our Out-of-the-Box User-Friendly Changelly clone script. This clone script works the same way that Changelly does in terms of workflow and other features.
In other words, our Changelly clone script is an exact replica of the Changelly. Your users may swap DeFi tokens swiftly and safely using the Changelly instant exchange clone software. We used cutting-edge technology stacks to create our Changelly clone script. Therefore, users can easily exchange any kind of DeFi token. By launching your own Instant Crypto exchange utilizing our Changelly exchange clone script, you can simply increase your revenues. It offers extremely enhanced functionality and mobility while supporting a large variety of platform guidelines.
Surprising features of our Changelly Clone Script
Some astonishing features of our Changelly Clone Script that can spellbind users on the Instant crypto exchange are shown below
Instantly buy and sell
Easily send and receive
Live Price Ticker
Multi-lingual
Intuitive user interface
DeFi Swaps
Advanced Use panel
Powerful admin panel
Multi Crypto wallet integration
Crypto staking
KYC/AML solution
Multiple Payment Modes
Support System
And More
Security Features of Our Changelly Clone Software
We at Hivelance enable the strengthened security modules in our white-label Changelly clone script to protect your instant cryptocurrency exchange and trading platform
Check Communication Via Email
Jail Login
Two-Factor Authentication
Integration with Cloudflare
Prevention of SQL Injection
SSL Based on End-To-End Encryption
Anti-Denial Of Service(Dos)
Cross-Site Request Forgery Protection
Server-Side Request Forgery Protection
Anti Distributed Denial Of Service
And more
Why should you Create an Instant crypto Exchange using Changelly Clone Script?
The business of cryptocurrency exchanges is expanding quickly. The instant crypto exchange business model is flourishing these days as more users hunt for platforms where they can instantly swap their preferred cryptocurrencies. As a result, many eager entrepreneurs work arduously to enter this expanding business, yet the majority of them are unsuccessful in their endeavors. This is primarily because people nowadays seek a feature-rich instant crypto exchange and trading platform with intriguing and futuristic capabilities. Therefore, business owners like you can only succeed in the cryptocurrency market by developing a comprehensive instant crypto exchange platform with the newest features, cutting-edge technologies, and unmatched performance.
The ready-to-use Changelly clone software has a plethora of customizable features.
By simply connecting the crypto wallet, your users can start exchanging tokens right away.
Built with the finest tech stacks, tools, and APIs
Instant deployment which means you can launch an instant cryptocurrency exchange, such as Changelly, within 10 days.
The quick, cheap, and efficient way to create a massive and instant crypto exchange and trading platform.
Highly responsive, 100% bug-free & Multi-tested
The Changelly clone script allows connections to many crypto wallets.
This script was created with top-notch security features, so there is no threat from hackers.
It includes a variety of features to attract new users.
It is possible to integrate a secured API with high liquidity.
High prospects of success in a short period of time.
Maximize your ROI with less effort.
Our Changelly clone script is pre-built with all the required components to swiftly create an eye-catching instant cryptocurrency trading platform. So, in a nutshell, employ a powerful Changelly clone to make your cryptocurrency exchange business dreams a reality.
Add-on Modules for Our Pre-made Changelly Clone Script
Liquidity API Integration
Chat Integration
Push Notification
Crypto Loans
Launchpad
Fare Estimation
Integrate Various Social media Channels
Redeem the Point of the customer
Check Customer Rewards & Cashback
Why Should You Buy Our Changelly Clone Script Over Developing Your Own?
You may have several ideas that you want to incorporate into your crypto exchange. But do you have the resources? Developing a crypto exchange platform needs both money and time. The waiting period can eat up your profit. In order to circumvent these issues, why not use our Changelly clone script to enter the crypto space? It has all of the functionality of Changelly and may be customized to your specifications.
Instant Launch
You can launch yourself immediately by constructing your own crypto exchange using Our prefabricated Changelly clone script. You won't typically encounter errors because our script is based on Changelly's model. The entire thing is pre-built. In addition, we tested the cryptocurrency exchange before establishing it to verify that it meets your demands.
Access to Technical Support
Hivelance provides comprehensive technical support for our Changelly clone script. You can quickly navigate through our support groups. To ensure that you have no issue utilizing our script, we provide you with guidance and troubleshooting services. Additionally, you'll get access to frequent updates. This will keep you up to date on all the industry's latest innovations and trends.
Fewer Efforts
You do not need to plan, research, or create the project when you utilise our Changelly clone script. You get a ready-made script. You don't need to know how to code or stay up with cutting-edge technologies. We are here to help you in any way we can. Consequently, you save time in addition to money. As a result, you can concentrate on other elements of your cryptocurrency exchange business.
Cost-Saving
Developing an instant crypto exchange does not come cheap. Sometimes you have to spend a fortune to hire a skilled developer. Starting a new business or operating a small firm will never be able to do this. You can avoid these expenses by using our Changelly clone script. Choose this clone script to prevent unnecessary difficulties. Furthermore, Hivelance provides free installation.
Personalization Options
Our Changelly clone software gives you enough flexibility to brand your rapid cryptocurrency exchange and make it look just like Changelly. Simply advise us of the changes you desire, and we will make them at the desirable rate.
Scalability and License
The Changelly clone script is future-ready. Expand your business and customize the script as needed to reflect the change. When you purchase one of our pre-made solutions, you receive a single-user license. You can get in touch with us whenever you need more than one license.
Do you want to get a Changelly clone for your crypto exchange business and hire the best Instant Crypto exchange software development company for your custom needs? If yes, then get in touch with us today to know more about the Changelly clone script.