Cryptocurrency
Crypto.com Clone Script for building a Crypto Exchange with multiple modules
Crypto.com clone script is the production-ready crypto exchange source code that's equipped with all the functional elements & features of Crypto.com.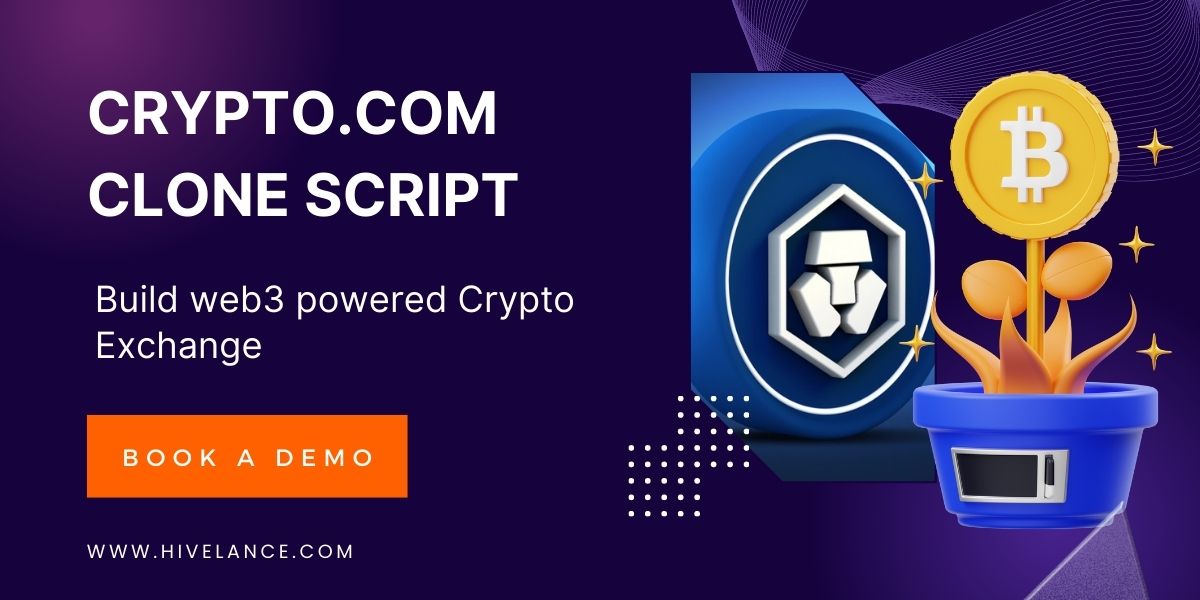 Crypto.com clone script
Crypto.com clone script is the production-ready crypto exchange source code that's equipped with all the functional elements & features of Crypto.com. The code architecture is broken down into multiple modules like User interface, Payment gateways, Wallet management system, Trading system, Content management system, and more.
Entrepreneurs can get this clone script, then tweak the feature set according to their preference and launch web3 powered Crypto Exchange like Crypto.com
How to create a crypto Exchange like Crypto.com?
If you are an aspiring crypto enthusiast who wishes to build a crypto exchange like Crypto.com but with different principles, you are at the right place. We at Hivelance have made this crypto.com clone script as the white-label solution that can fit in the modern technology stack.
This script is engineered in a scalable format so that developers don't need to rewrite the code in any case. Meanwhile, you can customize the platform entirely depending on the branding perspective.
Features of Crypto.com Clone Script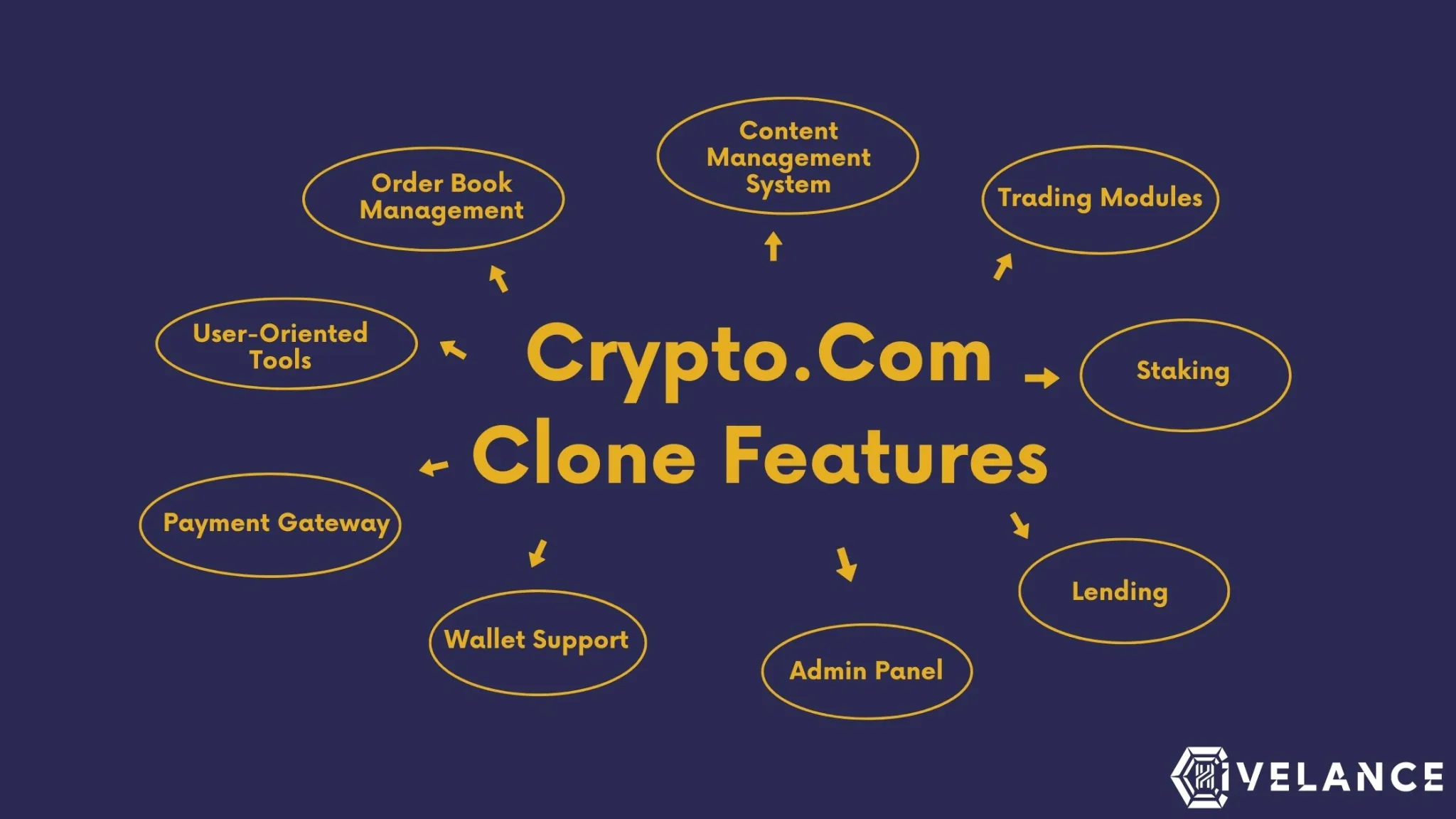 1. Trading modules
Crypto.com supports many trading modules to facilitate the easy exchange of cryptocurrencies. Users can opt-in for OTC trade, Margin trading, Future trading and spot trading depending upon the choice. Our crypto.com clone script has all the user-centric modules you can't ever miss out on.
2. Staking
Other than the trading/exchange part, Staking is the modern investment strategy played by millions of people. Functions Like Payout distribution, fixing interest rate, rewards monitoring, withdrawal staking, and on-chain/off-chain staking are completely handcrafted inside our crypto.com clone script
3. Lending
Lending is the defi protocol that allows traders to get crypto loans on a fixed time period. It gives them more confidence in diversifying their digital assets. You can lend crypto loans from any exchange and invest in any other defi applications.
4. Administrative panel
The backend administrative panel controls the entire operation of the exchange. Managing website content, user accounts management, responding to customer support tickets, Funds management in a cold wallet or hot wallet, coin listing/removal, and order book history maintenance all are part of the admin panel.
5. Wallet support
The crypto exchange app should be strong in accessing user funds through third-party crypto wallets. The exchange should handle millions of transactions coming through the wallet without interruption. We developed a crypto.com clone script in a way to supports any cryptocurrency wallet no matter their user base.
Read this further to know more about crypto exchange app development.
6. Payment gateway
Crypto wallets are not the only option to enter crypto investment steam. Through fiat/card transfers, millions of transactions are carried out daily still now. Our crypto.com clone has the option to link banking transfers, and card transfers within the exchange system instantly.
7. User-oriented tools
User tools such as trading bots, price charts, new coin alerts, and crypto news are included in our crypto.com clone script. You can plug and play the multiple toolset whatever you need. Exchange owners can upgrade any new tools in the future.
8. Order book management
Order book management is the prime task for exchange operators to handle. We have coded a dedicated API that imports the liquidity of crypto pairs, order history, and trading/exchange data from third-party exchanges automatically. The order approval process, and buy/sell match is facilitated by the internal trading engine.
9. Content management system
Our Crypto.com clone has an intuitive content management system like WordPress where you can manage the platform's content easily. There is a dedicated field for making adjustments in banner images, sliders, and tutorial parts.
Security Protocols in Crypto.com clone script
Funds can be insured by third parties to ensure their safety.

The data is encrypted with a hashing mechanism.

Safe & Secure cold wallet storage.

Two-factor authentication

Anti-distributed Denial of Service

Jail login guard

SSL integration

End-to-end encrypted transactions.

HTTPS authentication

Browser detection security

Server-Side Forgery Protection

CSRF protection

Server backup feature

Load resistance

Time to live for user session
Cost to build a crypto exchange like Crypto.com
The cost estimation for building a cryptocurrency exchange like crypto.com is unpredictable. This is Why? because there are many ways to build such exchanges. The road you choose to build decides the cost factors. When you choose Crypto Exchange Script, it's an affordable solution.
The traditional way of developing any website or platform can be done by employing profound developers for a period of time. The average number of resources needed for such development would be 10. When you calculate the expense of hiring, managing, and developing an exchange, you may end up in heavy cost.
Meanwhile, the modern way of approach towards exchange development would be Crypto.com clone script. On average, you would need only 2 or 3 developers to move up the project to live as the code is developed already.
Why Is The White Label Crypto.com Clone Script So Popular In The Crypto Exchange Sector?
There are numerous reasons why business owners like crypto.com clone scripts. The primary key reason is the exquisite manner in which the UI is handled. Crypto.com is a rapidly expanding cryptocurrency exchange platform that enables users to buy and sell 250+ cryptocurrencies with 20+ fiat currencies using bank transfers or credit/debit cards.
Our Crypto.com exchange clone was created using the most up-to-date technology tools and comes with superior white-label solutions. Our cutting-edge Crypto.com clone was created especially for cryptocurrency start-ups and business owners who wish to build a fast-growing cryptocurrency trading platform similar to Crypto.com. Because our software is adaptable, you can change any desired features, themes, styles, or other aspects to best suit your proposals. A spectacular UI and impressive API are included with our white-label crypto.com clone script. Moreover, our script has high-end security capabilities to prevent fraud on your exchange platform.
Why Hivelance for Crypto.com clone script?
Being a proactive player in the Fintech industry, Hivelance has deep expertise in delivering such crypto exchange clone scripts at affordable pricing. In addition, we give our clients extra technical support to maintain the exchange in the long run.
We are recognized by Goodfirms as the Top blockchain development companies in 2022. The project development approach is well structured and driven by milestones split up. Our security protocols are sustainable and 100% protected from vulnerabilities.