NFT
Cryptoblades Clone Script To Create A Play-To-Earn based NFT Gaming Platform Like Cryptoblades
Cryptoblades clone script is a Binance Smart Chain-based NFT game clone script, which can benefit you to build a play-to-earn NFT game with advanced revenue features.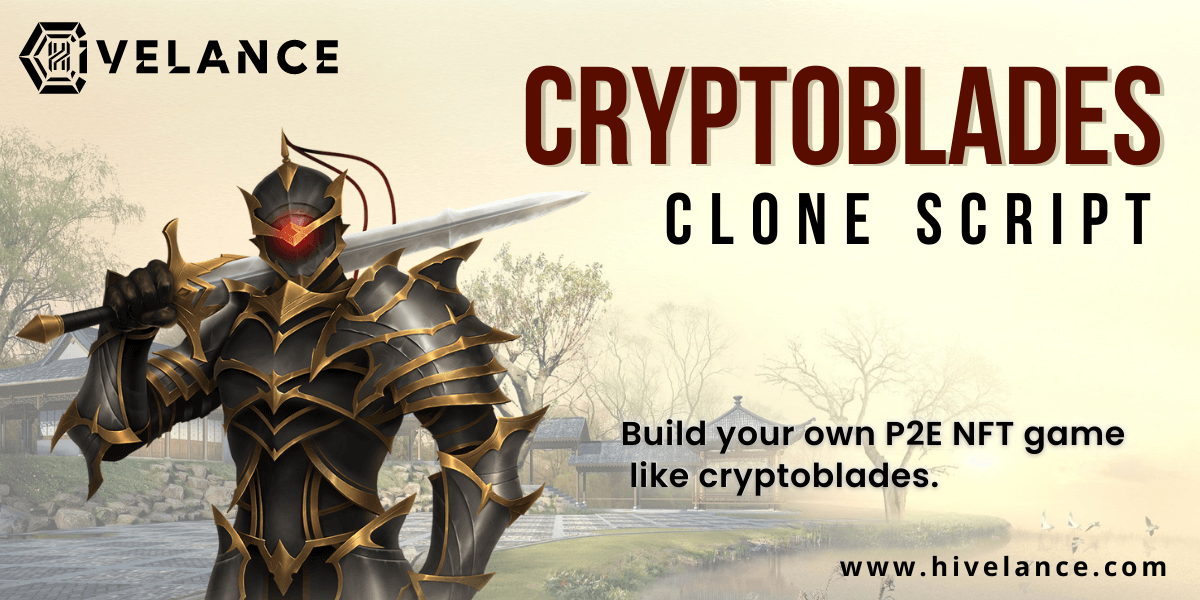 Cryptoblades Clone Script
Cryptoblades clone script is a ready-made solution that empowers entrepreneurs to launch their own crypto trading and investment platform similar to Cryptoblades. Players earn rewards in the game by eliminating enemies and participating in raids. This clone script provides the same features and functionalities as Cryptoblades such as Combat, weapons, skilled characters, forging, reforging, marketplace, Tokenomics, rewards, and more. The clone script can be customized according to the user's specific requirements and can be launched quickly.
White Label Cryptoblades Clone Software
White-label Cryptoblades clone software is a customizable, ready-made solution that allows businesses to launch their own online play-to-earn NFT game platform. These scripts contain all the core features and functionalities of Cryptoblades, making it easier and faster to launch your own platform. Hivelance helps you to build your own NFT game on any blockchain platforms like Binance Smart Chain, Ethereum, Solana and etc. you can customize the P2E NFT game according to your business needs. The game also features a marketplace, where users can buy and sell their NFTs.

CrytoBlades Overview

CrytoBlades is a role-playing game (RPG) based NFT game built on Binance Smart Chain (BSC). In the game, players are rewarded with SKILL tokens after defeating enemies and taking part in raids. These tokens can then be used to hire extra characters, craft special weapons, and reforge existing weapons to make them more powerful. players can trade their characters and weapons on an open marketplace and stake their SKILL earnings to gain more SKILL rewards. CryptoBlades offers a unique gaming experience with its combination of blockchain technology, digital assets, and real-time gaming battles. This game was one of the winners of Binance's Most Valuable Builder (MVB) II program. that game supports Binance smart chain (BSC), Huobi, OKC, Polygon, avalanche, skale, Arora, coinEX smart chain.
Why there is a need to go for Cryptoblades Clone?
Cryptoblades game Clone is a clone of a popular game that allows users to battle each other in a virtual world. The game is designed to be highly customizable, and allows users to customize their characters, weapons, and other elements of the game. This makes it a great way for users to express their creativity and build their own unique gaming experience. Cryptoblades also offers a wide variety of in-game rewards, which makes it an enticing option for players looking to earn rewards while having fun.
How to Create an NFT-based Role-play gaming platform Like Cryptoblades?
Choose your blockchain platform: Decide on the blockchain platform you want to use for your P2E NFT gaming platform. For example, Ethereum is a popular choice for many developers due to its smart contract capabilities.
Develop a user-friendly interface: Design an intuitive, user-friendly interface that allows players to easily search and browse NFTs, view their collections, and make payments.
Develop a blockchain wallet: Create a blockchain wallet for players to store their NFTs and transactions. This will allow them to securely manage their assets and make payments.
Build a marketplace: Build an online marketplace where players can buy and sell NFTs. This will allow them to trade, sell, and purchase items with other gamers.
Create a rewards system: Develop a rewards system that encourages players to keep playing and earning more rewards. This could include leaderboard rankings, achievements, and other incentives.
Launch the platform: Once the platform is developed, test it thoroughly before launching it.
If you had trouble building a crypto blades clone script don't worry about it. Contact Hivelance. Hivelance will help you to build your own P2E gaming platform as per your business needs.
Benefits of Our Cryptoblades Clone Software
User-Friendly Interface: Our Cryptoblades clone software has a user-friendly interface that makes it easy for users to manage their funds and accounts with ease.
Fully Customizable: Our Cryptoblades Clone Software is fully customizable, allowing you to modify and add features that suit your business needs.
Cost-Effective: Our Cryptoblades Clone Software is highly cost-effective with a one-time investment cost that is much cheaper than what you would have to pay for regular software development.
Scalable: Our Cryptoblades Clone Software is highly scalable, allowing you to easily add new users and increase your user base without any additional cost.
Highly Secure and Reliable: Our Cryptoblades Clone Software is highly secure and reliable, ensuring your users' data is safe and secure.
Astounding Features of Our Cryptoblades Clone Script
Combat: Cryptoblades Clone Script Combat mode is, you'll select a character or weapon from your arsenal, then be presented with four randomly selected enemies based on your attributes. After making your choice, the game will calculate on-chain the randomized rolls of your character and the enemy. If your character's roll is higher or equal to the enemy's roll, you will win the match.
Arena: Entering the Arena mode of CryptoBlades clone is your ticket to the world of Player vs Player PVP battles! This game mode is far more demanding than others, as one is randomly matched with players of various levels, potentially giving you a tougher challenge.
Raids: Raids in CryptoBlades Clone Script are a great way to team up with other players and take on difficult bosses. As your level increases, the bosses will become more powerful, so it is important to work together with your team to be successful. Even if your character's power isn't high enough, you can still succeed by combining the strength of all team members. Just like in other video games, Cryptoblades Clone raids are a fun and challenging group activity.
Quest: Players can improve their character by going on quests. This is a system that rewards players for completing certain tasks, granting their character reputation points that increase their experience and tier. However, this game mode is not available for characters in the arena.
Secure: Our Cryptoblades clone script is highly secure and it is built using the latest technologies and protocols.
User-friendly Interface: The script has a user-friendly interface which makes it easy for the users to navigate the platform.
Multi-language Support: The script supports multiple languages like English, French, Spanish, German, and more.
Multi-currency Support: Cryptoblades Clone Script supports multiple currencies like Bitcoin, Ethereum, Litecoin, Dogecoin, and more.
Admin Panel: The script comes with an intuitive admin panel which makes it easy for the admin to manage the platform.
Payment options and more: Users can buy items from the NFT gaming marketplace without giving their credit card numbers or personal information. Users have access to a number of payment methods, including credit cards, bank transfers, and mobile wallets.
Security Features of Cryptoblades Clone Script
High-end Security: Cryptoblades Clone Script is equipped with high-end security protocols like two-factor authentication, encryption, etc. that ensure the safety of user data and funds.
Data Protection: The platform keeps the user's data secure with the help of advanced data protection measures like data encryption, firewalls, and other security measures.
Secure Wallets: Cryptoblades clone script provides users with secure and encrypted wallets to store and manage their digital assets.
Fraud Detection: The platform has an in-built fraud detection system that monitors the activities of users and flags suspicious activities for further investigation.
KYC/AML Compliance: Cryptoblades Clone Script also supports KYC/AML compliance to ensure that all users are legitimate and comply with regulatory requirements.
Multi-Signature Wallets: Cryptoblades clone script supports multi-signature wallets that require multiple signatures for transactions to be approved. This feature adds an extra layer of security to the platform.
DDOS Protection: The platform also has DDOS protection to ensure that the platform is not vulnerable to any malicious attacks.
Firewall Protection: The clone script is equipped with a firewall to prevent any unauthorized access to the site.
Why Choose Hivelance For Cryptoblades Clone Development?
Hivelance is a pioneering Cryptoblades Clone script Development company. We offer a robust and secure blockchain-based platform for businesses. Our Cryptoblades Clone Script is fully customized with advanced features that provide our clients with the latest technology in the blockchain world. We have a team of experienced professionals to ensure that your play-to-earn NFT platform is secure and reliable. Our Cryptoblades Clone Script includes features such as Escrow Services, Multi-signature transactions, Multi-currency support, High Liquidity, and much more. We provide our clients with the best customer service and technical support to ensure their success.
So, if you are looking for an experienced and reliable Cryptoblades Clone Script Development Company, then Hivelance is the right choice for you. Contact us now to get started with your own p2e NFT game like Cryptoblades!