Blockchain
Cryptokitties Clone Script To Build Your Own NFT Gaming Platform
Cryptokitties clone script is a pre-made and multi-tested NFT gaming solution that helps businesses to launch a cryptokitties- like blockchain gaming platform at an affordable price.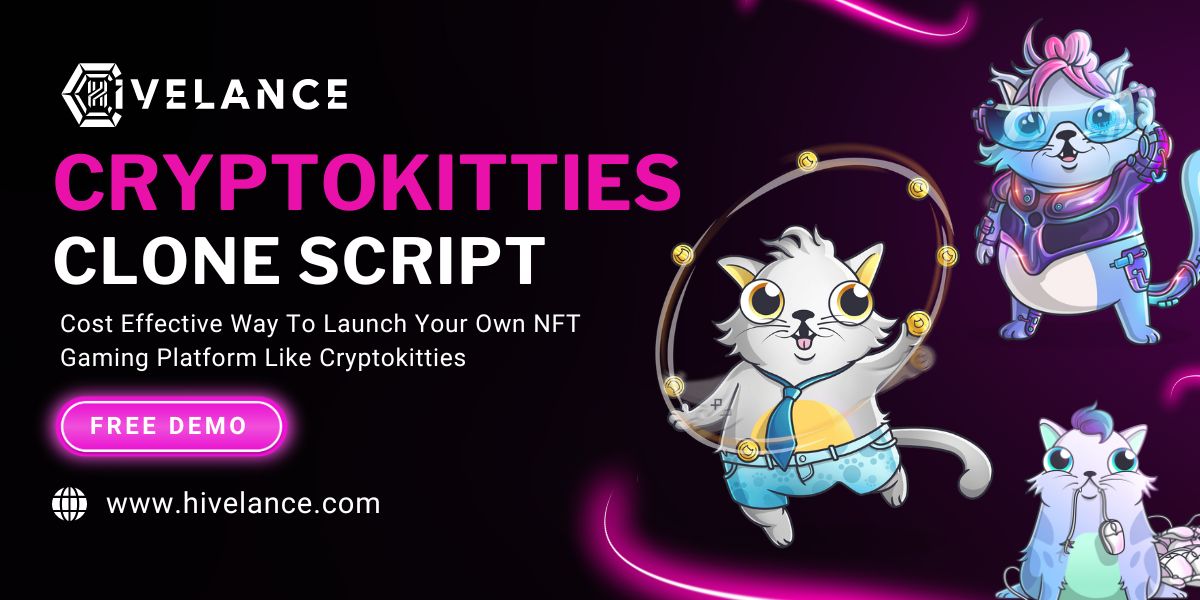 Cryptokitties Clone script
Cryptokitties Clone Script is a ready-made NFT game solution that aids in the development of dApps that play games like Cryptokitties. By dominating the crypto market, the cryptokitties clone software has established standards for the NFT game platform.
Hivelance is a prominent NFT Game Development Company offers a cryptokitties clone that includes key components and allows users to gather, breed, and trade virtual cats.
What are cryptokitties ?
Cryptokitties are NFTs made up of individual digital cats. It becomes one of the earliest and best known blockchain games in the world, a cryptocurrency created on the ethereum blockchain.As a gamified NFT collection designed to make blockchain technology more approachable for new users, Cryptokitties was founded in 2017. Cryptokitties has maintained a high NFT floor price and a sizable monthly user base for a very long time due to its innovative functionality and loyal user base.
White Label Cryptokitties Clone Software
Whitelabel Crypto Kitties clone software is a 100% customizable solution with add-on features to create your own brand.We provide a White label Cryptokitties Clone software that is fully equipped with all necessary trading functionalities and features. You can now create your own avatar on a blockchain network with on-demand customizations in the platform's features, functions, and user interface (UI) to suit your unique needs.
Features of Crypot Kitties Clone script
Clock Auction
Play games in the KittyVerse
Buy & sell kitties within the community
Customized Avatars
Smart Contract
Mint Your Kitty
Hunt limited edition Fancy cats
Breed Your Own Avatar
Crack puzzles next to other players
Create digital cat collections & Earn reward
Security Features Of Our CryptoKitties Clone
Two-factor Authentication
Advanced CMS
Auto withdrawal option
Built-in integrated wallet
Multi-language Support
Liquidity Management
Universal payment options
Benefits of Having Our Crypto Kitties Clone
Improved security
The key advantage of creating and utilizing a Cryptokitties clone script is that, because of its decentralized structure, it offers improved security. A threat- and hacker-free environment is provided by blockchain technology.
Schedule for deployment
Using our clone script user has the benefit of saving both time and money. When opposed to creating a game solution from scratch, creating a clone platform takes far less time. You can purchase our pre-made solution because it was created after knowing the market strategies and analyses, saving you the time and effort of creating and installing a gaming platform from scratch over the course of months.
Scalability
Investors can develop a cost-effective and potentially profitable platform by selecting our market-ready solutions because they are feature-rich and operate without any effort.
How Does Our Clone of Cryptokitties Function?
NFT Games makes money by providing consumers with the most well-known games. The greatest NFT game is the Cryptokitties clone script, which offers users and investors a number of perks and rewards. Our Cryptokitties Clone Script needs to be run through the following steps in order to work.
Signing up
Initial Registration On your Cryptokitties-inspired platform, prospective players must register. The platform requires gamers to sign up with their aliases and email addresses, which are both used by gamers. This is how you quickly log into the Cryptokitties website.
Integration with wallet
After registering, connect your wallet to the platform. The wallet is crucial for obtaining avatars, and the primary objectives of the game are to trade avatars and acquire and raise cats. You can link your platform to the wallet of your choice.
Selling avatars
Players may only begin playing a game after purchasing an avatar with the funds in their virtual wallet. The avatars are all different and are available for purchase on the market. You are free to buy as many avatars as you want without any guidelines or limitations.
Engage in combat
Players can engage in combat on this platform. Players can utilize their own avatars during the combat, which are available in a wide variety. The battles on this website are quite exciting and interesting, and the people that participate in them receive various awards.
Ideal cat to breed
One of the options available to the players is breeding the cats. Children are created by combining the two avatars in the game. In order to breed them, players can buy the two avatars on the market. Due to their breeding, kittens are born with the most distinctive and unusual characteristics.
Market the avatars
The game's marketplace is always open for players to buy and sell different avatars. The owners of the avatars have complete control over the auction. The price and duration of an avatar's sale can be set by its owner.
How to Create the Crypto Kitties Clone Script?
The Cryptokitties clone script is made to allow users to buy, sell, and breed new cats with ether. On the Ethereum blockchain, a smart contract is used to hold these cat collections. It is determined by its unchangeable genes, which are further manifested as distinctive individual appearances. As a result of their ability to manufacture and exchange new artifacts, users have developed into a vibrant and self-sustaining community.
The demand for the Cryptokitties clone script has recently increased across all user groups inside the blockchain network due to its allure as an interactive gaming environment that offers the potential for income through the exchange of collectibles.
At Hivelance, we put a lot of effort into creating blockchain-based solutions that juggle business needs and demands.
Why choose Hivelance For blockchain powered NFT Game like Cryptokitties?
Hivelance is a leading blockchain game development company that has created and implemented gaming solutions powered by blockchain with qualified blockchain developers. Throughout the development process, we take our client's fundamental demands and specifications into account. We value our customers and place an emphasis on producing high-quality work on time.
If you are planning to launch your own NFT game like CryptoKittes then we are the exact choice to work with.