Cryptocurrency
Decentralized Exchange Development - Innovations and Trends Shaping the Next Generation of Crypto Exchanges
Want to create your own decentralized exchange in 2 weeks? Get complete Decentralized exchange development solutions from Hivelance and kick-start your own decentralized exchange on various blockchain networks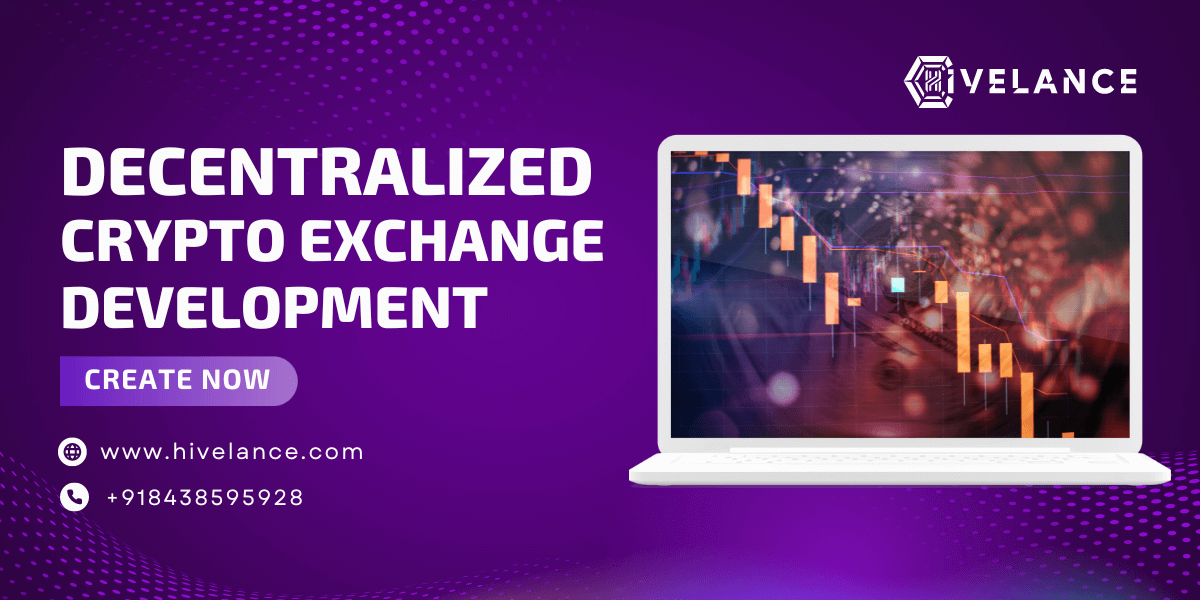 Decentralized Exchange Development Company
Utilize our decentralized exchange platform to harness the potential of decentralized finance and our full decentralized exchange development services to stay ahead in the rapidly changing market. Our skill and experience in developing cutting-edge solutions will guarantee that your decentralized crypto exchange software complies with advanced features.
Decentralized Exchange Software Development
Decentralized exchanges (DEXs) have become a revolutionary solution for conventional centralized exchanges in the realm of cryptocurrencies. Peer-to-peer trading of digital assets is made possible by DEXs, which enhances security, privacy, and financial control. These are the cryptocurrency trading platforms that use smart contracts to facilitate buy or sell orders. By doing so, they do away with the requirement for any centralized authority to monitor or approve transactions inside a trading environment. With our state-of-the-art decentralized exchange software, which is adapted to your particular business needs, you may enjoy seamless trading and secure transactions. Exclusive DEX solutions are offered by our team of professionals to assist businesses and startups in trading more effectively and safely. We are qualified to develop highly scalable, dependable, and secure decentralized exchange platforms because of our unmatched expertise in the field.
White Label Decentralized Exchange Software
White-label decentralized exchange software is a pre-built, non-custodial trading platform that drastically reduces the price and time needed for development. It enables effective resource utilization by simplifying complexity. We work hard to provide a creative approach for foraying into the decentralized exchange market as a premier white-label decentralized exchange software development firm. Our renowned white-label DEX exchange, painstakingly constructed to uphold the highest industry standards in terms of performance and security, acts as a potent instrument to enable users to trade safely and easily.
Features of Our Decentralized Exchange Software
A number of elements that guarantee a safe, straightforward, and effective trading experience must be implemented in order to create a successful decentralized exchange (DEX) software. The following are some crucial features that you might think about including in your DEX software:
User wallet Integration
Multi-crypto and fiat support
Order book
Multiple token support
Matching engine
User-friendly interface
Liquidity pools
Security measures
Faster transactions
Token listing
KYC and AML Compliance
Cross-chain compatibility
Advanced trading features
Mobile app integration
High scalability
Smart contract integration
Robust admin and user dashboard
Multiple payment gateway
Security Features of Our Decentralized Exchange Software
Decentralized exchange (DEX) software must prioritize security to safeguard user cash, thwart unauthorized access, and preserve confidence among cryptocurrency traders. The following crucial security elements must to be included in DEX software:
Two-factor authentication
Cold wallet storage
Smart contract integration
Data encryption
Secured wallet implementation
Anti-DDoS protection
Regular security audits
Regulatory compliance
Our Decentralized Exchange Development Services
Here are a few decentralized exchange development services your business might provide to prospective customers interested in creating their own DEX platform:
Custom DEX Development: We are experts in developing decentralized exchanges, thus we can guarantee the establishment of a decentralized exchange with all necessary features & functionalities that is quick, secure, and scalable.
Smart Contract Development: We develop smart contracts that enable trade without the need for middlemen, enhancing the decentralized exchange's speed and transparency.
White Label DEX Development: We provide white-label DEX solutions that customers may brand and personalize as desired. This might help clients who want to enter the market swiftly by saving them time.
Liquidity integration Solutions: We provide services for the integration of external liquidity providers, enabling decentralized cryptocurrency exchanges to increase trade volume and market depth.
Blockchain Solutions: We help clients choose the best blockchain platform for their DEX such as Ethereum, Binance Smart Chain, or Solana and integrate it into the platform.

Token Listing Services: We enable the listing of new tokens on the DEX and help clients build a transparent token listing procedure that includes due diligence requirements.
Mobile App Development: For the DEX, we create mobile applications for iOS and Android to increase accessibility and attract more users. We also built the DEX with scalability, enabling customers to manage rising trading volumes and gradually expand their user base.
Security audits and testing: Our team of workers Execute extensive security audits and testing to find and fix flaws in the DEX code and make sure the platform is secure and attack-resistant.
Technology stacks used in Our Decentralized Exchange Development
Wallets: Binance, wallet connect, coinbase, Trust Wallet, Metamask
Programming languages: solidity, python, C++, Vyper, Rust
Frameworks: React.js, Web3.js, Angular.js, Next.js
SmartContracts: Openzeppline, Hardhat, ganache, Infura, alchemy
Why Choose Hivelance for Decentralized Exchange Development?
Hivelance is the forerunner in decentralized exchange development and we have a lot of experience with DEX solutions, smart contract creation, and blockchain technology. In order to create cutting-edge DEX systems, we demonstrate our expertise in working with the most recent development tools. We offer customized DEX solutions to fit the unique requirements and goals of each client. We have a professional team that is thoroughly qualified and skilled to handle even the most challenging assignments with simplicity and efficiency. To facilitate safe and quick transactions, we are an all-encompassing provider for building your white-label decentralized exchange software.

We follow transparent development processes
Timely delivery
The latest blockchain technologies implemented
Security first approach
24/7 Customer support
We have a record of success.