Cryptocurrency
DxSale Clone Script To Launch Your Own Decentralized Token Launchpad Like DxSale
Hivelance offers ready-to-launch DxSale clone script that helps entrepreneurs and businesses to start their own token sale platform like dexsale.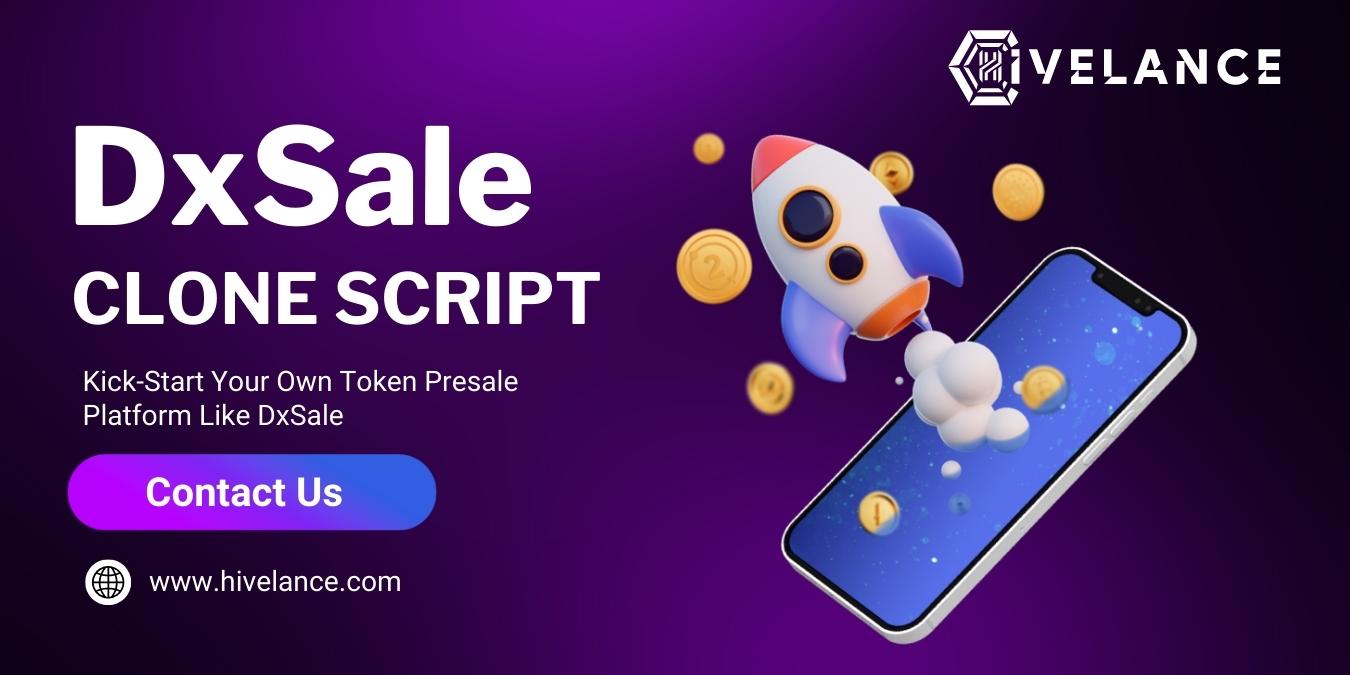 DxSale clone script
DxSale Clone Script is a readily available solution to launching your own decentralized launchpad. Using our DxClone Script, you may quickly and easily develop a platform similar to DxSale. With a DxSale clone, you can build a platform that allows users to easily initiate and manage token sales. By capitalizing on DxSale's success, you may quickly establish yourself as a leader in the bitcoin industry.
Hivelance builds a 100% bug-free and multi-tested DxSale clone script that is built merely on the immutable blockchain and can be used to produce tokens on many blockchain networks using launchpad specifications.
What is DxSale ?
A cutting-edge web3.0 platform called DxSale was created to meet client expectations in the quickly expanding decentralized finance (deFi) sector for cryptocurrencies. Users can utilize DxMint to generate their own tokens, DxSale to raise money, and DxLock to protect those tokens.
A decentralized launchpad mechanism called DxSale enables projects to raise money through token sales. It is a well-liked platform among cryptocurrency fans since it provides a secure and transparent way to participate in new ventures. DxSale offers a complete solution for organizing and running token sales.
Core components of DxSale clone script
DxMinting Attributes
DxMinting attributes is another important component. It enables users to define the attributes and properties of their tokens. These characteristics include the token's name symbol, total supply, and decimal places. Users can tailor these qualities to their project's objectives and standards. DxMinting properties give consumers freedom and control over the characteristics of their token.
DxSale Clone Launchpad
The DxSale clone launchpad is an important part of the DxSale clone platform. It has a launchpad function that allows users to start token sales and ICO(initial coin offering). Users can build campaigns , specify token specifications, and set fundraising targets using the launchpad's user-friendly interface.It is a platform for investors to learn about and invest in great enterprises.
DxSale Swapping attributes
DxSale Swapping attributes play an important part in token swapping and liquidity provision. It also has a smooth swapping feature that allows users to effortlessly exchange tokens. Users can exchange or lend liquidity to token pools, increasing the token's market liquidity and accessibility. The DxSale swapping attributes ensure that users have a seamless and effective token-swapping experience.
DxDrop
DxDrop is a cutting-edge feature of DxSale Clone which allows users to give tokens to members of their community immediately. It provides a way to recognize early backers, devoted investors, or individuals who actively participate in the project. DxDrop enables users to airdrop tokens to a chosen set of users, promoting involvement within the community and rewarding participation.
DxFair Launch
DxFair Launch is a DxSale clone component that encourages fair and decentralized token distribution. Its goal is to eliminate unfair advantages and ensure that all participants have equal opportunity. Before the token sale, DxFair launch prohibits massive token allocations to particular individuals or organizations.Instead , it employs methods like randomized allocation or time-based distributions to ensure that all investors have a level playing field.
Features of DxSale Clone script
The unique characteristics of our DxSale clone script are listed below,
DxLock
You may quickly lock the DxLaunch using this capability.Additionally, this platform contains a locking external token with rewards.
DxSwap
After the start of token's sale with DxLaunch, this feature will provide token exchanging and liquidity.
DxFarm
This function in our DxSale clone script yields farming to be automated in a smooth manner.
DxMint
With this feature, users can create their own token on any blockchain network and sell it on the DxSale marketplace.
DxLaunch
A spectacular launchpad with governance support across various blockchain networks is DxLaunch. Anyone can easily build a token and instantly get featured on this site using our DxSale clone.
Benefits of creating DXSale clone
You can obtain several benefits of both you and your users using a DxSale clone script. The first question you ask yourself when you decide to design anything is whether it has more features and benefits. So, let us look at some major advantages of creating the DxSale Clone.
Customizability
The DxSale clone script gives you the freedom to modify the platform to meet your own needs. The features, functionality, and design may all be altered to fit your brand and target market.
Cost effectiveness
It will be advantageous to create a token sale platform from scratch at a reasonable cost. You start the DxSale clone script at the best price based on your requirements and ideas.
Trust and security
DxSale clone scripts provide strong security features to safeguard user information and transactions. You may increase the legitimacy of your platform and build confidence with your users by putting in place industry standard security tools.
How does DxSale Clone work ?
There are five different steps in the process of using DxSale clones for presale participation.
Select an intriguing project to participate in on the DxSale presale platform

Check to see if your wallet is connected to the specific blockchain network

Enter the price for which you want to take part in the presale

Validate the transaciton

Simply review the presale address where you participated at the conclusion of the presale

After finishing all of the aforementioned actions, claim your tokens
How to launch a token sale platform like DxSale ?
Decentralized applications like DxSale can be created with our experts who guarantee the timely delivery of DxSale clone script. It offers entrepreneurs who want to build their own empires on the decentralized token platform development an immediate solution.
Our skilled developers pay close attention to give your platform a high degree of decentralization, automation, and flexibility in order to offer choices for interoperability. The entrepreneurs can take advantage of the full functionality of the token presale platform without having to construct a DxSale clone script from the begining.
Why choose Hivelance for DxSale clone script ?
Hivelance is a prominent token development company, offers complete cryptocurrency and blockchain solutions for all types of businesses and startups. NFT development, NFT marketplace development, token sale platform development, and other services are included in our expanded offerings.
Our skilled team will design and implement DxSale Clone Script in a hassle-free manner to provide your end customers with the finest token presale experience.