Cryptocurrency
EIP-3664 Token Development - Real-World Examples of Innovative Token Development
As a top-notch EIP-3664 Token Development Company, Hivelance offers complete EIP-3664 token development solutions based on your requirements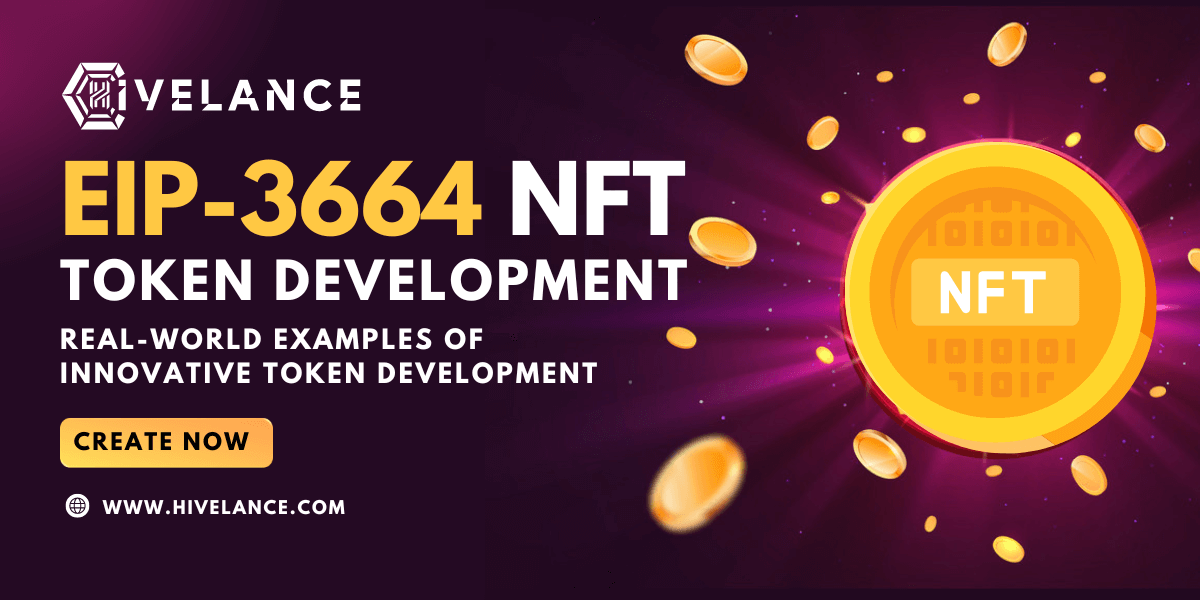 EIP-3664 Token Development Company
With the use of the new token standard EIP-3664, NFTs can be broken up into systems where users can sell individual parts or purchase fragments from others to build new ones. It can be a revolutionary advance to be able to use digital assets in unique ways that are not currently possible on any other platform. The next generation of NFT standards will be created using the EIP-3664 set.
Hivelance is a prominent EIP-3664 NFT Token Development Company that offers blockchain-powered token development services for small to major corporate domains. With the assistance of a reputable token development company, you can create an NFT token from scratch or other crypto-based solutions. Our team of skilled developers who have been providing crypto token development services for many years. Our team specializes in creating NFT, DeFi-based token development solutions for clients in various industries.
Overview of EIP-3664 token
EIP-3664 is an NFT token standard that provides advanced capabilities and functionalities for NFTs. This NFT standard offers the ability to combine, detach, and modify these NFTs to carry out any kind of activity on the blockchain. These features have boosted the metaverse ecology, making it simple to trade a variety of NFT assets including land, avatars, buildings, etc.
What makes EIP-3664 unique?
EIP-3664 is the first platform-level ERC, not only fulfills its promise but also formalizes each of these communities into a highly transparent operating system by taking inspiration from their respective fanfictions, modding creativity, and open source communities.
This EIP-3664 stands for a fresh kind of ownership that completely alters how we deal with digital assets; ownership is no longer in a frozen state with EIP-3664.
The EIP-3664's unlimited customization applies to any virtual goods on a variety of platforms including video games, artistic endeavors, social media apps, and more, suggesting real cross-functional compatibility.
The versatility of this EIP-3664 architecture offers nearly limitless possibilities for NFT feature expansion.
Use Cases of EIP-3664 token
Metacore: NFT identity
Metacore is merely an identity system and a layer2 ecosystem that allows every metaverse citizen to participate in other metaverses via a unique MetaCore identity. MetaCore employs conditions and terms that are accessible through blockchain when forming contracts with others.

Attributes of MetaCore
Customization options abound.
Severe Disaggregation
Progress in Combinable Modular NFTs
Arbitrary attribute addition and deletion
Each component can be combined and divided as desired.
Legoot: NFT LEGO
NFT Loot boxes are a popular item in the NFT universe, but they only deliver NFT prizes with limited uses. Legoot is a loot-like project that seeks to use the full capability of EIP-3664 to provide changing loot objects. MetaCore is compatible with a variety of metaverse blockchain games as well as Legoot. NFT items are held for certain purposes and values, although Lehoot NFT assembly toys allow free assembly and disassembly of their parts which are offered separately.
Cradle: Origin of species
This is a historical blockchain MMORPG game, and using EIP 3664's strong and distinctive qualities, it is possible to take down the entire blockchain game ecosystem. The four categories below serve as a summary of all the NFT qualities for new games,
Variable Attributes
Transferable Attributes
Upgradeable Attributes
Evolvable Attributes
Benefits of Creating EIP-3664 NFTs
Our EIP-3664 NFT's flexibility will allow it to expand and do a limitless number of different tasks.
Several profitable NFT use cases can be made with the help of smart contracts, we construct based on EIP-3664.
The individual components of the EIP-3664 NFT products can be purchased separately.
How to develop a combined NFT Marketplace using EIP 3664 standard?
Developing a Combined NFT Marketplace utilizing the EIP-3664 standard entails creating and deploying an NFT marketplace script and NFT token on EIP-3664 that have a variety of properties including adaptability, reusability, combinability, upgradeability, de-constructability, and more.
With the top NFT Development company like Hivelance which provides all-inclusive NFT solutions to launch the NFT metaverse, creating the combined NFT marketplace is simple.
Why Choose Hivelance for EIP-3664 NFT Token Development?
As a leading NFT Token Development Company, Hivelance offers the top NFT development services to satisfy the demands of our customers. With our assistance, you will develop your own NFT by the EIP-3664 standard. Therefore, our skilled developers can build a useful NFT marketplace for you so that your user can easily trade their special NFTs.