Dapp
Ethereum dApp development company
Launch your Ethereum dApps by picking up the right software frameworks.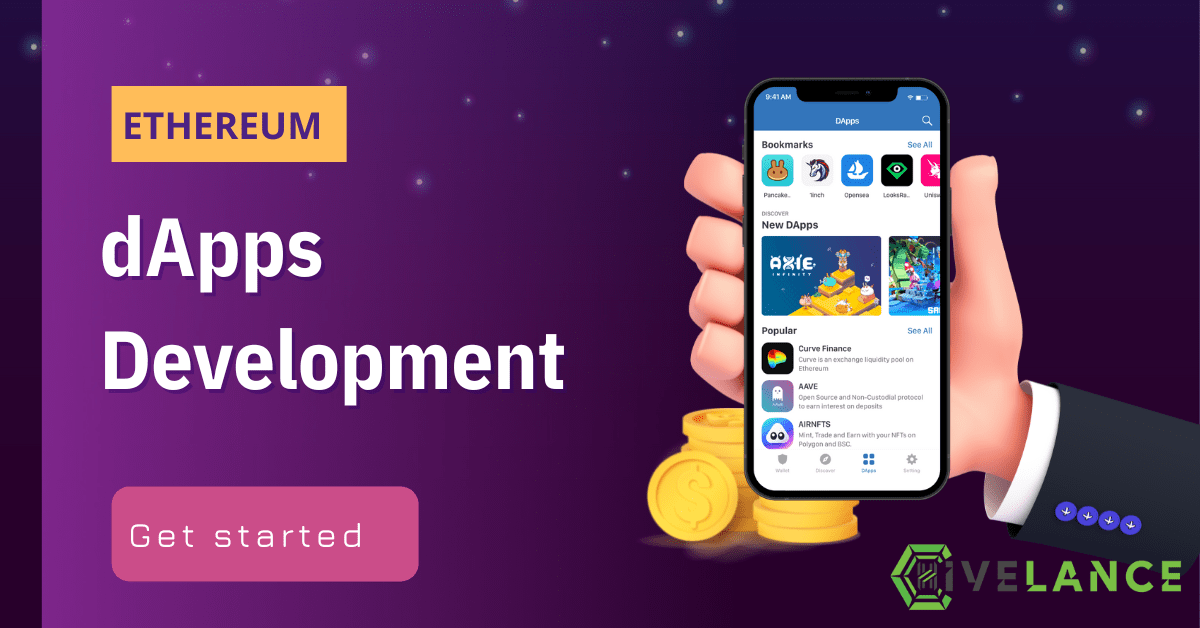 Build your robust & customized ethereum-powered dApps with our ground-breaking solutions. Our dApp development team helps you to launch your dApps by picking up the right software frameworks and using the tools productively to live the project.

Ethereum dApp development services
By keeping the web3.0 technology in mind, our ethereum blockchain developers provide you any dApp development services that can be scaled easily.
Customized dApp development: Our dApp development team ensures to deliver ethereum dApps with your own customization using agile technology. Whether you develop ethereum dApps for NFT marketplaces, or decentralized exchanges and any business use case.
User-interface designs: We create or alter the preferred user-interface designs for your dApps by inheriting the industry standard approach. Check out our portfolio to see high quality UI designs we did in ethereum dApp development.
Ethereum dApp maintenance and upgradation: Maintenance and upgradation for your ethereum empowered dApps are simultaneously carried out by our efficient developers. We can upgrade any existing dApps features without damaging the reliability of your dApps.
Smart contract development: With a proven history of delivering a number of smart contracts for many startups and big ventures, we can assist you in designing and creating self-executing smart contracts in Solidity for your dApps.
Web3 wallet development: Web3 wallets are used to store and manage digital assets and funds. We build web3 wallets for dApps that can support fungible or non fungible tokens so that you can access a wide range of blockchain ecosystems like deFi, crypto. Enriched with a modern stack to easily adapt for various blockchain networks.

Ethereum development tools we use
Truffle
Remix
Embark
Zeppelin
Parity
Platforms used for Ethereum dApp development
AWS
Google cloud
Microsoft Azure
dApps use cases in various industries
Online media services: You can build dApps based file sharing apps that work with the integrated mechanism of bluetooth or GPS.
E-commerce: We make dApp based E-commerce apps that gives no control to centralized authority and enables sellers to earn the maximum benefits without a middleman.
Social sharing platform: Build decentralized social media apps(dApp) that empower the user privacy and make free speech possible in social media format.
Gaming: We develop your gaming platform(GameFi) with astonishing features having all functions of dApps to have an engaged and interactive session.
How to generate revenues from your dApps?
By establishing a subscription model, dApps owners can generate profit by setting up the smart contract functionality.
One can gain profit through placing advertisements in dApps and charge the advertiser who owns the ad space.
Premium version is the monetization model that gives special perks like eliminating unnecessary advertisements for people who opt-in to the premium version.
When transactions are done through dApps, as the dApp owner you can set a certain amount as the commission fee.
Our Ethereum dApp development process
Planning: We understand the clients requirements in-grasp and create the wireframe layouts for the next stage of development process.
Proof of concept development: We assure to implement the latest technologies in developing POC with our blockchain developers. Brief walk through will be given for every milestone development.
Designing and Development: Our dApp development team focus on the creation of scalable architecture design that can withstand futuristic upgradation.If any upgrade is needed in future, we perform it with smart contract re-auditing and deployment.

Why Hivelance for Ethereum dApp development?
As a well recognized Ethereum dApp development firm, Hivelance have worked on dApp projects like gaming, finance and NFTs, associated with blockchain technology for years. Our developers are skilled in programming on both back-end, front-end and smart contract creation specially with web3.0 tools.
We stand with you even after the dApps development is done. After the completion and delivery of projects, we are ready to work with you for any corrections or upgrades.