Blockchain
Farmers World Clone Script To Kick Start Your Own P2E Gaming Platform
Using the Farmers World clone you can launch your own blockchain-based play-to-earn gaming platform within a short span of time and a competitive budget.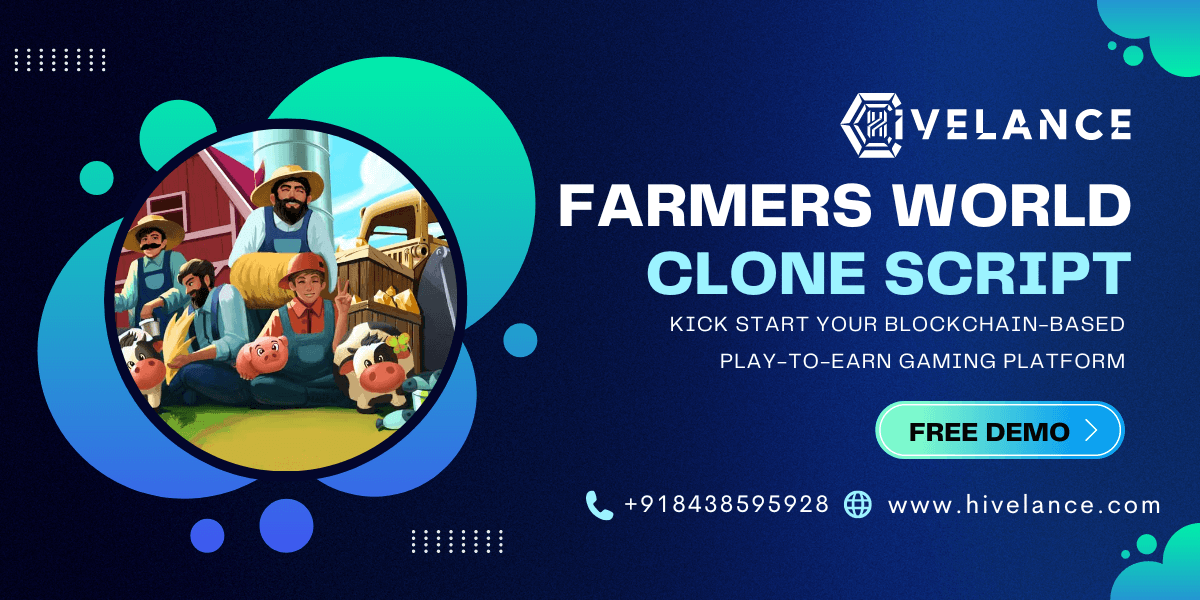 Farmers World Clone Script
Farmers World Clone Script is the best ready-made solution to recreate the WAX blockchain-powered NFT game Farmers World. Our Farmers World clone gives users the ability to choose their equipment, take advantage of resources, purchase lands, and build their own distinctive Farmers World.

Hivelance is the top P2E game development company that offers NFT farmers world clone development services to help you create your own Farmers world-like blockchain-based gaming platform. NFTs are used to represent this platform which is special and tailored.
What are the Farmers World P2E games?
The term "agricultural NFT games" is used to describe these games. One of the NFT games with the quickest growth is Farmers World, where players may mine for GOLD and earn NFTs. The majority of a farmer's work is done in the farmer's environment, where three in-game commodities (food, wood, and gold) can be obtained with NFT equipment. The cultivation of food and the raising of livestock are both permitted on NFT land holdings. The game's secondary market is where you must sell the NFTs you have acquired.

The term " agricultural NFT games" is used to describe these games. One of the NFT games with the quickest growth is Farmer's world, where players may mine for Gold and Earn NFTs.
Tokens of Farmers World clone to leverage game stuff
Farmers World Clone tokens equate to the game's key resources such as Wood, Food, and Gold. Players must first get tokens to use the game's resources.
The tokens are explained below,
FWW -Wood
Users can use FWW tokens to take advantage of Axe, Saw, and Chainsaw in Farmers World clones.
FWF-Food
With an FWF token, users can use the Fishing Rod, Fishing Nets, and Fishing Boat.
FWG-Gold
The FWG token is used by players to gain access to underground mining equipment.
Pivotal features of Farmers World Clone Script
Farmers' world clone has many fascinating factors, including:
Mining- Gold and NFTs are obtained through mining, which is done using a variety of in-game tools. You must first purchase a virtual space to set up your farm in our Farmers World clone before you can start mining.
Energy losses can occur during mining operations depending on the tool. One method of regaining energy involves using wood and gold to create tools and fix machinery. The amount of time needed to proceed after mining is also indicated via a countdown clock. You cannot edit or remove items while they are in countdown mode.
Breeding- Farmers can raise animals to produce food in our Farmers World clone. You could save up the food to have enough fuel to get ready for the next battle with a jungle monster. To produce calves, mature cows may also interbreed.
Building- You can build farms of different sizes throughout the game. To expand your farm, build cow barns and chicken coops. And also to protect your animals from wild animals, you can build robust cages. A cage will also aid in their rapid and healthy development. Thus, the building is the main tool for growing your business, you should become familiar with these Farmers World clone crypto qualities.
Cultivation - Farmers World Clone introduced farming and cultivation in the second half of 2021. You must collect crops to take care of your cattle in the game. You need to own at least one farm plot to cultivate seeds, gather food crops, and exchange fruits with other players. You will get substantial rewards if you successfully collect every fruit needed for the game.
Wild creatures- Wild creatures in the form of jungle monsters are featured in the game. They arrive on land to destroy the ecology and kill livestock and plants. They can be defeated by you and your pets for a variety of rewards.
Having cows and chickens- Large cows mate with one another to produce calves that are raised to adulthood. For the hens to lay eggs in an incubator, the game farmer keeps them healthy. The eggs are then incubated, resulting in a high number of chicks.
How can users make money Via Apps like Farmers World?
Selling resources and growing crops
By offering food and animals for sale in the market, users can earn chickens, cows, barley, grain, etc. Resources like milk from animals and barley can be exchanged with ease.
Exploiting Resources
Gold, Food, and Wood are just a few of the game tokens that may be mined for money by payers. Use the exchange feature in the game to trade resources between players. As an example, users could trade gold for food.
Considerations To Make Before Playing The NFT Farming Game
Become A Gamer
Gamers must educate themselves on the fundamentals of the game, the mechanics of minting, and the uses for the game's mining output. Users can better understand the game.
WAX Wallet Development
The user must create a WAX cloud wallet account before starting the game. They must register for the game and create an account by entering their email address and password. Before logging in, carefully read the terms.
Deposit Money In Your Wallet
Users must add money to their WAX wallets after creation. They can increase by sending WAX from other accounts, using payment cards, or trading items. All things considered, purchasing exchanges like Binance is the best and simplest option to add money.
Get Equipment
To sync their wallets, users must follow the instructions. Users must purchase their tools from the Farmers World collection using money, at the very least an axe and a fishing rod, to begin playing the game. The website is also simple for users to visit.
Several rules in Farmers World Clone
Players in Farmers World Slone can select the best tools, utilize various resources, purchase land to start farms on, and learn new skills due to the game's ecosystem. We intend to release the game for free and use the Well known "play to earn" feature.
The Happy Farm Facebook browser game was formerly very popular, and the developers of the dApp are creating a world where players may produce plants, harvest wood, catch salmon, and raise animals and birds.
The play-to-earn system was inspired by the fight to earn games. People visit other farms, stop to gather their crops, and compete with other players for resources.
Thus, players must prevent outsiders from entering their fields. The creators of Farming World anticipate that users will enjoy boasting about their hard work in addition to making money.
Why Choose Hivelance For Farmers World Clone Script?
Hivelance is a leading Metaverse Game Development Company, collaborating with you to create the best Farmers World clone software with skilled technical personnel. We are ready to start your project from scratch and provide a customized solution. The Farmers World Clone Script can also be used to make an application that allows users to select their tools, spend their resources, purchase land, and build their own Farmers World. Now is the perfect time to put your best gaming ideas into unique products, whether it be a P2E, NFT, or Metaverse game.

Get in touch with us right away to find out how we can turn your concept into a fun play-to-earn gaming platform.