Cryptocurrency
Fiat-backed Stablecoin Development Company
Hivelance is a one-stop Fiat-backed Stablecoin Development Company offering a wide range of fiat-backed stablecoin solutions.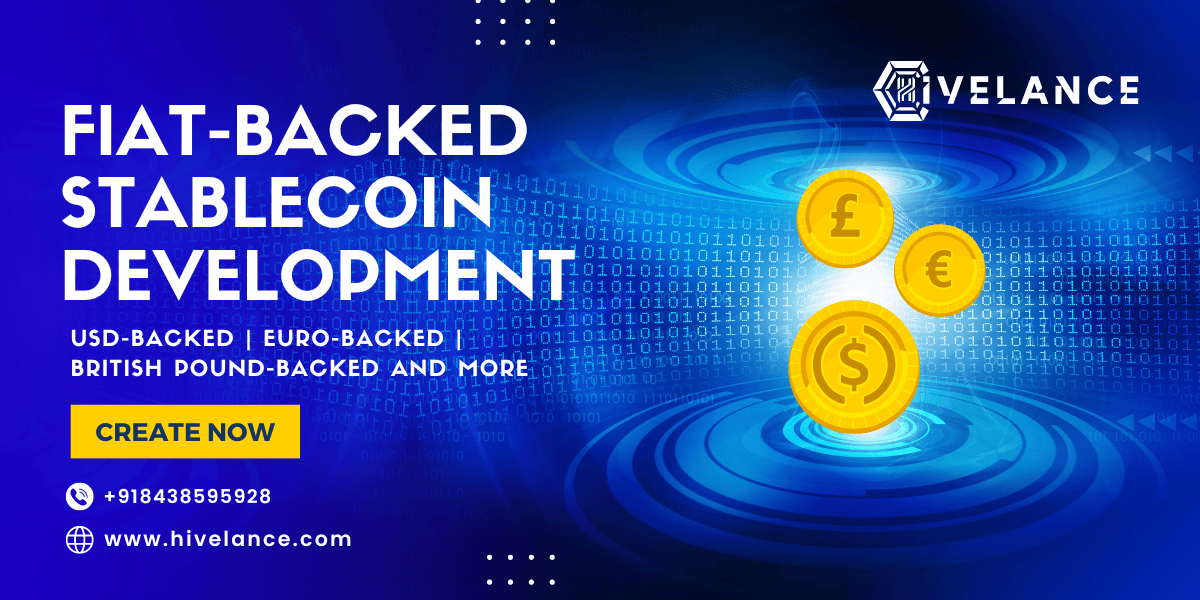 Did you know? In Analytics Insight, Search says that market analysts predict that Stablecoin could hit USD $200 billion by the end of 2023, Currently, it's reached 160 billion USD in June 2022

Fiat-backed stablecoins have grown worldly more and more, giving users to approach for connecting online payments and other real-world applications with crypto. However, due to these options, fiat-backed stablecoins found more and more use cases within the crypto space.

In this post, I'll walk you through about fiat-backed stablecoins and fiat-backed stablecoin development including its benefits and tech stacks.

To create your own Fiat-backed/pegged stablecoin you first need to choose your fiat currency like The U.S. dollar, Euro, and another asset because it will be a fully regulated crypto pegged 1:1 with the USD/Euro and will follow the 'full-reserve model'.
Fiat-backed Stablecoin Development Company
"Transform your online business to the Next Level Using Hivelance Fiat-backed Stablecoin Development Services"

Fiat-backed Stablecoin development is the best solution for you if you want a feature-rich, more secure, and accelerated fiat-backed stablecoin. Our skilled team of stablecoin developers is capable of providing comprehensive solutions. We offer entire stablecoin development and smart contract development services. We can build fiat-backed stablecoins for you that can be incorporated into diverse wallets, cryptocurrency exchanges, DeFi platforms, and many other services. Stablecoin development backed with currency means that it is locked up in the top layer of the blockchain network utilizing smart contracts to ensure maximum economic incentives.
Benefits of Fiat-backed Stablecoin Development
Widespread Adoption
100% backed & Fully Transparent
Price Stability
Low Volatility Solution
Instant Processing Of Transaction
Low Trading Cost
Immutable Smart Contract
Fast & Cheap To Use
Automatically Executed
Highly Secure
And more
Fiat-backed Stablecoin Development Services
Consulting for Fiat-backed Stablecoins

Our discussion session will allow you better grasp the prospects of your fiat-backed stablecoin idea. For your project, our blockchain professionals establish a strategy that outlines the market insights, business and technical strategy, development, and delivery process.

Drafting a Whitepaper

Our subject matter specialists will write a research-driven, intelligent white paper for your target audience that would accurately define the potential of your project as a solution to a specific basic problem. This one will help you establish your stablecoin offering in the market.

Fiat-backed Stablecoin Development

We build stablecoins that are backed by USD, euro or British pound. The multi-collateral stablecoins that our team develops have centralized governance.

Marketing for Fiat-backed Stablecoins

Our stablecoin professionals cooperate with you to develop a growth hacking strategy that will support you in attracting the right investors. We utilize a variety of marketing efforts, such as email marketing, social media marketing, and other tricks.

Management of Community Support

Our passionate team provides essentials to the effective through online live chats, social mediums, and crypto forums. We make sure that investors' queries are promptly addressed.

Decentralized Based Fiat-backed Stablecoin Development Solutions

Fiat-backed stablecoins that are decentralized have been developed to reduce price fluctuation. It offers financial independence and has several marketable use cases. It will be backed up by real-world assets. A Decentralized Stablecoin's owners can take part in the management of a blockchain network.
As a leading Fiat-backed stablecoin development company, Hivelance developing a decentralized fiat-backed stablecoin that is crypto-based, similar to DAI. It is compatible with wallets, exchanges for cryptocurrencies, DeFi platforms. Also used for international remittances as well as in games. It is backed by regular money and commodities. High economic incentives will be provided by the funds being locked up in smart contracts built on top of the blockchain networks such as Ethereum, BSC, Tron, Solana, Polygon, and more.
Our Decentralized Stablecoin development's primary benefits are rapid transaction processing and consistent value maintenance. a margin trading platform for reacting to shifting market conditions that are totally independent of centralized control and remarkably impervious to transaction censorship. the lack of intermediaries with minimal transaction fees. provides defense against market crises and a governance risk-free environment.
Create Your Fiat-backed stablecoin With Trend-Leading Stablecoin Development Company
With the help of a trusted stablecoin development company, launch your fiat-backed stablecoin and set up your online business seamlessly. We, at Hivelance, extend our innovative Fiat-backed stablecoin development services on different blockchains like EOS, Ethereum, BSC, TRON, Solana, and Polygon to get you enough options to build your premium fiat-backed stablecoin authority.
As a top-rated stablecoin development company, Hivelance allows you to navigate your overall stablecoin development journey with the help of building an all-new blockchain from the beginning. We help in devising a mission-driven, comprehensive approach to the concept of fiat-backed stablecoin development, from selecting a precise blockchain to leveraging the internal architecture of the blockchain technology.
Top Fiat-backed Stablecoins 2022
Let's explore some of the top Fiat-backed stablecoins
Tether (USDT)
Gemini Dollar (GUSD)
USD Coin (USDC)
Binance (BUSD)
Dai (DAI)
TrueUSD (TUSD)
Pax Dollar (USDP)
Neutrino USD (USDN)
USD Digital (USDD)
And more
Why Hivelance For Fiat-backed Stablecoin Development?
At Hivelance, we develop a simple and unique Fiat-backed Stablecoin that is most secure and backed 1:1 by fiat currency like the USD, euro, or British pound. We Hivelance believes in connecting people around the world. We build feasible and more secure fiat-backed stablecoins that could attract crypto users who can buy products and services online with fiat-backed stablecoins, just like any other cryptocurrency.
Given our proven experience in creating tokens and providing Fiat-backed stablecoin development services over complex algorithms, Fiat-backed stablecoin development is an integral part of our Stablecoin development. We harness blockchain technology to build decentralized stablecoins that offer the on-chain financial stability that most crypto traders require.
Our blockchain developers and domain experts work together to offer diligently-crafted fiat-backed stablecoin development services to help you accomplish your business goals. Whether you want to create stablecoin backed by various types of real-world assets, we offer mission-driven stablecoin development solutions to effectively cater to your needs. We offer everything that you need for an energy-efficient Fiat-backed stablecoin.
Blockchain Networks we develop for Fiat-backed Stablecoin Development: -
Ethereum
Tron
Binance Smart Chain
EOS
Solana
Polygon
And more
Hivelance is a premium Fiat-backed stablecoin development company with a strong foundation in the blockchain and crypto era. We help to build fiat-backed stablecoins that enable businesses such as exchanges, wallets, payment processors, financial services, and ATMs – to easily use fiat-backed stablecoins on top of the blockchain networks. Some of the largest businesses in the cryptocurrency ecosystem have integrated fiat-backed stablecoins for their end-users.
Want to create more secure, transparent, 100% fiat-backed stablecoins? Feel free to consult our experts via Whatsapp | Telegram