NFT
Football NFT Marketplace Development Company
Hivelance is a premier Football NFT Marketplace development company that offers comprehensive Football NFT Marketplace development solutions that enable your players to buy, sell, trade, create, and collect Football-related NFTs.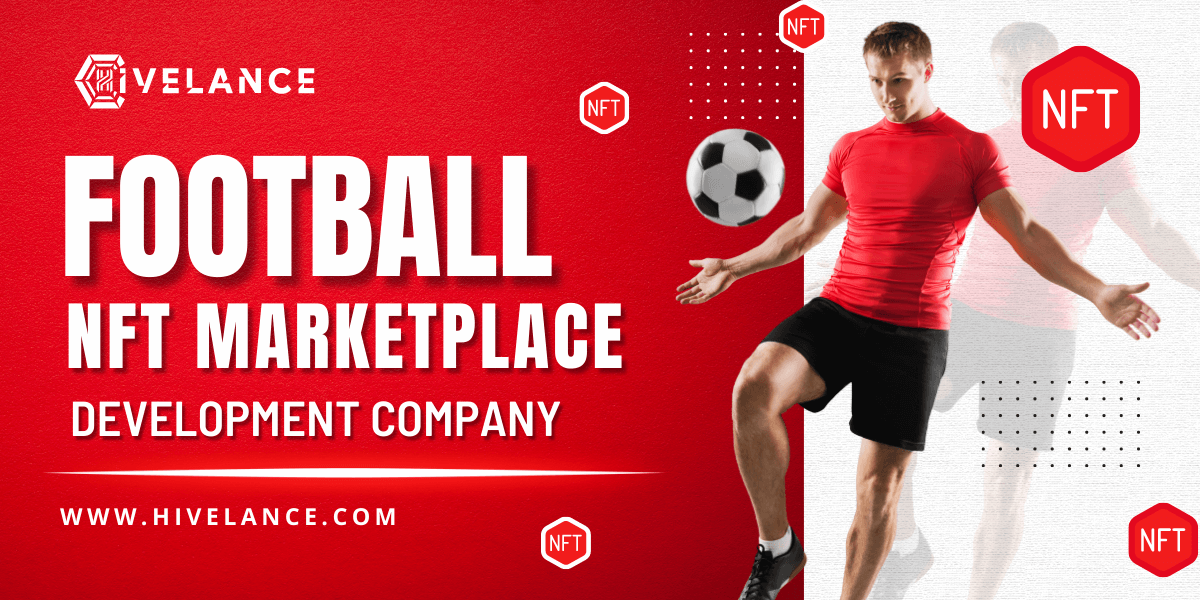 World's half of the population shows interest in sports activities. Reasons might be for maintaining their physique with proper health conditions, spending leisure time usefully, and so on. Hence, Sports are a major part of everyone's lives on a day-to-day basis. There are N number of sports activities and each category can afford players with many benefits.
Among these, Football is the most popularized game attracting millions of players. Having a huge fan base, Many countries are conducting football tournaments on a globalized level anticipating top-talented Players. Concluding, Football is accepted as the National Game of some countries like England, Denmark, Brazil etc. Blockchain Technology is the amusing factor revolutionizing all fields with its boons. NFTs( Non-Fungible Tokens ) are becoming the Trump cards, which is stirring up the sports industry too.
These Digital assets are playing an eminent part and have opened up a new venture for fans to own the unique pieces of their favorite teams and players according to their preferences.In the world of Sports, NFTs have many benefits as they are used in trading as the essential card in the sleeve. They act as the source of revenue generation.
Football NFT Marketplace Development
Football NFT Marketplace is the platform that paves the way for football fans to buy/sell NFTs and also trade them. As blockchain is being put into the effort, all transactions carried out will take place more safely without any hassles and transparency is high. Ownership and Authenticity is being maintained throughout as blockchain plays a vital role in these marketplaces.
Features of Football NFT Marketplace Development
Football NFT Marketplace being the common destination for purchasing the NFTs related to football serves numerous benefits to the users and provides them with the options as follows:
Searching and Purchasing the elite Football based NFTs are easy
Ownership and Authenticity is guaranteed
NFT Creation tools
Analytics and tracking
Enabling the storage of NFTs in an easier way through the help of wallets
Being a part of special events in any football competition is assured.
High-Tech Aspects for Building Football NFT Marketplace
Blockchain Technology
Smart Contracts
High-end Security features
Stunning UI/UX
Digital wallets
Payment gateways
Various Token standards
High-end Backend and Frontend Frameworks
Steps Involved in Building Football NFT Marketplace
Football NFT Marketplace is built on the appropriate Blockchain platforms, and involves various steps as follows:
Evaluation of Market trends: Analyzing the market with all enhanced attributes, Our tactics in bringing out new roadmaps to achieve success will be the foremost factor needed.
Selection of suitable Blockchain platforms: Choosing the right blockchain platforms will ensure more flourishment of projects.
Assured Prerequisites for building the platform: Designs and features with extraordinary functionalities are implemented according to demands.
Incorporation of Security Measures: In order to enhance the transaction process successfully with all security features, we add security measures.
Successful Launch: With all the above processes done in the correct way, the Marketplace is being launched without any hassles.
Benefits of Football NFT Marketplace Development
High Liquidity
The authenticity of digital assets are confirmed
Prevention of fraud activities
Complete ownership verification
Fan engagement
Higher revenue generation
Cost of Developing Football NFT Marketplace
Football NFT Marketplace serves as the ultimate destination in generating revenues in huge amounts. As the purchase of NFTs are easier within this platform, the number of users engaged in the process will be higher. Each category will be specified with its own price range and the sale happens accordingly. Collectibles related to football games will be available ensuring the users can collect it for the prices they are affirmed with. Designing and developing these Football NFT Marketplaces takes a few steps. Depending on the features and functionalities to be included, the cost estimation will be fixed. Anyhow, development from the scratch will require more cost and time, choice goes into the hands of the users who are in need of the platform.
Some Popular Football NFT Marketplaces
Topps NFTs
Shirtum
AIFA
Fanzone
Fantestec Swap
RealFvr
Socios.com
Why Hivelance for Football NFT Marketplace Development?
Hivelance as the top-star rated NFT marketplace development company, is the master in developing the Football NFT marketplace for performing many functionalities. As our experts are deliberant talents, all your requirements can be indicated as immediate solvable ones and they can work based on it to mark your standards at the international level. We have prior experience in the successful deployment of more than 150+ NFT marketplaces, hence we can assure your project to be delivered in an elegant way. As our professionals are efficient blockchain developers, we understand all the keen attributes to be included in the development of marketplaces and making the processing of the platform to be faster. Blockchain entities attached to these functionalities will never give you any faults or misleadings. Thereby, we step forward in engaging highly qualified resources to make the project more admirable and as a high profit-generating medium.
A talented pool of developers for ensuring your dream projects
Treat for football lovers to enjoy the online football experience
13+ years of on-hand experienced blockchain builders
Discussions over videos and chats
Quicker problem-solving solutions
24/7 customer support
Customization made more special according to your ideas.