Blockchain
GameFi Clone Script To Explore the Power of Play-to-Earn Gaming Platform
With a readymade and easily customizable GameFi clone that is pre-built with core game mechanics, you can build robust and innovative gaming within your budget.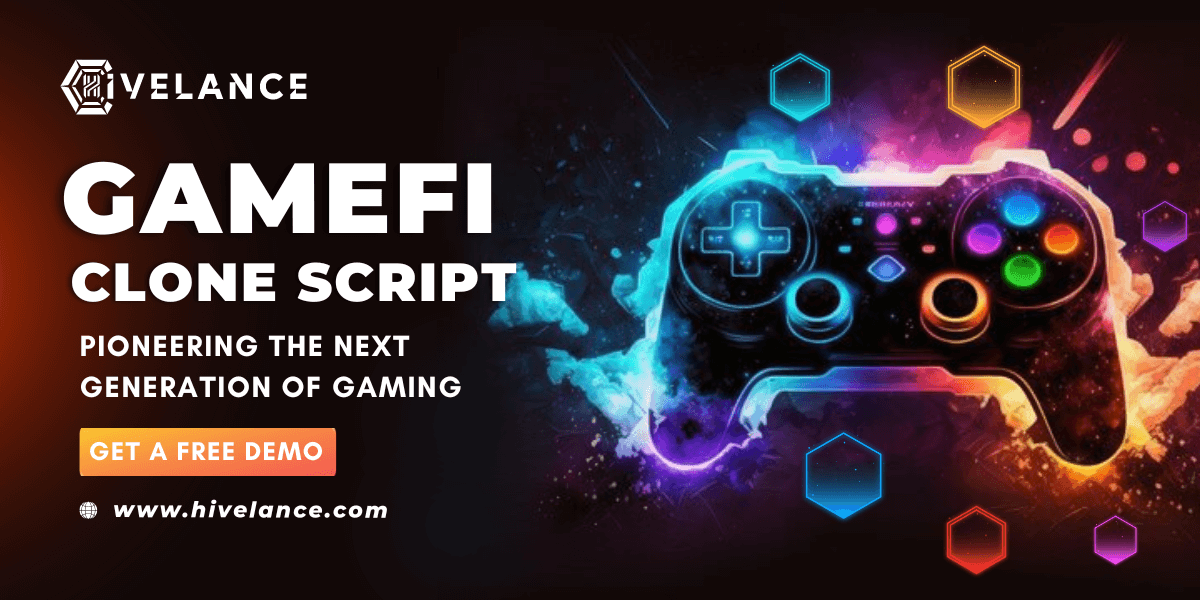 GameFi Clone Script
The GameFi Clone Script is a pre-made powerful aggregator and launchpad platform, that lets users search for and play popular blockchain games. GameFi clone is a term used to describe the financialization of video games. GameFi launchpad script is among the finest initial DeX offering (IDO) gaming businesses with the highest ROI. A blockchain aggregator and launchpad platform with dApp, GameFi clone software allows business owners to set up an IGO launchpad.
At Hivelance, GameFi Clone Script provides a variety of the most cutting-edge games available together with the first in-game marketplace for merchandise sales. The value of rarity and the practicality of digital assets are understood by both cryptocurrencies and the gaming industry. GameFi is developing a platform that will enable crypto games to deliver their projects more quickly by employing pre-made, read-to-deploy smart contracts.
What is GameFi?
GameFi is a resource for everything regarding digital currency. The ecosystem includes the aggregator, marketplace, yield guilds, launchpad, and accelerator. Gamefi is to find a solution for the problem that most game developers encounter and to construct a network that links gamers, token holders, and traders in one location.
The Aggregator gives investors access to extensive and accurate information on the best NFT games. GameFi covers a wide range of topics, including game modes, game studios, tokenomics, developers, advisors, and forthcoming IGO events. GameFi is a yield guild for token owners and players of the BSC and Polygon games. The most comprehensive collection of materials is available to all participants in the growing game finance industry through GameFi.
Whitelabel GameFi Clone Software
Our White-label GameFi Clone Software offers complete support for NFTs(Non-Fungible Tokens). Users can purchase, sell, and trade distinctive virtual goods, collectibles, and in-game assets to improve the gaming experience and open up new revenue streams.
With our white-label GameFi Clone software, you can quickly enter the GameFi market without having to spend a lot of time starting from scratch. Our solution provides players and investors with a distinctive and engaging GameFi experience by customizing the platform to meet your business needs.
Features of GameFi Clone Script
Our GameFi Clone Script includes the features listed below,
GameFi launchpad

Our GameFi Clone provides a game-specific, chain-independent IGO launchpad. We have equipped both the game objects and tokens with the IGO launchpad development to investigate the viability of games.
Accelerator
The accelerator in our GameFi clone script includes pre-built tools and templates that make it easier for blockchain game developers and their teams to embrace smart contracts for tokenomics , P2E mechanisms, and NFTs.
Aggregator
With the help of this feature, users can learn about and experiment with new blockchain gaming. It enables players to post NFTs and in-game assets on the GameFi Clone worldwide market for sale, transfer, leasing, and other transactions.
Global market
It allows players to perform various sporting activities in one location, buy and sell in-game items and assets, and hire more users by hosting many chains of NFT markets.

Earn guilds
For BSC, token owners, and players of polygon games, our GameFi Clone is the best guild. Token owners can spend this money to support games that help people realize their goals of attending college and other creative endeavors.
Mini-Games
This function offers simple blockchain games that make it easier for cryptocurrency newcomers to become used to NFTs and play-to-earn business models.
Auction House
Players can bid in the auction house for pricey and uncommon in-game items.
Benefits Of Our GameFi Clone Script
The aggregator is a hub for player storage of both in-game and NFT assets. Its play-to-earn payouts are simple to follow for gamers. Enables game developers to quickly gain visibility for their game and in-game assets. Game studios will be more visible and have access to the GameFi community's players
Launchpad for GameFi
GameFi is the central hub for all aspects of game financing. In addition to a launchpad specifically for games, the platform has a guild and aggregator for blockchain users, investors, and traders.
A Guide to Play to Earn
The play-to-earn technique is becoming prevalent in blockchain-based games, with BSC and polygon already attracting some of the most well-known blockchain games.
Revenue sources of our GameFi Clone Script
You will generate revenue using the greatest GameFi clone script.
The charge for NFT sales
Trading charges
Accelerated costs
Token sales fees
Trading charges
Stake costs
Market activity charges
Lease charges
Some top GameFi clone development projects
Here are a few NFT Marketplace game-related projects.
Axie Infinity
Legends Reborn
Gods Unchained
The Sandbox
Defi Kingdoms
Illuvium
MOBOX
DeRace
Aavegotchi
League of Kingdoms
Blockchains we support
Ethereum
Binance Smart Chain
Polygon
Solana
Flow
Tron
Avalanche
Polkadot
Why Choose Hivelance For GameFi Clone Development?
Hivelance, a renowned Blockchain Game Development Company, has introduced an all-encompassing center for gaming money similar to the GameFi aggregator. To be clear, our GameFi Clone Script serves as a one-stop shop for investors, traders, players, and game creators. Our technical team can offer their knowledge in the launch of high-performing DEX gaming platforms like GameFi for your requirements. GameFi clone script offer a strong foundation for creating effective GameFi launchpads due to their adaptability, customization possibilities, and security features.