Cryptocurrency
Gemini Clone Script To Build Simple And Secure Crypto Exchange Like Gemini Exchange
Gemini clone script is a ready-to-deploy crypto exchange software that enables entrepreneurs to start their own crypto exchange similar to Gemini. Our White Label Gemini Clone software allows you to adapt it to meet your specific requirements.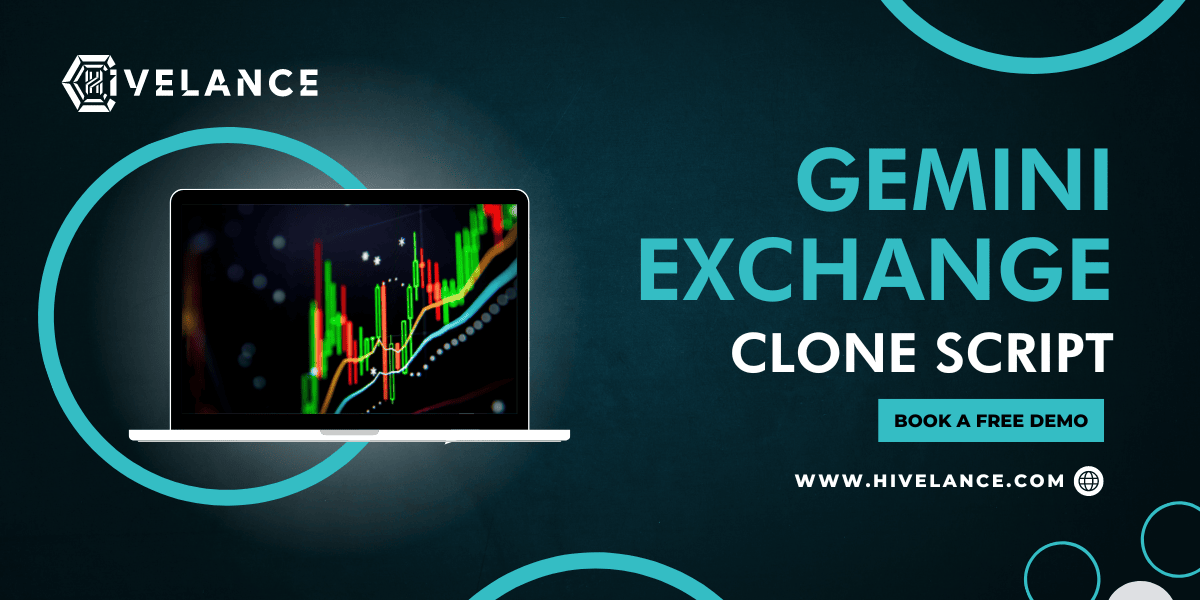 Get a feature-packed Gemini exchange clone script from our capable team that supports both Android and ios. We are your perfect guiding partner to offer the premium Gemini exchange clone script with cohesive functioning. Get a demo…!!!
Gemini Exchange Clone Script
As a replica of the Gemini exchange platform, the Gemini clone script is designed by our team of developers with similar functionalities and features. We make your customization a top priority and provide a complete source code to build the progressive crypto exchange platform. Hivelance design and deploy your Gemini exchange clone script with all requests being implemented for lucrative functioning.
Gemini Exchange App Clone Development
With 10+ years of experience in the development of reliable applications for business growth, Our team of developers can help you to launch the Gemini exchange clone applications with all features you need. Our customized Gemini exchange apps can begin your journey to launch various exchange clones like Binance, Coinbase, LocalCryptos, and so on. We have a successful history of rendering applications to our clients who have praised our efforts for interruptible processing. From small to bigger ventures, our applications made the operations more flexible with higher profits.
Steps for Accessing Our Gemini Exchange Clone Script
Our Gemini exchange clone application has a user-friendly dashboard to attract many users to the platform.
Entry into the platform can be made by providing the account details.
OTP is sent to the mobile number that has been registered for ensuring security.
Users are given the option to access all the pages
Editing choices are offered to the users so that they can their details can be entered
IG videos can be watched to notice user's activity
Daily updates regarding exchange can be viewed
Users can watch other's profiles from their account
Conversations with other users can be done
The pricing range can be viewed so as to decide whether to buy/sell.
Features Included in Our Gemini Exchange Clone Script
Entire customization
Two-factor authentication for security purposes
Liquidity management
Easier Payment processing
Advanced CMS
Implementation of digital wallets
Niche market creation
Wallet for BTC
Multiple language support
Find matches and start trading
Set withdrawal limits
Reasons for Choosing Our Gemini Exchange Clone Script
Helps in the exchange process without any delays or interruptions.
Can be created with your own customization ideas
Intuitive admin panels and dashboards to handle the functioning properly.
All specialized features with appropriate management
Attractive UX/UI Designs
Supports both Android and Ios versions
Helps in ultimate branding
Attracts more users towards the platform and increases the user activities
Hassle-free outputs without any delays
Codes are made for supporting privacy
Regular updates if needed at any intervals
Why Hivelance for Gemini Exchange Clone Script Development?
As a noteworthy Cryptocurrency exchange script development company, Hivelance stands top of the list for its faster and more noble Gemini exchange clone script development. Our efficient team are active players who have strong knowledge in exchange platform creation. Different types of exchanges were deployed successfully in the previous years.
We can firmly give a statement that our Gemini exchange clone platform can help you in business growth with admirable profits and if you are looking for a lively demo, our team can present you with all guidelines. The main highlight to be quoted is that we develop powerful dashboards with all details of processing with robust quality. Exclusive features can be simultaneously included as per the functionality requirements.
Apart from these, our specialty lies in serving the best services and it includes,
Implementation of security features
Cloud integration
Preferred backgrounds, themes, and designs
Full customization options
Adequate support throughout the development phase
Post delivery assistance
Cost-effective solutions
Expert panel support and guidelines
Need support from professionals to create a flawless Crypto Exchange Like Gemini Exchange? Contact Us Right Away!