Cryptocurrency
GMX Clone Script To Create A Decentralized Perpetual Exchange Like GMX
GMX clone with advanced trading features. Utilize our readymade GMX clone script to arrive at a stunning decentralized perpetual exchange platform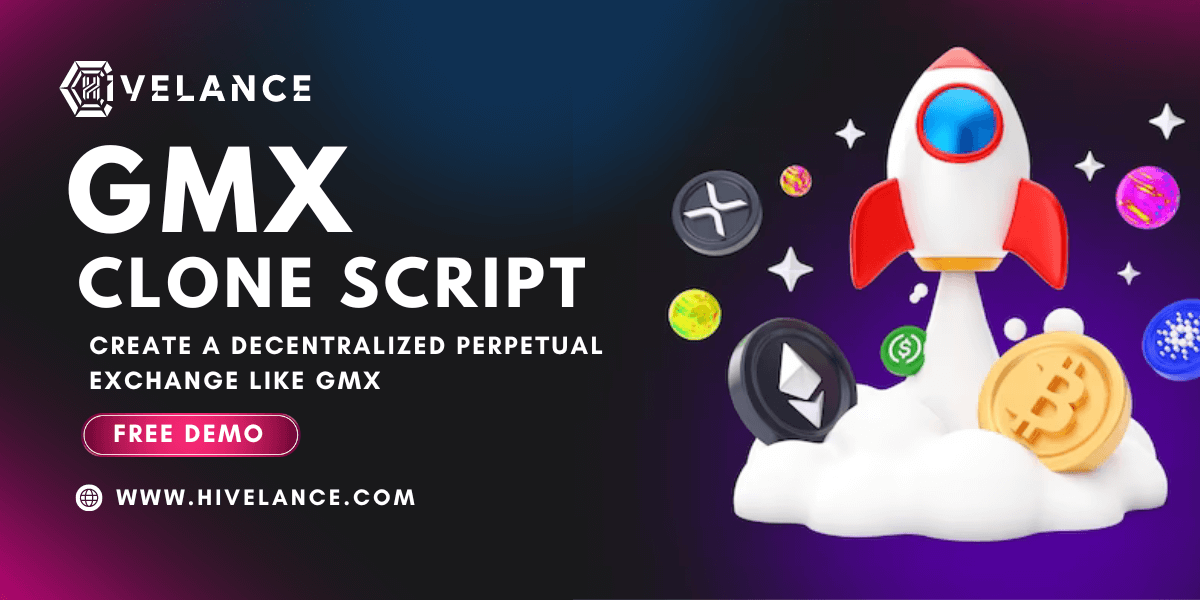 GMX Clone Script To Create A Decentralized Perpetual Exchange Like GMX
Build your Decentralized Perpetual exchange like GMX with the help of our technical masterminds. Our GMX Clone script enhances the decentralized perpetual exchange process that operates on the specific blockchain network using smart contracts.
What is GMX?
GMX commonly represents a decentralized spot and perpetual exchange platform that supports low swap fees and zero-price impact trades. The Trading taking place here is supported by a unique multi-asset pool that earns liquidity providers fees from market making, swap fees, and leverage trading. Traders can trade cryptocurrencies like BTC, ETH, AVAX, and so on with up to 50x leverage. One of the important attributes of the exchange highlighted is that the total trading volume is nearly $13B so far. This decentralized exchange is also available on two blockchain networks which are Arbitrum and Avalanche.
GMX Clone Script: Way for trading in a decentralized ecosystem
GMX Clone script is the ultimate replica of the existing GMX platform where the decentralized perpetual exchange of cryptocurrencies happens. When the experts from Hivelance start over in building the exchange platform, they intrude in bringing all the essential features and functionalities exactly like the original platform, to cohesively perform trading without any hassles. The choices of cryptocurrencies to be traded can be handed over to our clients and we add them accordingly.
Features of Our GMX Clone Script
Low Liquidation Risks: An aggregate of high-quality price feeds determine when liquidations occur. This keeps positions safe from temporary wicks. This is one of the vital features of our GMX Clone script.
Less Costs: Traders can Enter and exit positions with minimal spread and zero price impact. They can grasp the optimal price without incurring additional costs.
Simple Swaps: Users can perform swaps through a simple swap interface. They can conveniently swap from any supported asset into the position of their choice.
GMX Clone App Development
GMX Clone app is the easiest means of performing the perpetual exchange of cryptos in a decentralized pattern. The application has the exact modules of the GMX platform where traders can witness the entire trading in their hands. They receive notifications instantly through push/pop menus and also for any upgrade. We have a team of highly efficient developers who can develop mobile apps, with all features and operations. As there are two blockchain networks, the users can select their preferred one and we can build the clone app on that. Here, Trading on the price changes of an underlying asset without actually owning it is made possible via perpetual swaps or contracts. Users can maintain control over their funds because it is handled directly through their wallets. By doing this, the danger of having money held by a single entity is diminished. Features of our GMX Clone app are listed below:
Integration of wallets
Transaction history
Notifications and Alerts
Trading interface
Order book and types
Leverage options.
How Does Trading Happen in Our GMX Clone Script?
Users need to connect to their wallets after entering the platform. Metamask will probably be the most preferred wallet.
The exchange of tokens needs two things, which are Users will need to have ETH in their Arbitrum account or AVAX in their Avalanche account to start trading.
Swapping or Leverage trading can be performed based on the needs. The trading process will be carried out by resonating the fees and so on.
Hivelance, the Guiding partner for developing your GMX Clone Script to perform perpetual trading
Have you decided to launch a decentralized perpetual exchange like GMX? Hivelance would contribute their knowledge and experience to build a reliable and effective GMX Clone script, where perpetual trading can be performed without any hassles. Our team creates the general architecture of the decentralized exchange based on your business needs. Designing the smart contracts, describing the data structures, and outlining how different parts of the platform interact are all included in this. We also design a user-friendly and intuitive UI for the decentralized perpetual exchange. This entails creating a user-friendly web or mobile application that enables users to engage with the exchange, make orders, track positions, and obtain pertinent market data.