gTrade Clone Script To Kick Start Your Decentralized Leveraged Trading Platform Like gTrade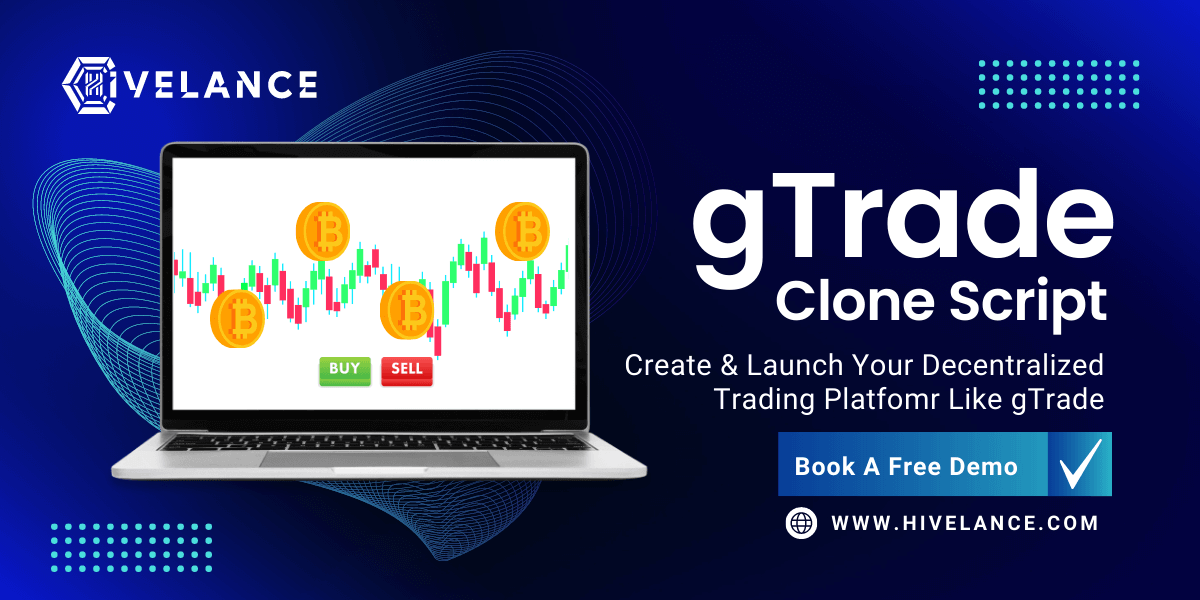 gTrade Clone script Development Company
Leverage your trading capability to earn higher yields by designing and launching the decentralized gTrade clone script from our experts. Hivelance is a well-reputed organization that can join hands to proliferate your business growth with a liquidity-efficient, powerful, and user-friendly decentralized leveraged trading platform.
Overview of gTrade?
gTrade is a decentralized trading platform that is powerful and user-friendly and helps to leverage trade on crypto, stocks and forex. This platform enables trading in an efficient way by collecting low trading fees and allows a wide range of leverages and pairs. gTrade platform works based on some vital protocols, and they are dependent on ERC20 Utility token ( GNS ) and ERC721 ( NFTs ). These both are designed to be incorporated within the platform enabling the assurance of ownership.
What is gTrade Clone script?
Replicating all the essential and vital aspects of the original gTrade platform, gTrade clone script enables all the functionalities to take place in a cohesive way. Our gTrade clone script developed for our clients has all the exact specifications and operating strategies of the gTrade platform which can help users to perform trading in a decentralized pattern. Our developers have previously worked with various trading platforms development and their reliable works showcased many scopes in the crypto arena. Imposing all the eminent ideologies and operations, Our gTrade clone script is brought into existence after including advanced programming languages and the latest technologies. Being similar to the gTrade decentralized platform, our script can assist traders to get involved in trading and collecting a high volume like the original gTrade ecosystem.
gTrade Clone Script Development
Having an impeccable count of volume and numerous users within the platform, gTrade enhances cryptocurrency trading in a safe and enclosed ecosystem. Being one of the most secure and reliable trading platforms, more than 40+ crypto pairs are supported. Hivelance is a well-famed cryptocurrency exchange development company, having the highest number of clients and serves them with ardent solutions. Our expertise in blockchain technology makes the creation of cryptocurrency trading platforms in a modernistic pattern. Being vulnerable to any type of attack, our platform is designed and developed to carry out trading as per your requirements. We can develop the gTrade clone script with all menus and add-ons as per the layout we receive. Launch yours now…!!!!!
How To Enable Trading in The gTrade Platform By Setting The Network?
Inorder to enhance trade in the gTrade ecosystem, users will need to connect to one of the networks which gTrade is deployed on. Below are the steps of setting up the network and they are of two types as described.
Polygon network setup: It collects the lowest gas fees and requires two block confirmations.
Arbitrium network setup: No block confirmation is required, which enhances faster transactions.
Advantages of using Our gTrade Clone Platform
Our gTrade platform enables layer2 integration, which means the representation of faster trading orders with low gas fees.
It also assures the lower risks of liquidation due to wricks.
It has robust and synthetic trading architecture, thereby having the highest leverage.
Highly programmed smart contracts for systematic functioning without any hassles.
Features of Our gTrade Clone Script
Crypto wallet Integration
Robust admin panel
Transaction history
Leaderboard
OTC Trading
Staking options
Real-time market data
Charting tools
Order execution charts
Benefits of Using Our gTrade Clone Script
No sign-up is required
Customization is made more efficient
No hacks or malfunctioning
Availability of multiple crypto pairs
Bridging from certain network to another is possible
Crypto staking can generate more profits in future
Less transactional fees
Development Process of gTrade Clone Script
Data gathering: Clients play a vital part in our working phase, hence we value their needs with maximum priority. We tend to sit up for a lively or zoom conversation to gather all requirements from their side and we do a series of market analyses to render you the outline of the project.
Design and Development: Being a decentralized platform, it doesn't involve the need for any central authority. Hitching the ideology, we collect all advanced and enhanced designs to develop your platform with strong technical support too. Operations become more effective as our workflow includes reliable solutions and identical tools.
Testing and Deployment: After the development phase with powerful technical codes and the inclusion of essential features and functions, Our testing team undergoes multiple tests to eradicate all errors and bugs. Then your platform is ready to be deployed successfully.
Why Choose Hivelance for gTrade Clone Script Development?
Hivelance is the leading gTrade clone script development company with well-established comprehensive solutions to tackle all your business prerequisites. With our exclusively designed gTrade clone script, users can perform trading along with the support of multiple cryptocurrency pairs. Decentralization can neglect the involvement of third parties and our gTrade platform makes your trading in such a way to systematically enable trading. Our gTrade clone script will be constructed with all add-ons and functions according to your demands and also the facilities to track the records and history of previous transactions. Get in touch with us now..!!
150+ talented developers
Specialized team to grasp your needs
Powerful coding to enhance the trading process
No difficulties will be encountered while trading
Rendition of best solutions and techniques
Standardized performances by using our latest ideologies
Round-the-clock support