Metaverse
Horizon Worlds Clone Script - Develop Your Own Multi-player Virtual Gaming Platform
Horizon Worlds clone is a custom, white-label clone solution to launch your own multi-player-based virtual gaming platform like Horizon Worlds in an effective way. Grab the best Horizon Worlds clone script now to launch quickly!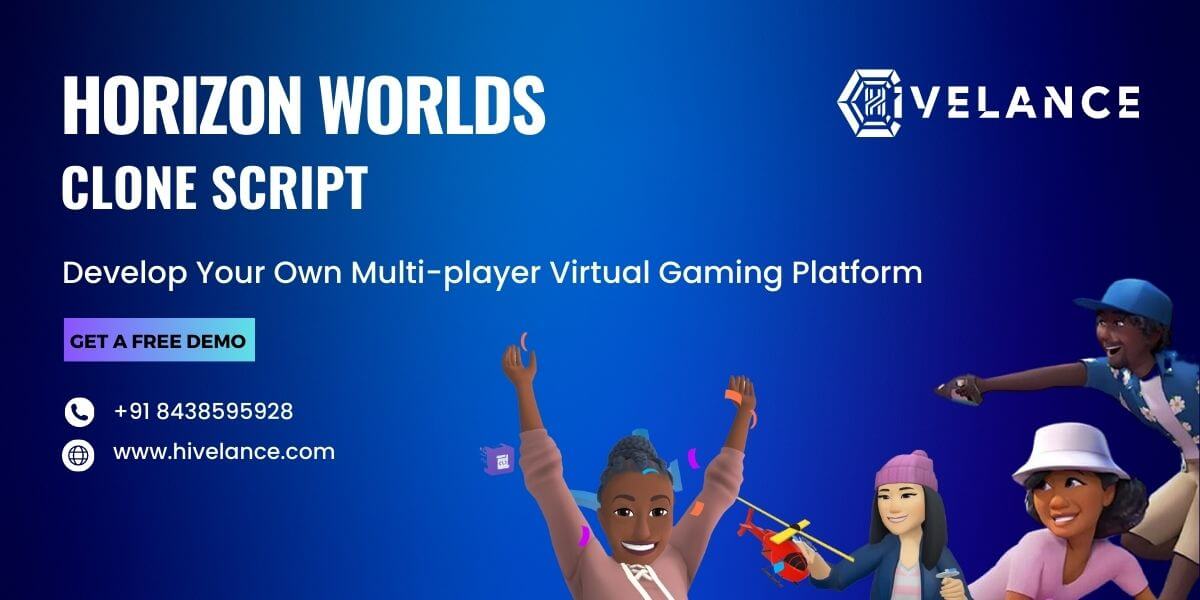 Horizon Worlds Clone Script:
With the innovative Horizon Worlds Clone script, users can build their own virtual reality worlds. This clone script gives individuals and businesses the resources they need to create an immersive VR experience, and it does not require in-depth coding expertise, thus it may be used by many business people. Our Horizon worlds clone script has flourished in the virtual reality community due to the rise of user generated content and the expanding demand for distinctive virtual reality experiences.
Horizon worlds Overview:
Horizon worlds is the virtual reality platform where users can develop and take part in online games and social activities which also includes a built in game creation mechanism. Players can take part in a variety of occasions , contests , and games in Horizon worlds. Users can create and distribute their own games on the site using the game creation tool. They can also explore and take pleasure in a wide variety of landscapes and experiences in the virtual worlds included in Horizon worlds.
Whitelabel Horizon Worlds Clone Software:
With our Whitelabel Horizon Clone Software, users may tap into their own imaginations and create virtual worlds that are personalized to their needs. The possibilities are endless, whether it is a virtual art exhibition, a multiplayer game , or a virtual classroom. We offer a variety of customization tools that let users design distinctive surroundings, avatars, and interactive components. This solution enables you to communicate your ideas and interact with audiences in creative and engaging ways.
Benefits of Horizon Worlds Clone:
A Horizon Worlds Clone might provide them with a robust platform for creative expression by enabling users to create their virtual worlds, games, and social activities. This might be especially interesting for designers of video games, artists, and other creatives interested in experimenting with new media.
Due to the platform's social and multiplayer functionality, users may experience a sense of community and companionship. After that, users might have the option of using their favorite device-a desktop computer, a mobile phone, or a VR headset to access the platform.
Gamers and other entertainment fans looking for fun and interesting ways to pass the time may find the Horizon Worlds clone to be very tempting.
In areas like STEM education, where virtual reality may be used to create interesting learning environments, this clone script may be especially helpful.
Exclusive Features of Horizon Words Clone:
Multiplayer Interaction:
The platform might enable user to user multiplayer interaction, enabling people to explore virtual worlds, take part in games, and interact socially.
Avatar customization:
The platform might provide a variety of avatar customization possibilities, enabling users to design distinctive, individualized avatars to represent themselves in the virtual world.
Designing the Virtual Worlds:
Horizon World Clone may provide a robust game creation platform that enables players to create their own virtual worlds from the beginning. This might offer several customizing features including changing the terrain, placing objects, and creating interacting objects.
Event Hosting:
Horizon World Clone might include event hosting features that let users plan and host events in their virtual worlds. This could apply to events like sporting competitions, social gatherings, and concerts.
Social Activities:
The platform might provide users with access to a variety of social activities including chat rooms, online cafes, and hangout areas.
Third-Party Integrations:
Horizon World Clone may permit third party integrations to improve the user experience such as those with social media sites or streaming music services.
Cross-platform compatibility:
Our Horizon Worlds clone was created to work to guarantee maximum accessibility with a variety of hardware and software including VR headsets, desktop computers and smartphones.
How to create a Metaverse Game like Horizon Worlds Clone?
A sophisticated process requiring knowledge of game design, 3D modeling, and programming goes into making a metaverse game like Horizon Worlds. However, Hivelance, a top-tier company Metaverse Game Development Company, creates a virtual environment that people will like exploring.
The Horizon Worlds Clone script is a simple procedure that doesn't call for any prior coding experience.
Users can activate the software and begin creating their virtual reality worlds after installing the script. The drag and drop interface makes it simple to insert objects and alter the surroundings.
Users can establish the laws and dynamics of their virtual worlds, add interactive elements, and create avatars.
Users also expand their VR experiences with extra features and capabilities to support interfaces with various tools and platforms.
Application of Horizon Worlds Clone script
The Horizon Worlds Clone Script has an abundance of different applications,
Gaming : To make multiplayer experiences, virtual worlds , and original gameplay mechanisms for the video game industry.
Education: To create virtual classrooms that give students an immersive and interactive learning experience.
Architects: Designers can utilize to present their designs in virtual reality to give clients a realistic sample of their ideas.
There are countless options, and the Horizon Worlds clone script creates fresh opportunities for advancement across numerous industries.
Why Hire Hivelance for developing Horizon World Clone script?
Hivelance is a trustworthy and leading Metaverse Development Company, specializing in building game and virtual reality applications.We have prior experience with the two well-known game engines, Unity and Unreal Engine, which are used to generate virtual landscapes like Horizon environments.
We offer a wide range of customization possibilities when it comes to Horizon worlds clone development solutions. We assist you in creating a Horizon World Clone platform that is both excellent and interesting and can satisfy your business needs.
Would you want to develop a Metaverse Game like Horizon Worlds? Contact Us