NFT
How Beneficial is the Opensea Clone Script for Entrepreneurs?
Explore the article and know more beneficial features of Opensea clone script for your business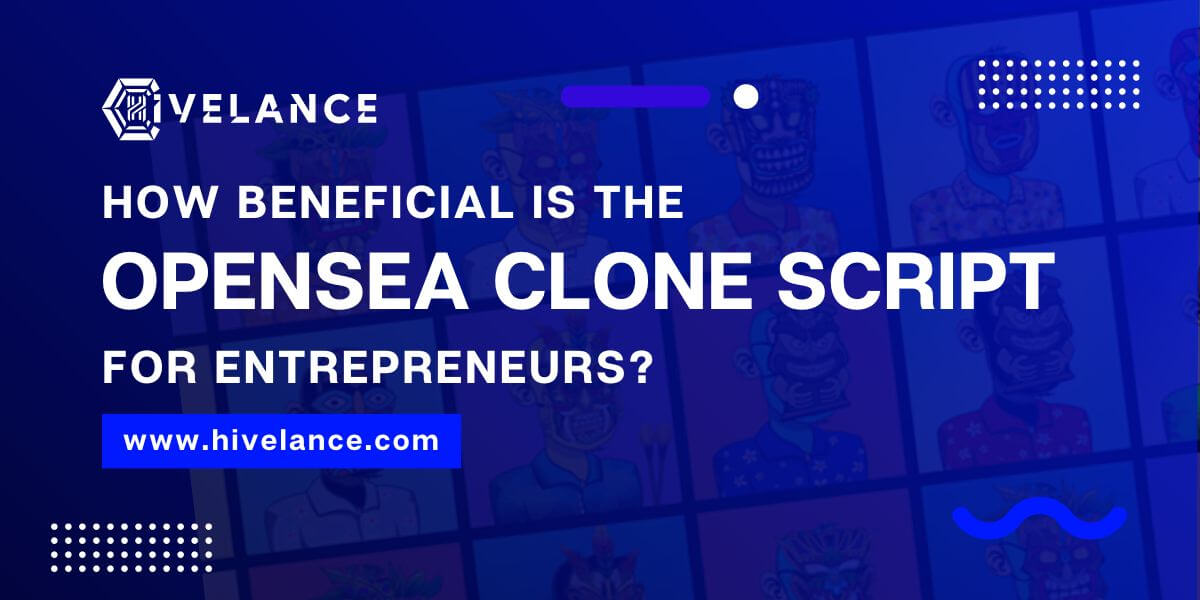 Speaking of the NFT marketplaces' growth might not be a surprising one at present. As we are noticing their real potential over a couple of years. N number of supreme benefits have been showered to the young business people who started launching their NFT business in this industry too… Meanwhile, most of us might be aware of the most popular NFT marketplace - Opensea.
Opensea is one of the top NFT marketplaces with massive user engagements requiring to be the most dominant one among the others. It's high & demand one over the people sought the attention of some business giants, rooting an idea over their minds to establish a similar NFT marketplace on their own.
Opensea clone script was their choice for developing an NFT marketplace. Wondering why?... Opensea clone script is a pre-coded NFT marketplace script comprising every essential feature of the NFT marketplace to run seamlessly. Also, it clarifies the entire NFT marketplace development process which was the primary reason for choosing it over the other development process.

Benefits of incorporating Opensea Clone Script
Budget Friendly
One of the major benefits among the various ones is the cost required to deploy an outstanding NFT marketplace similar to Opensea. Unexpectedly, the entire cost required to deploy a fully functioning NFT marketplace using this Opensea clone script is comparably low. This Opensea clone script paves the way for young entrepreneurs too with its pocket-friendly budget.
Reliable & Flexible
Utilizing this Opensea clone script is, that more customizations can be made as per the business requirements without any hassle. In spite of the necessary features, more benefits can be integrated with this Opensea clone script, which adds extra gentility to the finalized output.
Bug-free Solution
As this Opensea clone script is developed with a team of experts, the end result will be amazing making the NFT marketplace like Opensea a flawless one. In addition to that, the NFT marketplace similar to Opensea you're expecting will come with a unique touch making it more attractive to the traders and creators. As the entire NFT marketplace development process is taken care of by the pool of experts, there is nothing to be worried about on your part.
Minimal Development Time
As discussed above, this Opensea clone script is set up with every important feature, only a short span of time will be needed from your side only to customize the NFT marketplace as per your business requirements. Whereas, you will be able to launch your fully functioning NFT marketplace like Opensea within 10 days.
High ROI
With clear data to support the massive growth in the NFT marketplace business and some of the top NFT marketplaces continuing to report millions of dollars in revenues, there is no better time than the present to capitalize on this skyward trend. If you are looking to set up your own NFT marketplace like Opensea, there are two important points that first need to be taken into account. Finding the best Opensea Clone Script and the internal architecture of your NFT marketplace should both be considered to ensure you arrive at the right solution and helps to gain high ROI.
Whitelabel Opensea Clone Script
Opensea clone script is the Whitelabel NFT marketplace software that replicates features, functions, and other plug-ins of Opensea. With the help of Opensea clone software, you can launch a superfine Web3-powered NFT marketplace like Opensea within 10 days.
Developing and deploying an NFT marketplace using an Opensea clone script might look quite easy for startups, but choosing the best one is the toughest part. As you can see online, there are several scripts/software in the name of Opensea clone script but not everyone will offer you the best quality product.
Where to Pick the Right One?

When it comes to buying the best Opensea clone script, you need to be aware of some important features. This is because the NFT trading features always play a vital role in the NFT marketplace. Also, picking up a bug-free script from an inexperienced clone script provider will lead your whole business to failure.
Don't worry, we just creating an awareness of what happens if you choose the Opensea clone script without verifying its features and functions. Here we list out the essential features that need to be considered before buying or choosing the best Opensea clone script.
Store-Front
Multi-Chain Interoperability
Payment Gateway
Muti-Sign Wallets
Effective NFT Listing
Auction
API Integration
Filter
Stats
IPFS Storage
P2P Transaction
Native Token Governance
Metaverse Capability
NFT Minting
Web3 Solution
These are the outstanding features you need to allow before getting an Opensea clone software. Check whether your chosen script covered all these vital features or not. Apart from these features, one more primary factor that you need to take into account i.e., getting a free live demo.
You can ask for a free live demo of the Opensea clone script from the provider before choosing it. By asking for a demo, you can have a clear vision of what it looks like, the features included, and whether it will be suitable for your business needs or not.
Additionally, you need to look at the design, reliability of the script, and performance. If the Opensea clone script satisfies all these things, then you can opt for that multi-tested script. You can also ask for the features customization if required after viewing the demo.
Final Thoughts

The awareness of NFT marketplace clone scripts is growing rapidly. Meanwhile, the number of startups who are using Opensea clone script for NFT marketplace development is increasing uniformly and it will fly high in the future. As already discussed, you need to choose the finest Opensea clone script for launching a Web3 NFT marketplace.

If you are also willing to build some revenue by creating an Opensea-like NFT marketplace, then you've come to the right place. We highlight the reasons why using Hivelance's Opensea clone script to develop an NFT marketplace is the best business idea.
Business Benefits of Acquiring Our Opensea Clone Script

Let me share the world-class benefits that you can yield by getting an ultra-modern Opensea clone script from Hivelance.
Quick deployment
100% customization scope
Users can browse, create, buy, sell, and auction NFTs
Built with the latest technology stacks.
Eye-catching dashboard.
Integrated P2P service
Accept multiple payment options.
Safe and reliable services.
The open-sea clone script is totally tested and developed with tamper-proof security systems.
You can use all these advantages by getting the finest Opensea clone script.
If you are a young entrepreneur looking to develop an NFT marketplace like Opensea then approach Hivelance. As a leading player in developing white label NFT marketplace, we have a pool of blockchain experts who developed 50+ NFT marketplaces for our clients around the world on various blockchain networks like Ethereum, EOS, Binance smart chain, Solana, Cardano, Polygon, Tron and other blockchain networks that are in current trend.