Cryptocurrency
Starting a Crypto Exchange Like Binance: A Step-by-Step Guide
Learn how to create a crypto exchange like Binance. Our step-by-step guide will explain to you how to create and launch a successful crypto exchange like Binance with advanced features.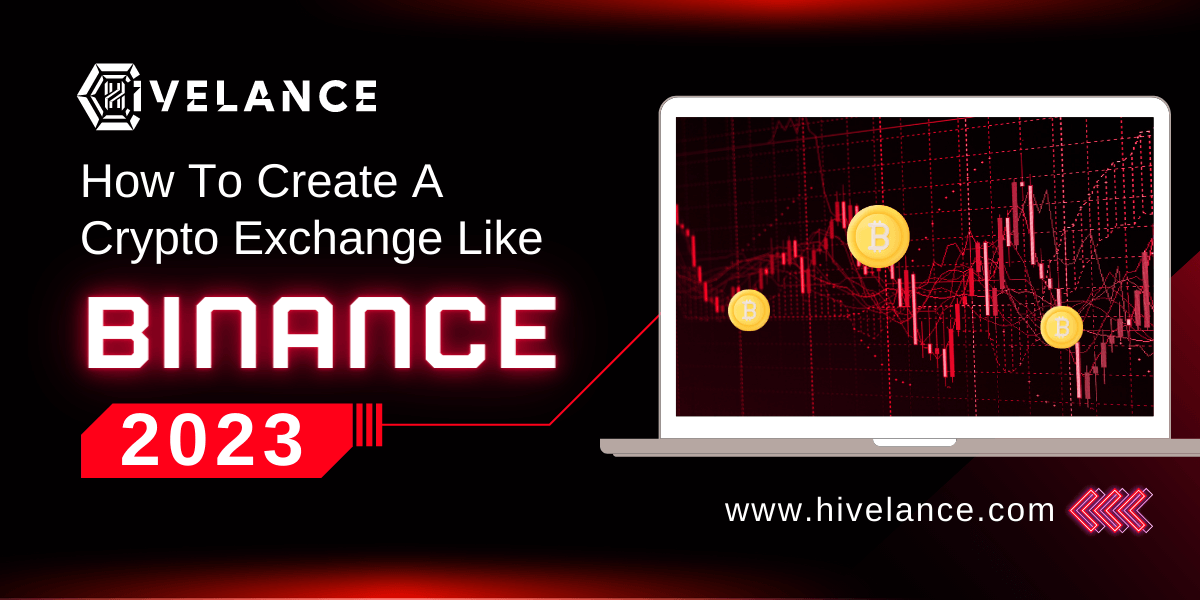 Hey, there fellow entrepreneurs! Are you ready for the plunge into the world of cryptocurrencies?
Starting a crypto exchange like Binance can seem overwhelming, but with the right strategies, it can be a highly profitable venture. In this article, we'll explore everything you need to know to launch and grow your successful crypto exchange service like Binance, from identifying your target market to building an online presence.
As the popular business leader, John D. Rockefeller Jr.says, ' The secret of success is to do the common thing uncommonly well.' Let's hope on this crypto exchange business opportunity together and make it a success!
Is it Worth Starting A Crypto Exchange like Binance?
Why is starting a crypto exchange service worth your time and effort? Well, for starters, the crypto exchange is on the rise, and it's exhibiting no signs of slowing down. More and more people are turning online to trade cryptocurrencies like Bitcoin, Ethereum, Litecoin, and more. It means there's a growing demand for reliable crypto exchange services.
And let's not forget the comfort factor! With a crypto exchange service, you can reach traders all over the world easily. Plus, with technological advancements, it's easier than ever to build up and run a crypto exchange platform.
But reasonably the biggest benefit of starting a crypto exchange like Binance is the potential for profitability. With the right marketing and operations, you can quickly grow your user base and increase your revenue.
So, if you're ready to take advantage of the growing crypto market and start your own profitable crypto exchange like Binance might just be the perfect opportunity for you!
What is Binance & How Does It Work?
Binance is the world's largest cryptocurrency exchange in the world, allowing traders to trade a wide range of cryptocurrencies for other cryptos or fiat currencies like USD or EUR. The crypto exchange was released in 2017 by Changpeng Zhao and is headquartered in Malta, with other offices in countries such as Singapore and the United States.
Users must first register for an account on Binance and then complete the essential KYC (know your customer) verification steps. Once their accounts have been validated, users can fund them using a number of different payment methods, including bank transfers, credit/debit cards, and cryptocurrency deposits.
Users can begin trading once the money is available in their account by choosing the cryptocurrency they would like to buy or sell and the trading pair they want to use. Binance supports a wide number of cryptocurrency trading pairings, including Bitcoin, Ethereum, Litecoin, Ribble, and others.
Binance also offers advanced trading features like margin trading, futures trading, options trading, P2P, Swap Farming, Strategy trading, OTC, and more. Also, Binance has its own native cryptocurrency, Binance Coin (BNB), which users can use to pay for trading fees at an inexpensive rate.
Overall, Binance is a popular and well-developed cryptocurrency exchange that offers a wide range of trading options for users around the world.
How Does Crypto Exchange like Binance Make Money?
Cryptocurrency exchanges like Binance make revenue from a range of sources. The following are some strategies for exchanges to generate profits:
Trading Fees: Trading fees are the main source of revenue for cryptocurrency exchanges. Users pay a tiny fee to the exchange each time they buy or sell a cryptocurrency through the exchange. Depending on the exchange and the type of trade, the fees can alter, but they normally range from 0.1% to 0.5% of the total transaction value.
Listing Fees: Binance makes money by collecting fees to list new cryptocurrency tokens on its platform. Depending on the popularity and demand for the crypto tokens, the fees might range from a few thousand dollars to several hundred thousand dollars.
Withdrawal Fees: Many crypto exchanges charge traders a fee to withdraw their cryptos from the platform. The fees can change depending on the exchange and the type of cryptocurrency being withdrawn.
Margin Trading Fees: Some crypto exchanges provide margin trading, that allows users to borrow funds to trade with leverage. Crypto Exchanges like Binance can make revenue by charging fees for the margin trading service.
Interest on Deposits: Some crypto exchanges provide interest on cryptocurrency deposits, which can make revenue for the exchange. The interest rates can vary depending on the exchange and the type of cryptocurrency being deposited.
In general, cryptocurrency exchanges like Binance make money from a number of sources, primarily through listing and trading fees. Exchanges will certainly continue to create new revenue streams and business models as the cryptocurrency market expands.
How Do You Create a Crypto Exchange like Binance?
Here are the actionable steps that you can follow to create a crypto exchange like Binance and get started with your crypto exchange business.
1. Choose What You Want To Offer

There are different types of crypto exchange websites out there – centralized, decentralized, P2P, OTC, Escrow, and more. You can pick one of them based on what you wish to offer.
Binance offers diversified exchange and trading services where people can trade any type of crypto whether that can be centralized, decentralized, P2P, etc.
2. Compose Features To Incorporate

A feature-rich crypto exchange like Binance will help you attract and retain traders on your platform. Here are some of the features that you can add to your crypto exchange like Binance.
Quick Transactions
Secure and Trustworthy
Trade Multiple Cryptocurrencies
Trading Discount
Launchpad
Leaderboard
Battle
Spot Trading
Futures Trading
And more
3. Design Your Crypto Exchange Like Binance

After choosing the features, now you have to give instructions to your experts to create the web and mobile app design for your Binance-like crypto exchange. The entire design does not certainly have to be more intense. A basic strategy can be used to enhance user experience.
4. Code Your Binance-like Crypto Exchange

Yippee! Now it's time to give soul to your innovative idea. You are all set to code your Binance-like crypto exchange website and app. You have two various types to consider; ready-made solutions and custom crypto exchange development.
A lot of ready-made cryptocurrency exchange clone scripts are available in the market. You can use the best readymade Binance clone script to get started with your crypto exchange like Binance instantly. And the benefit of choosing this option is that you can save almost 50 to 80% of your time and money.
You can spend that time and money on other crucial areas of your business. A cryptocurrency exchange like Binance must be built from scratch, which is time-consuming and frequently expensive.
5. Launch The Crypto Exchange like Binance App/Website

To let your traders use your app or website, you have to make it available publicly on the internet. To make your crypto exchange app like the Binance app available for download, you have to publish them on the respective stores of Android and iOS.
That's it. Now you just have to market your crypto exchange like Binance to get traders on board.
Tech stack that can be used to create a Binance alternative
The technology stack has a significant impact on the scalability and performance of the application. The upkeep of your application is also aided by a superior tech stack.
To create a web application, you can utilize LAMP, WAMP, MEAN, MERN, PHP, MySQL for database management, Swift for iOS crypto exchange app development, and Java for Android crypto exchange app development.
How Much Does it Cost To Create A Crypto Exchange like Binance?
The cost of crypto exchange development depends on various factors such as;
Difficulties.
High-end Technologies.
Benefits & Advanced Features.
N number of Platforms.
The location as well.
When all of these considerations are considered, it is possible that you will need to spend more than $50000 to build a cryptocurrency exchange like Binance from the scratch.
But that's a lot of money to invest if you are a startup. But a ready-made and reliable solution like a Binance clone would cost 50 to 70% less than the actual custom crypto exchange development cost.
Conclusion
Thanks for reading the startup Guide. We hope this would help you get an overview of what you can do to create a crypto exchange like Binance.
So, if you're passionate about starting a crypto exchange like Binance, don't let fear hold you back!
Utilize our best Binance clone script to set up a lucrative crypto exchange like Binance
We strongly understand that traders of today will flock only to the crypto exchange like Binance that fully satisfies their trading requirements. Keeping this in mind, our team of experts focuses on developing the most remarkable Binance clone app with innovative features and state-of-the-art technologies.
Hivelance's highly advanced Binance clone script will also suit diverse crypto exchange business needs and thus plays a key role in arriving at a world-class crypto exchange like Binance that can amaze traders to a greater extent.
Go For Our Best Binance Clone Script
By offering a convenient and safe trading environment, you can acquire users' support and boost the credibility of your cryptocurrency exchange.
Utilize our Best Binance App Clone to build such an ideal crypto exchange platform.
With an ideal performance across various devices and in-built exciting features and functionalities, entrepreneurs can reach greater heights in their crypto exchange business with more number of traders using the crypto exchange.
Hivelance has been serving as a significant part of many successful crypto exchanges like Binance around the globe.
So, why still waiting? Make use of our Advanced Binance clone script to build an astounding crypto exchange platform and earn more revenue from it.
Contact us on WhatsApp & Telegram right away! or Schedule a meeting with us!