Metaverse
How To Create Metaverse Virtual World?
How to create Metaverse Virtual World? Explore this startup guide to know about the benefits of meta verde and how to create a Metaverse.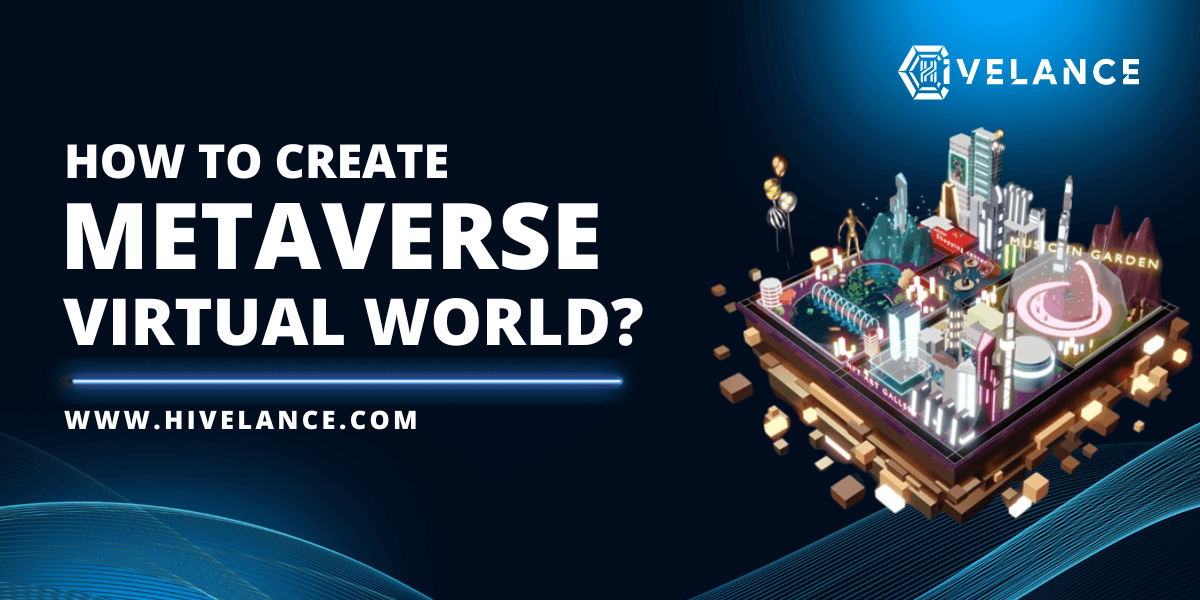 Metaverse is a three-dimensional virtual space and is the next big thing in the Digital Era. Talks about the metaverse go all around everywhere now. It is the platform that enables users to interact and share virtual spaces. This represents that many activities like meetings, parties, social activities, and entertainment can be performed in the virtual land. Metaverse is the virtual realm that is both dynamic and collaborative.
Within 2025, the metaverse will be the most occupied technology in every field and is expected to offer many opportunities to the people who are interested in it. This blog will provide you with the details of how to build a metaverse virtual world and how it will help in growing your business…!!!!
Metaverse VR Meetings Platform Development
Industrialists or Business persons who wish to build their meeting platform using virtual reality technology can turn their dreams into reality. VR setups may be VR conferences, seminars, meetings, training practices, and so on. This helps in improving the interactions and increases business productivity at higher levels. Exclusive features adopted in our VR platform development ensure more compatibility and is achieved through VR headsets and other essential smart devices. Your requirements are completely customized or can replicate if samples are shown as references along with avatar creation.
Virtual Reality Software Development
Without the involvement of costlier technologies and tools, Hivelance can build virtual reality software with high-end programming languages. The movements of avatars can be regulated through the user's control. This software built for you are ready to use and can be deployed to your server instantly. Through our virtual reality software, users can host a variety of business events virtually by connecting with clients across the globe. Another notable point is that these activities can be performed without worrying about team size. A maximum number of persons can involve and get the delivery of the best solutions while winding up the sessions.
Metaverse NFT Marketplace Development
Metaverse NFT marketplace development is the ultimate destination where the in-game assets can be purchased for taking part in games, avatar customizations, and so on. This platform builds a bridge between the virtual and physical worlds by enabling token purchases along with blockchain amenities. For bigger investors or newbies who are looking for security when they are involved in purchase or trading activities, this metaverse NFT marketplaces can be the best options that encircle all the users with more satisfaction.
Sensor-based Metaverse Apps Development
Hivelance has the best team of AR/VR developers who design and create your metaverse smart applications that are sensor-based, GPS-enabled, face and gesture recognized, and so on. Through this app development, startups, and bigger ventures can establish a massive changeover to their businesses and earn high ROI. We can also combine the usage of the Internet of things( IoT ) with AR/VR techniques that provide better convenience, higher security, and visual threats in the form of videos, images, and so on.
Metaverse Token Development
The cryptocurrency used in the metaverse for purchasing, and retaining other assets are known as the metaverse tokens. These tokens authenticate the ownership of the assets. Using these tokens, lands in the metaverse can be bought easily as they are security enriched. Transactions can be made easier with reliable communications and they are unhackable. Our metaverse token development assists many entrepreneurs and startups in increasing their incomes.
Metaverse Real Estate Applications
Our experts can provide you with a virtual tour of metaverse real estate accompanied by 3D immersive and realistic demos. Clients across the globe, who are looking the creation of new markets for real estate development with faster processing can get connected with our talented professionals. We can offer you the best solutions in high quality. Those metaverse real estate platforms can be immersively user enriched and can be utilized through architecture models to achieve the targets.
Metaverse Social Media Platform Development
We develop fully organized and high-performance-oriented VR and AR-oriented social media platforms that help many organizations to promote their brands, products, and so on. Through these platforms, they can attract many users with conservation options, and lively sample showcasing. This can double the profits in an effective way. Our team of developers is strong proficient holders who can design the layouts of the platform attractively and be the best partner for business growth.
Metaverse Wallet Development
Users can pave their pathways to enter the virtual world by capturing our metaverse wallet development services. A metaverse wallet is similar to a crypto wallet where the storage of funds is carried out. Extra features can be accompanied according to users' customization. Through metaverse wallets, users can create, and transfer the assets used in metaverse platforms with other options. These wallets are created with strong security protocols for storing all the keys.
The basic steps of creating the metaverse virtual world are:
Step 1: Select the right use case of the metaverse
Step 2: Appropriate development of UX/UI designs for meteverse
Step 3: Implementation of smart contract codes
Step 4: Installation of IPFS storage system
Step 5: Database creation for information storage
Step 6: Inclusion of core functionalities
Step 7: Testing and error fixing
Step 8: Launch for the beta version
Step 9: Installation on the client's server
Step 10: Customer support on a 24/7 basis.
Selecting the right metaverse platform will be the first step to the proceeding. The platform can be similar to any of the existing platforms in the market now. The choice depends on your wish either to replicate the existing one or to create from scratch. However, development from the beginning will be much costlier.
We can develop your platform both from the scratch or by replicating the platform which the users provide as references. Our team of developers can include and develop a successful metaverse platform following the instructions received from our clients, it might be either the features or the functionalities and so on.
Designing of the metaspace: After the selection of the metaverse platform you prefer, the next step goes to the designing part. Metaspace can be an app, virtual meeting setup, party halls, and many 3D animated spaces. Users can enter the space through virtual headsets. Customization will play the main role in the metaverse platforms.
As a top-tier Metaverse development company, Hivelance will concentrate on 3D designing with realistic animations. Virtual space can be developed based on business needs with futuristic tools, preferred backgrounds, digital setups, engageable environments, customized avatars, and so on. We have the best animator with 10+ years of experience who can put their entire efforts into making your business reach the next big step.
Interaction layer development: The interaction layer is defined as the digital ecosystems where the users( avatars ) can interact with each other. The interaction layer highlights the user controls, access criteria, navigation controls, and communication protocols between the users and the integrations with third-party tools and software needed to support the functioning of the metaspace. It handles the integration of zoom APIs or SDKs and also the hardware components like VR headsets, goggles, sensors, haptic gloves, and so on. Enclosing the best panel of intricate developers with strong coding knowledge, the interaction layer can be developed with all sufficient roadmaps and features.
The Interoperability layer structurization: Commonly speaking, interoperability implies the functions that help in supporting the exchange of information between different systems. Why interoperability in the metaverse platform? Here is the appropriate answer to it. Interoperability in any area means easier access, understanding, and usage of data by both humans and machines. In simpler terms, Interoperability standards are a common language set of common expectations that enable interoperability between two parties. Selection of the right blockchain networks will make your metaverse platform's functions even better.
Some of the important points to be kept in mind while developing the metaverse virtual world are listed below:
Metaverse platforms must be available to everyone with easier accessibility and must have proper functioning without any hassles, interruptions, and malfunctioning.
Must readily offer the services both to private and public users.
Metaverse platform must offer a completely functional economy that would allow all businesses and other investors to earn assets at a higher level and witness growth to reach futuristic advancements.
It must provide real-time experience in a synchronous and live environment with all predefined event functions.
Implementation of smart contract codes and UX/UI designs
As smart contracts are the programmable languages that ensure high-security measures, their implementation will play an important role in the metaverse virtual world. These codes can never be broken and no third party can enter into them. The implementation of these automated codes will provide users with life experiences in the platform. An appropriate UX/UI design is also a vital part of the metaverse virtual world development. With the best team of UX/UI designers, Hivelance can create the virtual world according to your requirements. Backgrounds, themes, and additional features for the official setups, party preparations, and wedding setups can be modified.
Testing and Bug fixing
After the creation of a 3 Dimensional virtual world, it is needed to be deployed on the user's server. Before that, the platform must be tested for any bugs. Our testing team makes it happen without any errors after testing it multiple times. If any error is spotted, they are rectified with the latest techniques and rendered to the users with maximum reliability and high quality. We create your platform with resistance to hacking and tampering as decentralization is more persistent.
An industry that grows abundantly through our metaverse solutions
Banking/Finance
Automotive industries
Education
Gaming
Healthcare
Logistics
Oil and gas
Manufacturing areas
Real estates
Travel agencies
Telecommunication departments
Ever-growing blockchain networks for virtual world creation
Ethereum
Binance smart chain
EOS
Polygon
Solana
Ripple
Tezos and more
Why Hivelance for Metaverse Virtual World Development?
Hivelance, the leading metaverse development company, offers top-notch development services in the virtual world. Our team of highly qualified professionals will assist you in delivering a successful and reliable metaverse platform to gain all the positive benefits that can be obtained from the virtual world. This may help you in growing your business with higher profits. As the metaverse is the futuristic ecosystem that is gonna explore all the industries, you can enter virtual reality confidently with our guidelines. Contact our experts..!!!