Cryptocurrency
HRC20 Token Development To Create Feature-rich HRC20 Tokens on Hertz Network
Hivelance is a leading HRC20 token development company that specializes in the creation of HRC20 tokens on the Hertz network. With years of experience in the industry, our expert developers are skilled in designing and implementing HRC20 tokens that are secure, scalable, and reliable.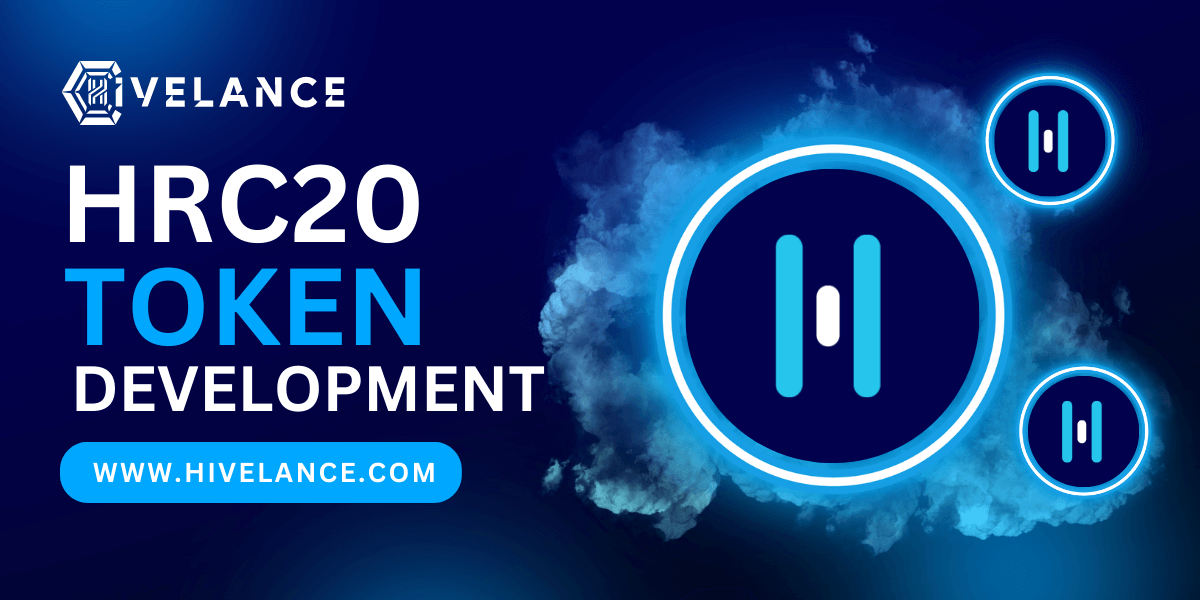 HRC20 Token Development Company
Kickstart your business to enhance maximum profits by creating HRC20 tokens on the Hertz network. Our developers dynamically create your tokens with all standard interfaces and uniform scaling. Discover our guidelines.!!
HRC20 Token Development
Being one of the latest and rapidly familiar tokens to the market, the HRC20 token built on the Hertz network is expected to serve plenty of benefits to all investors. These tokens can be traded on any cryptocurrency exchange that supports harmony networks. Our Developers with a strong base in blockchain technology can create smart contracts that run the system regulated and enable the token development significantly. With an experience of 13+ years, professionals from our side are readily available to assist you anytime and guide you to launch your HRC20 tokens successfully.
What are HRC20 Tokens?
An HRC-20 token is a blockchain-based Fungible token that is minted on the Harmony network. They are implemented by deploying powerful and uninterruptable coded smart contracts. The difference between HRC-20 tokens and other cryptocurrencies is that HRC-20 tokens are created and hosted on the Hertz Network blockchain. Hertz Coin (HTZ) is the native currency of the Hertz Network blockchain. HRC20 tokens are stored and sent using Hertz Network blockchain addresses and transactions. As with Hertz Coin (HTZ), HRC-20 token transactions are feeless.HRC20 tokens can be used for various purposes, including as a means of payment, as a store of value, or else to represent the assets in a decentralized application ( dApp).
Use Cases of HRC20 Tokens
Using HRC20 Tokens, Crowdfunding campaigns can be conducted to raise funds for any startups or new projects.
In order to avail of any services or assets, HRC20 tokens can be utilized as utility tokens and make the best out of all.
It can be used as the medium for exchanges between two parties.
By staking HRC20 tokens, users can get rewards in the future.
In any gaming platform, HRC20 tokens can be utilized to purchase any in-game assets, upgrade to premium features, and so on.
These tokens can be used in Decentralized Finance for lending, borrowing, and trading.
A voting system will enable a user to make decisions properly and with the help of HRC20 tokens, decisions can be made feasible.
Also, these tokens can be used to represent any assets like gold, real estate, or artwork.
Can be used as proof of identity that paves the way to access any services.
Features of HRC20 Tokens Development
High scalability
Faster transactions
No involvement of any intermediaries
Entire ownership guaranteed
Smart contract enabled
Low transaction fees
Verified source codes
Cross-chain compatibility
Listings on multiple cryptocurrency exchanges
HRC20 Token Development Process
Defining the token type: Our team understands the purpose of token creation and does a deep market analysis. Token standards like token value, logo and total supply have been pre-considered to proceed ahead.
Mentioning the token properties: Building a token requires some important properties to be mentioned like token name, symbol, total supply etc. This can help us to move to the next process of token creation.
Smart contract creation: To enhance the regular functioning of the HRC20 token, we create smart contracts with superficial programming languages, to line up the processing in an automatic way.
Testing and Deployment: Fetching the right functionalities, and undergoing a number of testing procedures can eliminate all errors and bugs. We do it apparently to launch the HRC20 tokens successfully.
Benefits Obtained by using HRC20 Tokens
Interoperability: HRC20 token has the potential to be used on multiple blockchain platforms, making it easier to use the token on various decentralized applications.
Security: HRC20 contracts are built based on the robust security architecture of the Harmony blockchain, offering a high level of security for token holders.
Accessibility: HRC20 tokens are easy to create and can be used by anyone with a basic understanding of smart contracts.
Lower transaction fees: HRC20 tokens have lower transaction fees as compared to other ERC standards.
Programmability: HRC20 tokens are programmable and flexible, allowing developers to customize the token to fit their specific needs.
High-speed transactions: The Harmony blockchain is designed to handle a high volume of transactions, ensuring fast and efficient processing of HRC20 tokens.
Agendas needed to create HRC20 Tokens
Token name
Token symbol
Token supply
Token type
White Paper for HRC20 Token Creation
White paper Document acts as the main source to understand any operational strategies. Being a blockchain-packed token, HRC20 Creation involves various stages from initiation to deployment. Inhibiting all details of any platform development, it will be the exact approach to fill the gap between the developers and the clients who are approaching the respective services. While starting to build your HRC20 token, we form the roadmap after a series of market analyses. Our organization has the best content writing and content marketing professionals to acknowledge your requirements and We reproduce the white paper document containing the entire functionalities. This can pave the pathway to initiate your HRC20 token creation and deploy it in the markets for gaining profits.
If you are waiting for the perfect White paper document preparation team, Hivelance's spirited crew will step forward to assist you to render the best.
Why Hivelance for HRC20 Token Development?
Hivelance is the pioneer in HRC20 Token development and offers highly useful HRC20 tokens serving many utilities for your business advancements. Incorporating talented and highly experienced token developers who are onto the field for more than 13+ years can build your HRC20 Tokens with all confounded features and functionalities. Creating your tokens strictly requires the ambiguities of blockchain technology and its cross functions. We have the best Blockchain builders to develop the HRC20 tokens on the Hertz networks to proceed far ahead in flourishing business development and growth.
150+ Enthusiastic Blockchain Developers
Apparent solutions to create tokens with preferred features
Implementation of market-leading tools and technology stacks
High-end security-enriched protocols underpinned
Ideologies to make your brand unique
Top flight business growth guidelines given by skilled resources
Zoom calls to clear your doubts and to provide world-class plans
Quicker responses to sort out your difficulties.