Cryptocurrency
Huobi Clone Script To Kick Start Your Crypto Exchange in 10 Days
Huobi clone script is a tailor-made website clone It helps to start a cryptocurrency exchange like Huobi. It holds all the existing plug-ins of the Huobi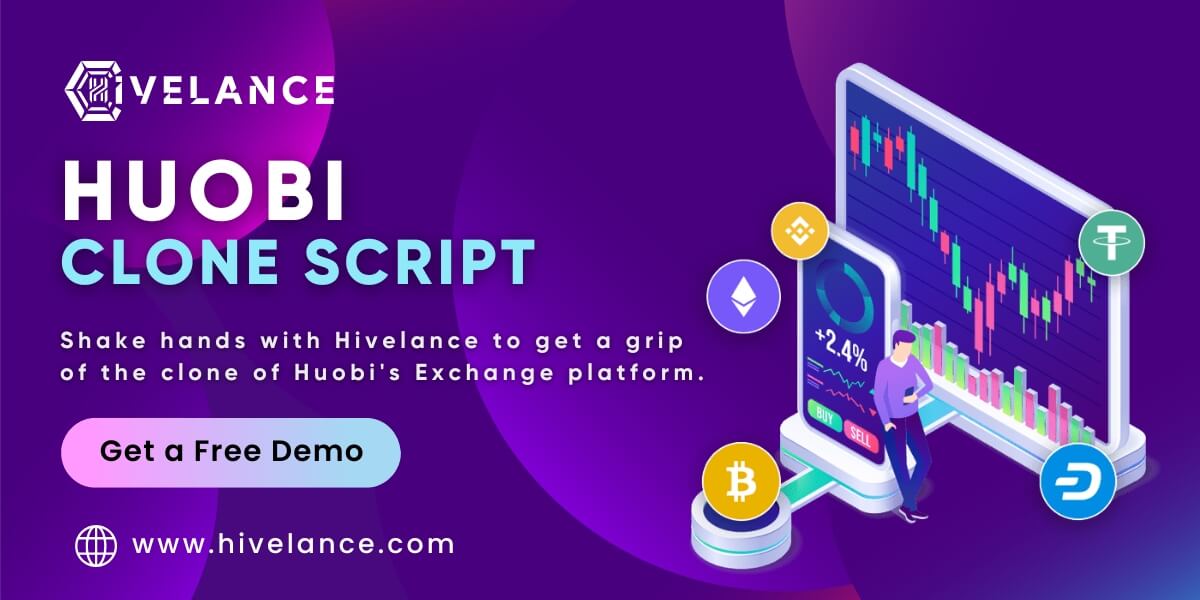 Huobi Clone Script
Huobi Clone script is a premade cryptocurrency exchange programme that helps entrepreneurs create a magnificent exchange platform that is similar to Huobi. In simpler terms, Huobi Clone gives your users the same ability to buy, sell, or exchange cryptocurrencies. Our Huobi clone script has been developed carefully, tested multiple times, and designed with elite features to satisfy the business needs of our clients. It includes all of the Huobi platform's current features and allows for the customization of multiple feature sets to meet specific needs. Overall, it is a unique approach to developing a cryptocurrency exchange enabling easier ways to trading.
Let's Know About Huobi and its importance
For new firms that want to stand out in the market, investing in the development of cryptocurrency exchanges has been the way to go. After platforms like Huobi started to make sizable profits, the idea of a cryptocurrency exchange script began to take shape. One of the top cryptocurrency exchange platforms in the world is Huobi, which has its headquarters in Singapore, has evolved quickly to rank among the most well-known and significant figures in the worldwide blockchain and cryptocurrency sector. The exchange has developed a reputation for dependability, security, and a full range of trading services over the years, making it a preferred platform for millions of users worldwide. Huobi provides a wide variety of cryptocurrencies for trading, including Bitcoin, Ethereum, and Litecoin, as well as a huge range of alternative coins and new tokens.
Why Should One Develop Crypto Exchange Like Huobi?
Huobi is a desirable option for traders wishing to access a trustworthy and feature-rich cryptocurrency trading platform due to its excellent reputation, security measures, variety of cryptocurrency options, and user-friendly design.
Being one of the top cryptocurrency exchanges, it boasts a substantial trading volume and liquidity. The ability to execute trades quickly and profitably is ensured by high liquidity.
Security is a top priority for Huobi. Industry-standard security measures are used by the exchange to protect user assets and data, such as two-factor authentication (2FA), cold storage for user cash, encryption, and routine security audits.
It makes an effort to adhere to the legal and regulatory standards in the countries where it conducts business, giving users access to a legitimate and legal trading environment.
In a safe and controlled atmosphere, Huobi's token launchpad enables innovative blockchain startups to raise money through Initial Exchange Offerings (IEOs).
Huobi Clone Script Development
Huobi clone script development is the process of developing the exact module of the original Huobi bitcoin exchange. Our Huobi clone script tries to replicate Huobi's features, functions, and user interface so that ambitious business owners and entrepreneurs can easily launch their own cryptocurrency exchange. Our team of developers can create your platform for ensuring successful trading with security measures.
How does Our Huobi Clone Script work?
By signing up or registering using their email address or phone number, the user must create an account.
Then, they must complete the KFC/AML verification methods for ensuring the security measures.
The user must verify the encrypted address on Huobi Clone Software and deposit fiat money equal to one Bitcoin to that address in order to purchase bitcoin.
After entering the platform, click the Buy Crypto button. Then a popup with options like rapid buy/sell and P2P market appears. Users can decide to purchase the cryptocurrency.
Verify the payment method, total, and place the order on the order screen.
Benefits of Using Huobi Clone Script
There are several advantages to using a Huobi clone script for business owners and entrepreneurs looking to launch their own bitcoin trading site. The following are some benefits of utilizing our Huobi clone script:
High reliability and scalability
The deployment procedure is easier
high levels of security as it has an user-friendly interface
Customization possible
Several coins and tokens are supported
Multi-lingual support
Branding and marketing
Secure and quick transactions
Easier accessibility
Has cutting-edge trading amenities
Ability to handle a variety of transactions per second
Reduced cost
Higher source of revenue generation
Elite Features of Our Huobi Clone Script
The functions and features of the original Huobi bitcoin exchange platform are replicated by a Huobi clone software. The following are some typical characteristics of a Huobi clone script:
Robust User Panel
Cryptocurrency wallet integration
Powerful Admin dashboard
Order book
Real-time market data
Liquidity management
Automatic KYC/AML Verification
Margin Trading
Spot Trading
Crypto Staking
Futures Trading
Trading Bot
Multilingual support
Dispute Management system
Multiple Payment methods
Admin Profit Management
Huobi Clone App Development
Our Huobi mobile applications are equipped to take care of everything required to actively engage traders and provide the finest experience. It allows millions of mobile phone users to set up and manage their accounts for buying or selling virtual currency. Our Huobi clone script solution includes the creation of various applications. Your users will have no trouble handling P2P transactions, swaps, two-factor authentication, and money exchanges thanks to the mobile application. These apps are supported in both Android and ios versions.
Peep-through the Safeness of Huobi clone to ensure hassle-free trading
Being the leading cryptocurrency exchanges on the market,Huobi Exchange ensures the highest security. They currently provide services to over millions of active users. managing billions of dollars across the globe. Furthermore, a wide range of cryptocurrencies are kept in cold storage. In order to safeguard user cash and data, we have put in place a number of security measures. Two-factor authentication (2FA), cold storage, which involves encryption, and frequent security audits are examples of these security methods. In comparison to several other exchanges, the exchange has also kept up a remarkably spotless record of security problems. Below are the security features listed as follows:
HTTPS Authentication
SQL Injection prevention
CSRF/SSRF protection
Anti DDOS
Jail login
Data encryption
Why Choose Hivelance for Huobi Clone Script Development?
Hivelance is the most reputable Cryptocurrency exchange development company who have experience creating clone scripts and exchange solutions for cryptocurrencies. We are aware of the challenges and specifications involved in creating a feature-rich exchange platform that is secure. We provide customization choices so you can adapt the Huobi clone script development to your unique business goals and branding requirements. In a crowded market, this will make your exchange stand out. The absolute aim of the clients for the exchange, required features, and customisation preferences are carefully gathered by our development team. Because it is a white-label bitcoin exchange solution, our Huobi clone script is one of our main products in the market. Due to our commitment to meeting deadlines and delivering products of excellent quality at competitive rates, the majority of business owners select us to earn great returns on investment. To quickly become a reputable cryptocurrency exchange like Huobi, we are modernizing our tech stacks and business procedures.Now is the ideal time to launch a cryptocurrency exchange similar to Huobi. Purchase our affordable, feature-rich Huobi clone script. so that you may quickly introduce an exchange similar to Huobi.