Blockchain
HyFi Blockchain Development Company
Hivelance, a leading HyFi blockchain development company, provides complete HyFi blockchain development solutions that are integrated into your financial ecosystem and tokenized your project on the HyFi network.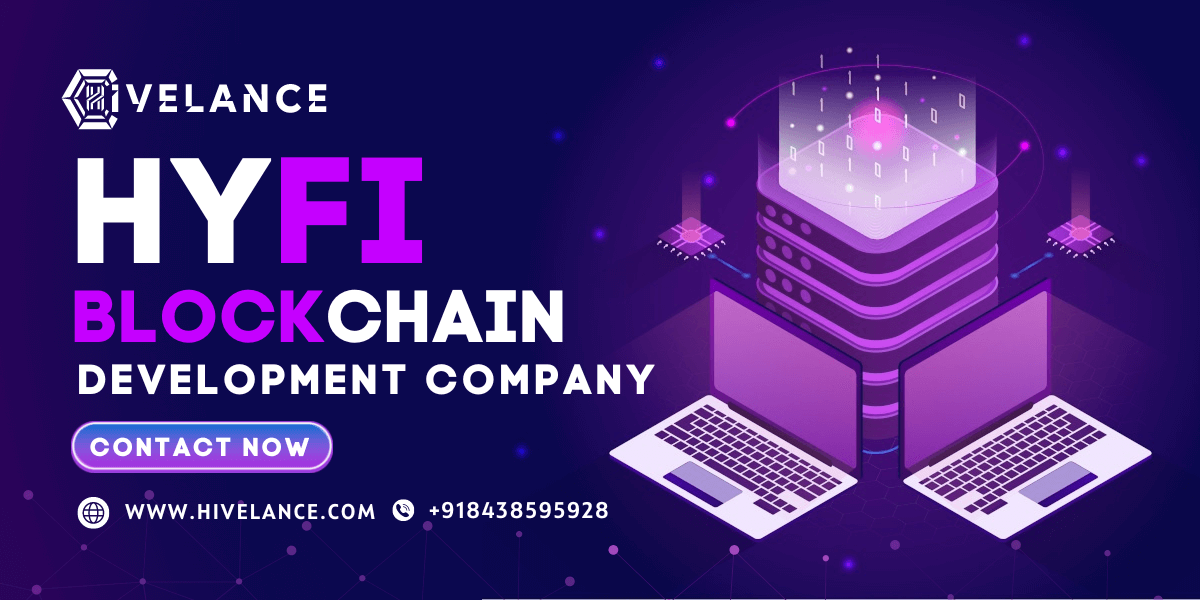 HyFi Blockchain Development Solutions
Inheriting Exemplary Intellectuals, HiveLance is the world-class HyFi Blockchain Development Company standing tall to provide pitch-perfect finance blockchain solutions. Our developers ponder on hitching the elite features and regulated processing techniques while delivering HyFi blockchain solutions.
Overview of HyFi Blockchain Technology
Presenting to you the latest emerging HyFi Blockchain Technology that explores the Finance industry with amazing benefits. This HyFi technology on a shorter note is pictured as a decentralized technology. It is the merger of both centralized and decentralized Finance systems. Shortcomings of both systems are overridden by this technology, thereby assisting many business verticals. The HyFi blockchain doesn't have its native cryptocurrency.
Being built and operated by an integral body that is ultimately verified, there are enormous advantages offered by the system. The astonishing aspects hitched along with it are, it requires no transaction fees, faster transaction speed, and verifiable KYC compliance.
It is expected that HyFi Blockchain technology can transform the entire finance industry and offer marvelous rewards in the future. Another striking highlight is that they can encourage the building of DeFi platforms as it incorporates powerful management systems.
Features incorporated within HyFi Blockchain Development
Verification strategies like KYC, AML, and CFT.
Robust grievance redressal.
Powerful Consumer Protection mechanism.
Data privacy is maintained with encrypted peer-to-peer connections.
Regulatory compliance options
Maintenance of asset controls for business, compliance, and regulations.
Support for flexible asset metadata, payments, exchanges
Support for external private keys, multi-signatures, and cold nodes.
Nodes operated by verified entities.
HyFi Blockchain endeavors movies to generate High Profits
HyFi Blockchain helps Moviemakers in many ways to yield revenues in huge amounts. As it offers a list of benefits on hands to the users, the HyFi blockchain is assumed as a boon for techie people. Movie makers undergo many difficulties like they will be in need to follow traditional methods for managing and monetizing IPs, which are very costly, and there won't be any transparency. Bridges between fans and makers are not built and thereby no conversation facilities are available, ending in less contribution.
With HyFi Blockchain, Moviemakers can:
Tokenize Copyright Licenses on the HyFi Blockchain
Sell Copyright Licenses through the HyFi Copyright Marketplace
Engage and Monetize their fans through HyFi sites.
Benefits Obtained by adopting Our HyFi Blockchain Services
Zero Transaction fees
Faster Transaction speed
High Level of Transparency
Decentralized Borrowing and Lending Options
Consensus Mechanism
Multi-chain Frameworks
Tokenization options
Multi-signature wallets
Listing fees collection
Integration with Dapps is possible without the need for programming languages
Why Hivelance for Rendering the Premier HyFi Blockchain Development?
Hivelance is the Globalized medium in providing prominent HyFi blockchain solutions, transmuting the finance industries in a stimulated way. Our blockchain developers are ardent talents with 10+ years of experience. Regulating all the functions in a clear way with all needed features can be made by us. With top-notch security, we implement strategies to neglect all the malfunctioning. Our HyFi blockchain solutions aim to deliver your project with high accuracy and sustainability. Get in partnership with our expert panel.
High Proficient Blockchain enablers
Deploying market ranking techie stacks
Panel to carry out testing to neglect bugs
Reliable support to transform your Finance business yields
Round the conference table for successful project rendition
Immediate responses for any queries.