Metaverse
ICE Poker Clone Script: Build a Thriving Metaverse Casino Game Like ICE Poker
ICE poker clone script is a virtual card game poker script that allows you to create your own version of the unique and immersive card gaming platform that combines advanced features and cutting-edge technologies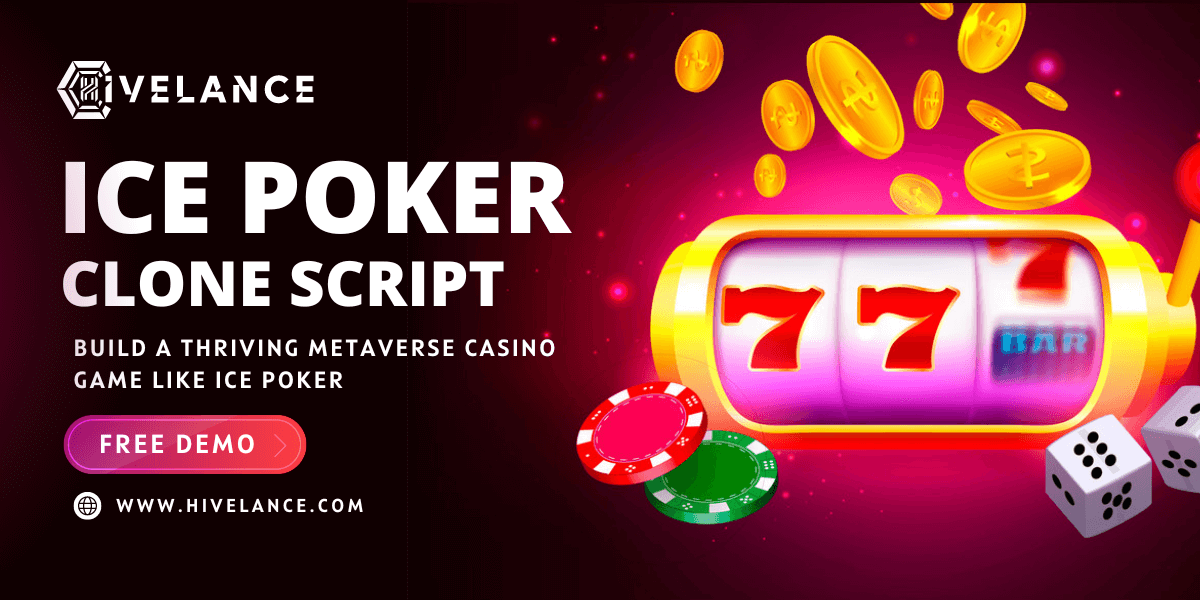 The emergence of Metaverse Casino games are in full swing as Metaverse is becoming the major occupant of various industrial verticals. As metaverse has a base over blockchain technology, the highest security and transparency might be the fruitful result. Blockchain-based casino games are the most well-known profit-generating games. Infusing blockchain into the metaverse can create a revolutionizing environment. Coming in the queue is ICE Poker, which has attracted millions of users recently. It is described as the leading metaverse casino gaming platform that allows users to participate in casino challenges with other players.
Description Of ICE Poker
ICE Poker is an online poker game that engages multiple players to earn rewards in the form of tokens. It is a decentralized platform where players have an interesting game experience, and security is higher. This platform has efficient in grabbing capital as it incorporates many revenue streams. Some of the enhanced ICE Poker gaming platforms are Carribean Poker 3 - card stud, Texas Hold-em, and so on. Rewards that are earned are $ICE Token, high-ticket prizes, rare skins, and digital collectibles. $ICE is the native in-game currency that is used to purchase various things in the poker game platform.
ICE Poker Clone Script Development
Closely bringing together the features and functionalities of ICE Poker gaming platform, Our developers from Hivelance can create your ICE Poker clone script that functions conjointly to remunerate profits. With the help of our Poker clone script, you can launch the metaverse poker business and become a unique icon in the global markets. Our firm has 10+ years of experience in gaming development and hence we develop the robust metaverse casino game platform using top-notch technologies.
Features of Our ICE Poker Clone Script
Incorporates Robust User and Admin Dashboard
Multiple payment options
Deposit and withdrawal management
Helps in retaining the brand value
User management system
Options to manage chips
Multiple-player game modes
Highly secured gaming platform
Rewards that can be reaped after winning the competition.
Transactions in a safe way
Display of game history
Chat options with co-players
White Label ICE Poker Game Clone Development
Whether it might be a Startup or Bigger Venture, the trend is shifting toward the adoption of blockchain-enabled casino gaming. Techie Greeks across the globe start investing in these types of games as the outcomes are marvelous. In Spite of going for development from scratch, the interest of these investors will revolve around in picking up the easiest and finest solutions i.e. White label solutions. Nothing differs and it is the exact module of the existing platform that is designed and developed in a cost-effective way and in a short duration. White-label ICE Poker clone can guarantee in progressing of your businesses toward the top destination. Whatever may be the features and functionalities you require, Our team makes it happen.
Cost of Building ICE Poker Clone Script
The cost of designing and developing your ICE Poker clone script entirely relies upon the infrastructure of the metaverse casino gaming platforms.
Depending on the game modes, and type of platforms, the cost for development varies and Hivelance will be the right and trustworthy partner to develop the ICE clone script in a reliable and cost-effective way.
Gaming Modes available in Our ICE Poker Clone Script
Free Play Mode: In this mode, Players can play and receive rewards. You can receive free chips to play each day, complete challenges, and increase your chip stack to level up.
Challenge Mode: Players will receive free chips to play, and earn $ICE for completing challenges and ranking high on the daily leaderboard.
Benefits of Using Our ICE Poker Clone Script
This can be the medium fetching the highest revenues
Can lead to business growth in a shorter period
The Gaming platform has numerous playing features
Has powerful codings
Rewards can be earned by engaging in the gaming environment
Customization made more enhanced
Avatar creation is brought into existence with all dominative specifications.
Why Choose Hivelance for ICE Poker Clone Script Development?
Metaverse can hopefully bring us enthusiasm, what if the combination of both metaverse and casino games? Exactly outstanding contributions will be released. 3D animated dynamic gaming platforms make us enter the bewildering world and ICE Poker puts it in place. Hivelance enlightens the development of metaverse gaming platforms and exclusively the designing and constructing ICE Poker clone script. We have a vibrant crew of blockchain developers and game-designing professionals with broader minds to crack any gaming development easily. Get in touch with us now to build your ICE Poker platform according to your own wish.