Cryptocurrency
IDO Development Company
Hivelance is a top-notch IDO development company providing blockchain-specific, unique Initial DEX offering development solutions that help to raise funds for your various crypto & blockchain projects.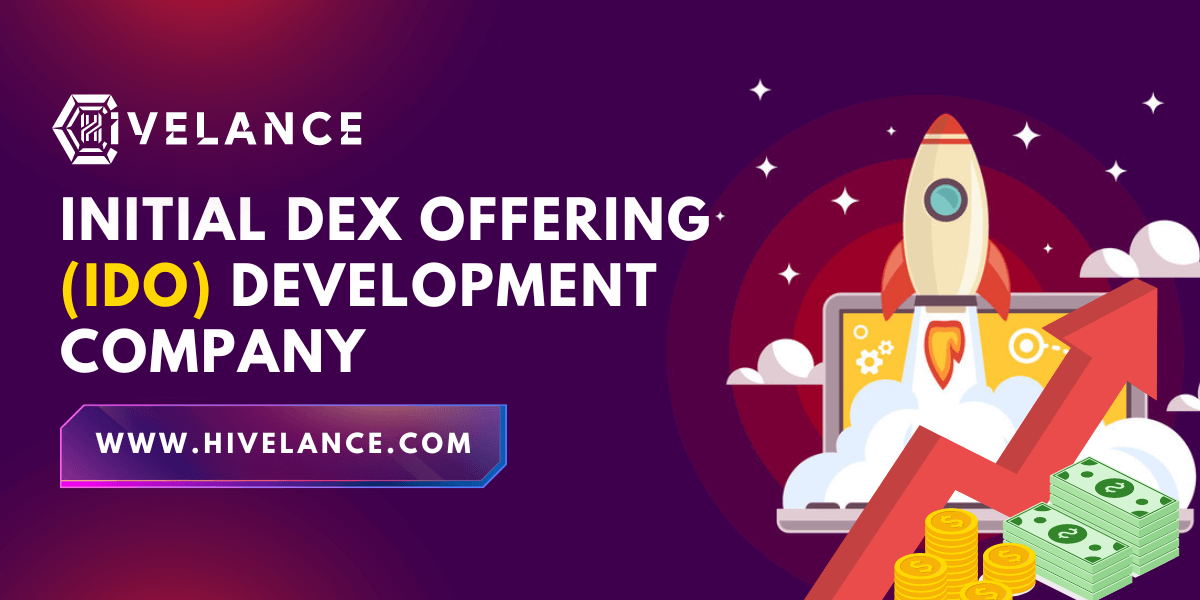 IDO Development
IDO development is a digital token development for the purpose of using a decentralized liquidity exchange to launch a blockchain or cryptocurrency project. IDO tokens, which might take the form of cryptocurrency, serve as the DEX's representation of digital assets.

IDO is currently the most popular strategy for raising money. Many entrepreneurs have been able to realize their vision using this technique. To accomplish this, you will need to work with a reputable IDO development company. This is so that a crowdfunding initiative can have a broad strategy to attain its objectives. We enable you to differentiate your project from the competition with a perfect plan and seamless implementation.
What is Initial DEX Offering (IDO)?
Initial Decentralized Offering, or IDO, is a brand-new method of generating funds for blockchain and cryptocurrency projects. Similar to an Initial Public Offering (IPO), the concept instead issues tokens on a blockchain rather than shares in a centralized company. Tokens are typically sold to the public at large as part of the IDO process, and they are frequently distributed among buyers fairly via a lottery or auction system. IDO is regarded as a cutting-edge method of funding that enables projects to raise funds directly from a large community of investors. However, there are risks involved in investing, therefore prospective investors should think very carefully about the project's whitepaper, team, and technology before taking part in an IDO.
What makes an IDO unique?
An IDO (Initial DEX Offering) differs from traditional fundraising strategies such as an IPO or a private equity round in various ways:
Decentralization: IDOs are carried out on decentralized platforms, enabling a more open and accessible investment opportunity on a worldwide scale.
Direct Access to Investors: IDOs enables enterprises to raise funds from a worldwide community of investors directly, cutting out conventional middlemen like venture capital firms.
Tokens issued in an IDO are typically tradeable on a variety of decentralized exchanges, offering liquidity to investors considerably earlier than traditional fundraising techniques.
Fair Allocation: IDOs frequently utilize lottery or auction techniques to distribute tokens to buyers fairly, minimizing the probability that major investors will control the market.
IDOs are a revolutionary and innovative method of financing that takes advantage of the benefits of blockchain technology to create new opportunities for both enterprises and investors.
Why IDOs For Fundraising?
Global Outreach
IDOs are not constrained by borders. They span the world. We can assist businesses in starting IDOs and immediately raising capital.
Great Opportunities
We can start a great IDO campaign for any cryptocurrency or blockchain-based project that has received legal approval.
Easy Accessibility
IDOs are accessible to everyone. Companies from all around the world are able to start IDOs by establishing basic entry standards.
Large Funds
Got a fantastic project idea? IDOs have a track record of raising more funds for projects than other types of fundraising efforts.
What are the advantages of IDO Development?
In general, token offerings have improved over time in terms of fairness and security for investors. The creation of IDOs has several specific advantages that enable this:
1. You don't have to work with a project directly or have faith in its smart contracts. A trustworthy IDO platform will have a number of closed sales. You can have some trust in the offering if the smart contracts are similar.
2. Post-sale liquidity is given immediately. To create a liquid market after the sale, IDOs will place a portion of the funds raised in liquidity pools. This aids in minimizing loss and volatility.
3. No registration is necessary. Personal data is not necessary to participate in the sale; all you need is a wallet and funds. This makes it accessible to all users.
4. IDOs for projects are accessible and inexpensive. It is frequently easier and less expensive for a small, unknown project to launch its token through a DEX than a large, centralized exchange.
5. Anti-whale procedures are frequently used by IDOs, preventing any one investor from obtaining a sizable amount of tokens.
How to make money with IDO?
An IDO (Initial DEX Offering) offers various potential revenue streams:
Token appreciation: If the project is successful and gains traction, the value of its tokens may increase, allowing investors to sell their tokens at a profit.
Staking and Governance: Some projects may benefit token holders for participating in staking or governance activities, providing another source of passive income.
Trading: By purchasing and selling tokens on decentralized exchanges, investors can profit by capturing market fluctuations and price action.
IDO vs ICO vs IEO vs IPO vs IFO
There are several ways to raise funds for businesses and projects, including IDOs (Initial DEX Offerings), ICOs (Initial Coin Offerings), IEOs (Initial Exchange Offerings), IPOs (Initial Public Offerings), and IFOs (Initial Farm Offerings). Here is a short summary of each:
IDO (Inital DEX Offering) : An IDO is a method of fundraising in which a project using a blockchain issues tokens to the public directly on a decentralized platform. IDOs are designed to offer a more open and accessible investment option on a worldwide scale.
ICO (Initial Coin Offering): A blockchain-based project will use an ICO (Initial Coin Offering) to raise funds by selling tokens in exchange for cryptocurrencies like Bitcoin or Ethereum. ICOs were well-liked in the early days of the cryptocurrency sector, but they are now less well-liked because of regulatory worries and a large number of scams.
IEO (Initial Exchange Offering): An IEO is a method of raising funds where a project instead distributes tokens through a cryptocurrency exchange and not to the public. By serving as a middleman, the exchange increases compliance and security for the project and investors.
IPO (Initial Public Offering): In an initial public offering (IPO), an enterprise distributes shares of stock to the wider public for the first time in order to raise funds from a larger group of investors. IPOs are frequently carried out by big, established businesses and are highly regulated.
IFO (Initial Farm Offering) - A sort of fundraising technique used by blockchain-based businesses is called an Initial Farm Offering (IFO). Participants in an IFO have the opportunity to buy tokens or other assets that are estimated to create yield through staking or other types of token farming.
How to create an IDO?
Creating an Initial DEX Offering (IDO) involves several steps, including:
Creating a blockchain-based project: You must have a finished, active blockchain-based project or platform before starting an IDO. This entails having a use case that is well-defined, a successful project, an established team, and a transparent roadmap for future development.
Developing a token: Your blockchain-based project must have a special token that can be used for fundraising and platform-internal transactions. The supply, distribution, and other critical details for your token must be included in the smart contract you build.
Due diligence: Before launching an IDO, you must execute due diligence on your project, team, and technology to verify compliance with all necessary legislation and standards. This could incorporate a legal analysis, a marketing and promotion plan, and a security audit.
Selecting an IDO launchpad: A platform known as an IDO launchpad offers a streamlined process for establishing and publicizing an IDO. To guarantee that your IDO is properly configured, you must choose a launchpad that is in line with the objectives and specifications of your project.
Launching the IDO: The crucial event that will enable investors to fund your project and buy your tokens is the launch of your IDO. Your launchpad will execute the launch's logistics, such as token distribution, fund collection, and launching your token on a decentralized exchange.
Post-IDO: After your IDO is finally completed, you must concentrate on the growth and expansion of your project. This entails keeping your platform up to date, staying active in your community, and luring new users and clients to your platform.
IDO Launchpad Development
An IDO launchpad is a platform that enables the distribution of Initial DEX Offerings (IDOs). Blockchain-based projects can use an IDO launchpad to introduce their coins to the audience on a decentralized exchange. By acting as a go-between for the project and the public, the launchpad offers a streamlined system for token issuance, distribution, and trading. The launchpad might also offer technical guidance and support for setting up smart contracts and other necessary technological components for the IDO.
With our IDO Launchpad Development solutions, you can take your company to the next level.
Hivelance offers IDO launchpad development services that might help your project succeed. Our team makes sure that every strategy and technique that could increase your chances of success is always used. We provide you with the best solutions when it comes to IDO launch services. We are a group of seasoned professionals who support you in achieving all of your goals for your crowdfunding campaign's success.
Top Blockchain Networks For IDO Development
Ethereum
Solana
Binance Smart Chain
Polygon
Tron
Avalanche
EOS
Polkadot
OpenChain
Corda
Quorum
And more
Begin your Success Story with an Esteemed IDO Development Company
Initial DEX Offerings provide a unique chance for enterprises to raise funds globally. Additionally, it enables traders to exchange tokens for one another, including stablecoins and crypto assets. Because of our enthusiasm for and proficiency with IDO development solutions, we can convert your new DEX ideas and startup plans into real projects. As a result, Hivelance offers you a customized solution from beginning to end. However, we will encourage you to emphasize on developing IDO projects, core offers, and tokenomics. In order to promote your IDO on a global scale, we handle the three key categories that fall under IDO marketing: Pre-IDO, Crowdsale, and Post-IDO.
As a reputable IDO development company, we constantly use the most up-to-date tech stack and frameworks for IDO development. We are prepared to satisfy our clients' high standards. Our mission is to build the most successful blockchain and cryptocurrency projects so that your business platform is the finest. We are dedicated to overcoming difficulties brought on by market competitiveness. As the foremost IDO development services, we are aware that perfection is the basis for compatibility and interoperability. Create a scalable token that will enable the launch of a DEX project via a decentralized liquidity exchange and will aid in enhancing brand value and user satisfaction to new levels.
Our process is in line with the client's expectations and business goals. In order to achieve success in the crypto sector, Hivelance consistently creates a professional IDO. We thoroughly plan and design the IDO projects' functionality, integrate back-end management, implement front-end development, test, and deploy them.
Hivelance's innovative developers continuously adopt a novel strategies to fully employ fund-raising business ideas. We are committed to completing projects on schedule, under budget, and accurately!