NFT
Jump.trade Clone Script: Build Your P2E Cricket NFT Marketplace
Jump.trade clone script is a P2E-based gaming NFT marketplace script that helps to launch your P2E cricket gaming-based NFT marketplace like Jump.trade with advanced features and functionalities.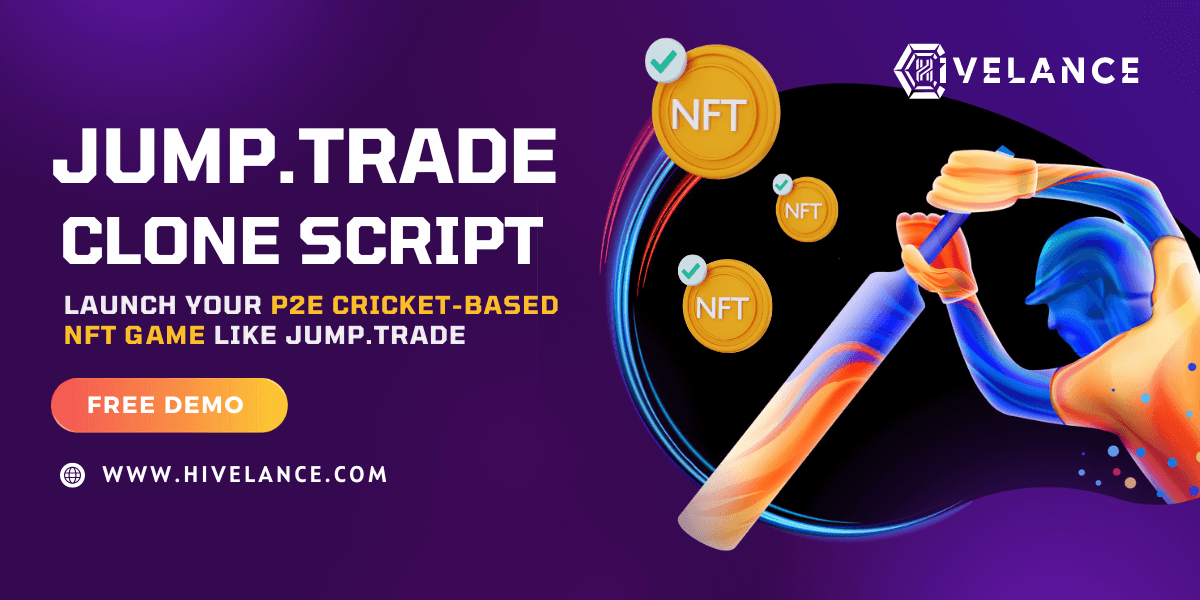 The Hype for NFTs is increasing rapidly in recent times. It has revolutionized the ability to tokenize and sell digital assets with complete ownership in the digital world. The Keen notable aspect is that it utilizes blockchain technology to establish verifiable proof of authenticity. The assurance of potential lucrative returns attracts many users as they have witnessed skyrocketing prices and record-breaking sales. Purchasing, Selling and trading NFTs are facilitated through Marketplaces, and many NFT marketplaces are available in the markets. These NFT Marketplaces can be the dynamic hub that brings together artists, collectors, creators and Enthusiasts from all nooks and corners of the world. Jump.trade is one of the largest NFT Marketplaces which is gaining a massive response now. In this blog, Let's discuss jump.trade in detail.
Jump.Trade: Where Digital Gaming Needs Take a Shape
Jump.trade is one of the largest NFT Marketplaces which encloses a wide range of fabulous games and Brand NFTs. This marketplace has nearly 98k+ NFTs and it is estimated that approximately 175k+ trades have happened within the platform. We can come to a conclusion about the importance and the uniqueness of this marketplace. It can be the hub for MCL and car ( Raddx) racing games which is also regarded as the platform for Web 3.0-based games.
Jump.Trade Clone Script
Being the popular destination for collecting the preferred NFTs, Jump.Trade platform has millions of user base. Jump.Trade clone script is the ultimate look-alike module of the leading NFT marketplace Jump.trade. It has all features and functionalities similar to Jump.Trade which enables users to purchase, and sell NFTs in an easier way. A wide range of digital collectibles will be available within the platform and users can choose them according to their preferences. We at Hivelance develop your Jump.trade clone script with highlighted specifications that can make your gaming more authentic.
Premium Games in Our Jump.Trade clone Script

Meta Cricket League ( MCL )
One of the main attributes available in this platform is MCL( Meta cricket league). MCL is one of the world's largest Web3 NFT games for cricket enthusiasts and NFT aspirants. It manifests the excitement of cricketing in the metaverse. Players can participate in the tournament to play games and earn rewards. In simpler words, MCL is the hit-to-earn NFT-backed cricket game that reinvents blockchain gamification. Some important attributes like MCL Player NFTs, MCL Signed Bat NFTs, and MCL Crypto Bats are used in the tournament and is utilized for:
Claiming the entire ownership of in-game assets
Earn Jump Trade Points
Trade NFTs in the marketplace and level up NFTs.
This MCL platform is currently available on the Android and Windows platforms. Our Developers can develop the podium for playing this game to earn rewards. With the inclusion of algorithmic protocols and highly dominant backend and frontend programming languages, we can render you the platform in both versions.
RADDX Games
Raddx is a car gaming platform, which relies on racing metaverse games. Being a play-to-earn gaming podium where car NFTs can be traded and upgraded. It has a wide range of cars along with special accessories, and super-aggressive weapons to torch the tracks and taunt the opponents. In other words, it is a futuristic multiplayer racing game with stunning locations, attractive EV cars, power-ups, cop chases, accessories and so on. There are three major ways for you to earn from RADDX:
Users can engage in races and earn their revenue by winning the races.
They can trade their NFTs on the marketplace.
In addition, they can also rent their NFTs and earn passive revenue out of the rental costs.
Features of Our Jump.Trade Clone Script
A wide range of NFTs are available like Raddx metaverse NFTs, Crypto Bat NFTs, MCL Fusor NFTs, and so on.
Incorporates User-friendly Interfaces
Buying and Bidding Options
Integration of wallets
Refer and Earn Options
NFTs are available for Rent ( Users can borrow the NFTs and get involved in gaming).
How do we Bring your Imagination of Creating Jump.trade clone into reality?
Based on your Business Logical Claim, We always engage a special team of competent to analyze whatever the business essentials are.
Making a round table discussion to a successful one, we enhance in grasping all the details from your side to form the storyboard.
With all the inputs gathered, we start the designing and development part with the assistance of talented developers who have 13+ years of experience.
Gaming platform expectations will always be a dreamy part for any player. With our experience, we can understand all your needs and bring them into reality with top-notch technologies in the market.
Our team can perform vigorous testing after the development to eradicate the errors and fix them. Successfully we help in launching the gaming platform that has a series of options to play MCL, Raddx games.
Benefits of Using Our Jump.Trade Clone Script
Both Players and Owners can gain a global reach
It opens the gateway for monetization
Immutable proof of ownership is guaranteed
Helping in building community
Revenue generation streams are the most highlighted aspect.
When coming to NFT Marketplace Development, Hivelance is the Top-ranker and We create avant-garde Jump.Trade Clone script
At Hivelance, we are committed to delivering excellence to any of your projects. Being the leading NFT Marketplace development company, Our innovation goes beyond your expectations. We use agile methodologies to create your Jump.trade clone script and we offer ongoing support and security tools for the stabilized performance of the gaming platform. Our qualified developers design the jump.trade clone script with powerful features, interactive and engaging NFT Listings, secured wallet integrations, royalty mechanisms, and so on. Numerous car NFTs are listed on the platform in different names which would help players to have an interesting racing experience. When coming to MCL, Cricket lovers can enjoy the feast with the NFTs of the players, bowlers, and bats which has a significant pricing range. In each phase of developing and using the gaming platform, Hivelance, and the team can be your supporting partner.
Final Thoughts
Jump.Trade-like gaming platforms are going to rule the gaming economy. Each creation in the platform makes us astonishing and helps in playing games to earn rewards. So, the Jump.trade clone development is predicted to be the finest solution for earning revenues.