Cryptocurrency
LocalCryptos Clone Script To Create Non-Custodial P2P Crypto Marketplace
Create Your Own Non-Custodial P2P Crypto Marketplace Like LocalCryptos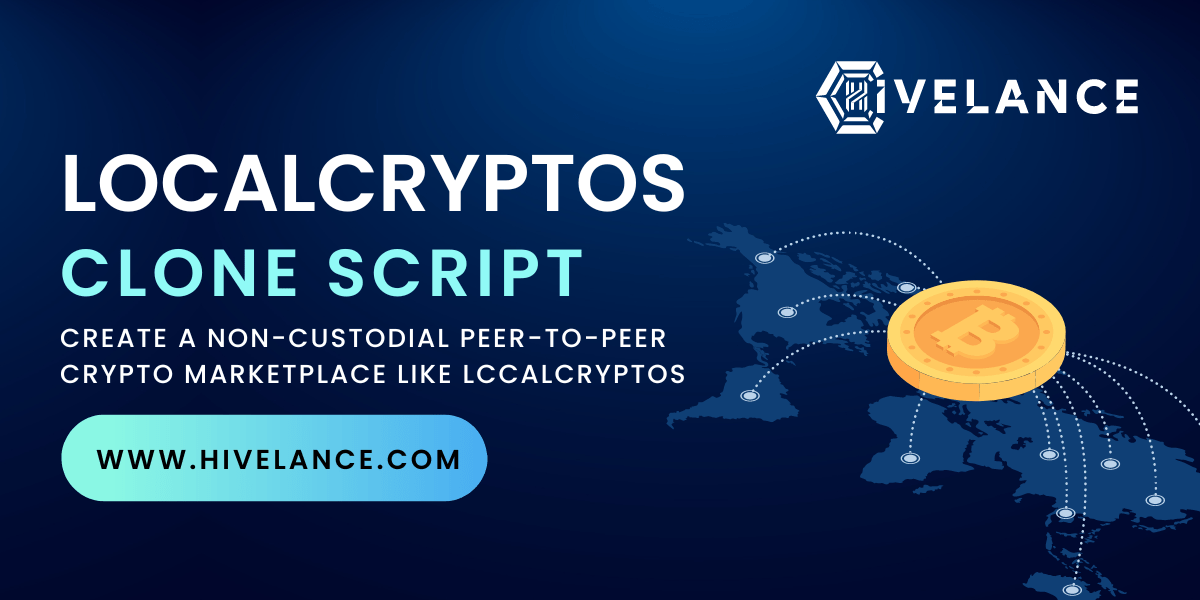 Cryptocurrency exchange businesses are taking a zooming notice between the investors on a global level. Mainly P2P exchange platforms with the help of escrow support systems are a popular reach through which the guarantee of high profits is confirmed. With all introductions, P2P ads-based cryptocurrency exchanges can be given the top-level position because its usage has become the most scalable and attracted many of traders.
Having doubt about what is P2P ads-based crypto exchange all about? It can be named as the escrow-powered crypto exchange with an ads-based trading option that will create you the top identity with maximum profits. And Localcryptos is one of those exchanges. Let's have a discussion of how to start crypto exchange like Localcryptos and earn revenues through this ads-based exchange platform.
About Localcryptos
LocalCryptos is the popular P2P ads-based crypto trading platform where users can buy/sell virtual digital assets by posting advertisements. The keen point to be noted about the platform is it has the capability to support 40+ payment methods. With the overlook of Escrow support, the transactions take place rendering high profits to startups, Entrepreneurs with top-class security enlistments. Developing from scratch or clone script can be the best way to get your business enhanced with ads-based revenue generation.
LocalCryptos Clone Script
LocalCryptos clone script is the 100% replica of the LocalCryptos cryptocurrency exchange with readily available codes. Our LocalCryptos clone script is designed with all exclusive features, trading functions, and plug-ins identical to LocalCryptos.We offer cost-effective and instantly launchable clone scripts that have advanced escrow security options. Your customization requirements are given more preference and the clone script is designed according to it in order to perceive the support of multiple cryptocurrencies.
Magnificent Features of Our LocalCryptos Clone Script
Based on the user's needs, Our developers implement the latest market trending features to improve the performance of your LocalCryptos clone exchange. Below listed some of the world-class features that you can get from our premium LocalCryptos clone script:
Posting of Buy/sell ads
Escrow wallet
Multiple payment gateways
Fiat wallet support
Dispute resolution
Private chat
Real-time trade statistics
KYC integration
Commission history and settings
P2P trading engine
Multiple language support
SMS integration
Announcement system
In-built non-custodial wallets

Security Features of Our LocalCryptos Clone Script
Our development whenever creating a new project, the utmost importance will be furnishing the security features. Keeping it in mind, we integrate the advanced security modules in every cryptocurrency exchange script we developed. This can eliminate fraudulent activities & security loopholes. Exclusive security features in our LocalCryptos clone script are:
Two-factor authentication
Escrow protection
Anti-distributed Denial of Service
Jail login guard
SSL integration
End-to-end encrypted transactions.
HTTPS authentication
Browser detection security
Server Side Forgery Protection
CSRF protection
Data encryption
How Does our LocalCryptos Clone Script Work?
Users need to register themselves with the required credentials for creating a trading account.
After registration, they can log in to the Localcryptos clone platform. A secured escrow wallet will be created for the users once entered.
Some essential documents are in need to be submitted like government-issued documents with a proper mobile number that is in use.
KYC verification is completed and the user can begin to trade the crypto coins within the platform.
Buyer and seller can find the correct matching order to perform the p2p trading in your LocalCryptos clone exchange.
Traders can easily post advertisements as per their wish to facilitate trading. For posting an ad, you can collect a certain amount of fees.
After the confirmation of the buyer's deal by the seller, they can trade the specific cryptocurrency.
The crypto will be locked in the escrow wallet. The buyer needs to send the funds to the seller through the mentioned payment option in the ad.
Confirmation of purchasing is done by the buyer.
The owner will receive a minimum of a 1% commission fee for a successful crypto transaction. The trading process is finally completed.
Why Hivelance for LocalCryptos Clone Script Development?
Hivelance is the leading LocalCryptos cryptocurrency exchange clone script development company standing tall among its competitors. Our clone scripts are designed with the latest trading features and avant-garde security modules. We help you to create and launch ads-based p2p cryptocurrency exchanges like LocalCryptos within your estimated time period. Our developers craft your scripts with tailor-made solutions including the best front-end and back-end codes.
10+ years of experienced crypto & blockchain developers
On-time rendition of projects
150+ Crypto projects delivery history
24/7 customer care support
Qualified testing team
A bench of quality analyst specialists
Security at its best level
Round-the-clock support
Are you a startup or an Entrepreneur? We help you to create high-performing p2p ads-based crypto exchanges like LocalCryptos at your estimated price. We complete the project within the particular time frame and deliver you live updates throughout the development phase. Choose Hivelance for the successful development and launch of the LocalCryptos clone script. Get in touch for futuristic advancements..!!