NFT
Magic Eden Clone Script To Build A Community-Centric and Multi-Chain NFT Marketplace
Magic Eden Clone Script is a readymade Multi-Chain NFT marketplace clone script that helps to launch a Community-centric NFT marketplace like Magic Eden on various blockchain networks.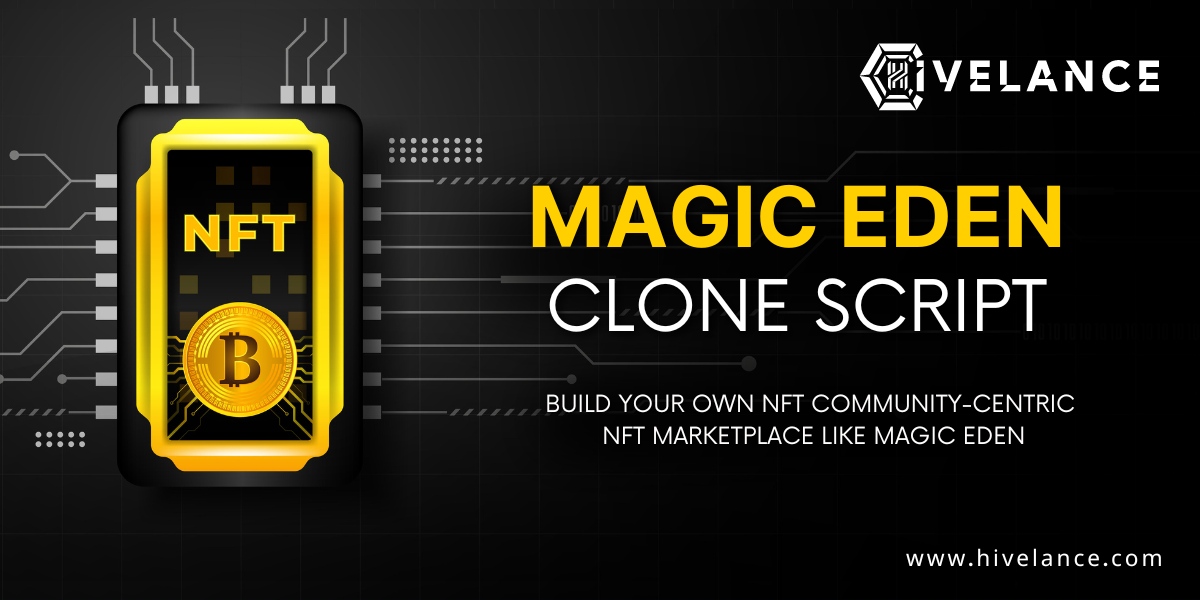 The ever-expanding world of blockchain technology and cryptocurrencies has given rise to a new phenomenon known as Non-Fungible Tokens (NFTs). These unique digital assets have taken the internet by storm, sparking a global frenzy as artists, collectors, and investors rush to participate in this digital competition happening in the NFT markets. Amidst this chaos, the Magic Eden Clone Script emerges as a powerful solution for creating a fully-functional, multi-chain NFT marketplace. In this article, we delve into the features, benefits, and potential of the Magic Eden Clone Script.
Overview of Magic Eden

The Magic Eden platform is a Web3.0-based Multi-Chain NFT Marketplace Platform. It is the largest NFT marketplace on the Solana blockchain. The platform features a thriving secondary market, which allows traders to buy, sell, mint, and manage tokens. It is a decentralized & community-centric marketplace and was initially developed on the Solana blockchain, but has since expanded its support to Ethereum, Polygon, and bitcoin. Magic Eden's low transaction fees and fast transaction times make it an attractive option for both buyers and sellers.
What is the Magic Eden Clone Script?
The Magic Eden clone script is a customizable marketplace platform replicating the entire functionalities of the magic Eden platform. It allows users to create, buy, sell, and trade NFTs in a decentralized and secure environment. Our script developed based on the Magic Eden marketplace has gained a reputation for its user-friendly interface, low fees, and high level of security.
The platform has a wide range of NFT types, including art, music, video, and more. Users can also set their own commission rates and fees, giving them greater control over their marketplace and revenue streams.
White-label Magic Eden Clone Script
A white-label Magic Eden clone script is a pre-built software solution that replicates the functionality of the Magic Eden platform, allowing businesses to launch their own customized version of the platform. The white-label aspect means that the software can be branded with its own logo, design, and branding, providing a seamless user experience for customers while also reducing the time and cost required to develop a new platform.
What makes Magic Eden NFT Marketplace so popular today?
Magic Eden is a popular NFT marketplace because of its user-friendly platform, low fees, and strong community. It offers a wide range of NFTs, including art, collectibles, and gaming items, with easy-to-use search and filtering tools. Magic Eden also features a "Launchpad" for NFT projects, which has helped to attract new creators and buyers to the platform. Its commitment to sustainability through carbon offsetting and donations to environmental causes has also earned it a positive reputation among the growing number of environmentally conscious NFT enthusiasts.

Magic Eden charges a very low transaction fee of 1.5%. NFT dealers frequently choose Magic Eden because of this price because it is less expensive than even its most aggressive competitors, like OpenSea, which levies a 2.5% fee.
Magic DAO clone script
A MagicDAO clone script is a software program that is designed to replicate the functionality of the MagicDAO platform. MagicDAO is a decentralized autonomous organization (DAO) that is built on the Ethereum blockchain and is focused on enabling the creation and management of community-driven projects. A MagicDAO clone script would allow developers to create a new DAO platform with similar features and capabilities as MagicDAO, such as the ability to vote on proposals and distribute funds in a decentralized and transparent manner.
Magic Eden Launchpad Clone
Magic Eden Launchpad clone is a decentralized crowdfunding platform that operates similarly to the original Magic Eden Launchpad. It allows new crypto projects to raise funds by selling their tokens directly to investors in exchange for cryptocurrency. The platform provides a fair and transparent process for fundraising and token distribution, while also enabling investors to participate in promising projects at an early stage. The clone ensures the security and efficiency of transactions through blockchain technology and smart contracts, giving investors complete control over their investments.
Features in our White Label Magic Clone Script
User-Friendly Interface: The Magic Eden Clone Script boasts a clean, intuitive, and responsive design that ensures a seamless user experience. The platform is easily navigable, allowing users to quickly browse, bid on, and purchase NFTs.
Advanced Search and Filtering: Our clone script has an advanced search and filtering system that makes it easy for users to find and explore NFTs based on various criteria, such as rarity, price, or artist. This feature enhances the overall user experience and encourages more users to engage with the platform.
Secure Wallet Integration: Our Magic Eden Clone Script comes with an integrated wallet system, allowing users to securely store, manage, and trade their digital assets. The platform supports multiple cryptocurrencies, including Ethereum, Binance Smart Chain, and more.
High Scalability: Being Built on the high-performance Solana blockchain, Our Magic Eden Clone Script offers unparalleled scalability. As the platform grows and attracts more users, the underlying infrastructure can easily handle increased traffic without compromising performance.
Robust Admin Panel: The script's comprehensive admin panel allows marketplace owners to manage and control all aspects of their NFT marketplace efficiently. This includes user management, NFT listings, transactions, and more.
Smart Contract Integration: By leveraging the power of blockchain technology and smart contracts, the Magic Eden Clone Script ensures secure and transparent transactions. This feature eliminates intermediaries and reduces the risk of fraud.
Multiple Payment Options: To cater to a global audience, Our Magic Eden Clone Script supports multiple payment options, including cryptocurrencies and fiat currencies. This flexibility makes it easy for users from different regions to buy, sell, and trade NFTs on the platform.
Auction:
NFT auction is a process of selling unique digital assets called NFTs to the highest bidder through an online bidding platform. These NFTs represent ownership of a specific digital asset, such as art, music, or videos, and are recorded on a blockchain, ensuring their authenticity and scarcity. The highest bidder wins the auction and becomes the new owner of the NFT.It enables users to participate in the auction procedure and obtain their preferred/desired NFTs. The auction feature is quite impressive for buyers and sellers. It allows users to take part in the bidding process and get hold of their favorite/desired NFTs. Users who are regular participants and win the bid at most times hold perks of minimal sell fees and commission bonuses.
Benefits of Using Magic Eden Clone Script
Cost-effective Solution: The Magic Eden Clone Script is a cost-effective way to create an NFT marketplace. By opting for a ready-made script, you save time, effort, and resources that would have been spent on developing a platform from scratch.
Customizable and Scalable: The script is fully customizable, enabling you to tailor the marketplace to your specific requirements. It is also highly scalable, allowing for seamless expansion as your platform grows.
Low Fees: Compared to traditional marketplace platforms, our clone script offers significantly lower fees. This means more revenue for creators and investors, and lower costs for buyers.
Staking: Staking is a process by which users can lock up their tokens to earn rewards and participate in network governance. A Magic Eden marketplace clone with staking functionality would enable users to earn rewards by staking their tokens while also being able to trade NFTs on the platform.
Rapid Deployment: With our Magic Eden Clone Script, you can have your NFT marketplace up and running in a short amount of time. This swift deployment gives you a competitive edge in the rapidly evolving world of NFTs.
Increased Revenue Opportunities: By launching your own NFT marketplace, you can generate revenue through various means, such as listing fees, transaction fees, and promotional services.
Why Hivelance for Magic Eden clone Script?
Hivelance is the perfect choice for your Magic Eden clone script development as it offers perfect and trustworthy solutions. Our Magic Eden clone script is built with the latest technology to stand tall in the markets. Our experienced team of developers will provide top-notch support and guidance throughout the entire process to ensure your success. With the assistance of the Hivelance team, you can quickly launch your NFT marketplace and start trading unique digital assets with ease. Choose Hivelance for a seamless NFT marketplace experience.