NFT
Makersplace Clone Script To Kick Start Your Own Art-based NFT Marketplace Like Makersplace
Looking to create an artwork-based NFT Marketplace like MakersPlace? Hivelance offers a MakersPlace clone script that allows you to easily set up your own customized marketplace, complete with all the features you need.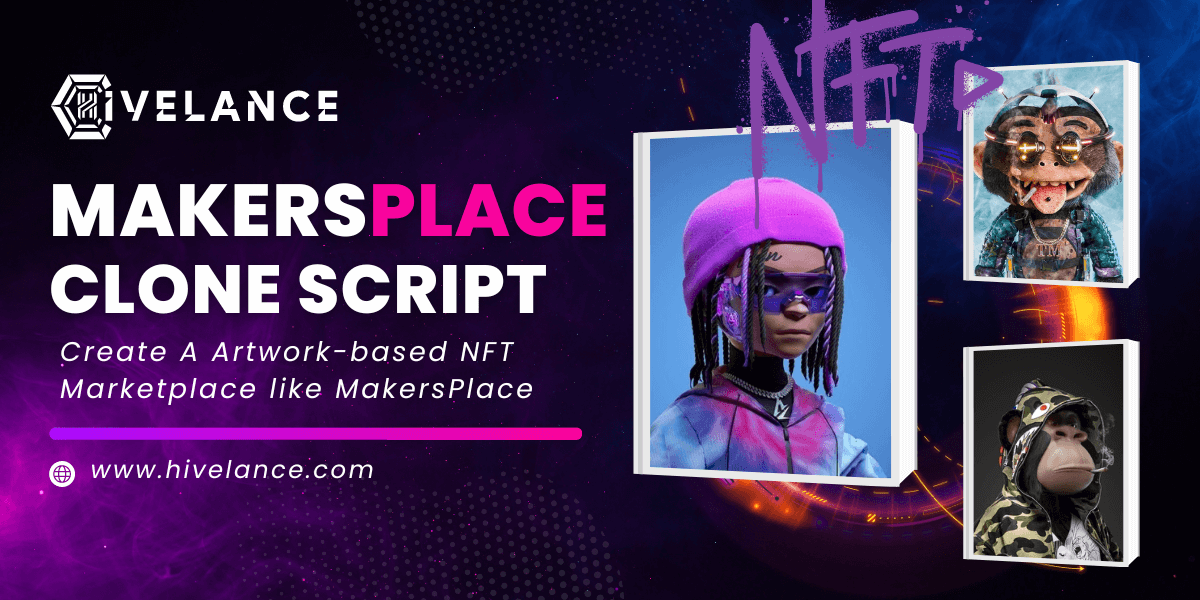 When NFTs are taking a bigwig, the number of investors are increasing and we can notice a catalog of huge transactions. Getting NFTs is easier through the marketplaces as they inherit a wide range of collections. Choosing the preferred top pick can be enhanced by the users to start the trading process. Sweeping through a number of NFT marketplaces in the market and selecting the scalable one will endeavor the business flourishment with ROIs on an immersive level. Makers place NFT Marketplace is one among them which is getting more vigorous. In this blog, let's learn in detail about the marketplace and its functions.
Makersplace NFT Marketplace - Simple Overview
Makersplace is the trending NFT Marketplace for digital arts and is a matter of the moment. Following up the strategies of blockchain technology, the marketplace enables the purchase and selling of NFTs that are enticing. The Digital collections include art, music, animations, and creative items. The Highlighted strand of this marketplace is that NFTs that are bought and sold will be assured and authenticated on Ethereum's blockchain which in turn provides the guarantee of complete ownership to users.
Makersplace Clone Script
The Makersplace clone is the absolute replica of the original Makersplace NFT Marketplace which has the exact features and processing techniques. Additionally, the add-ons can be altered or included according to your choice to make the platform look extra special. Our Makersplace clone script aids in selling/ buying NFTs easily and can help you to participate in the auctions to grasp the exact modules. Using our Makersplace clone, users can present their own artwork to the world and gain attention. Earning profits in billions will be convenient to mark your fame in markets.

Hivelance's team is skilled and adept whose efforts toward creating your customized Makersplace clone is beyond comparison. A spirited and responsive crew of 150+ members brings into existence your marketplace within the required time period in conjunction with higher quality.
Payment Options incorporated in Our Makersplace Clone
PayPal
Stripe
Credit/ Debit cards
Digital wallets
Steps of how we help you to launch Makersplace Clone:
Users must step forward in choosing the purpose of their businesses and set their targets. The appropriate decision to select the types of assets like arts, music, and so on is expected to be done by the users.
Similarly, the right blockchain networks will progress your dream project more effectively. So picking up the correct blockchain networks like Ethereum, TRON, Flow, Avalanche, etc is handed over to users.
As smart contracts are the essential and prominent part of any NFT Marketplace, We code highly encrypted smart contracts with leading programming languages to create your Makersplace clone software.
We build user-friendly interfaces with overruling features and functions, and also the integration of payment gateways for safe transactions. Then the platform is launched successfully to begin the business journey.
Reasons why Should You Launch Makersplace NFT ecosystem?
You can maximize profits with obvious brand value.
Serves as the platform that offers the chance to showcase their artworks.
Through our Makersplace platform, we adhere to create a bigger community around the digital arts and introduce special dignity.
It is considered a gratifying and potentially well-paid start-over.
Distinctive Features of our Makersplace Clone Script
User-friendly interfaces
Customized attributes like logo, colors, patterns
Royalties
The custom domain name to earn recognition
Highly secured and reliable
Inclusion of popular blockchain networks
Multiple file format support
Two-factor authentication
Multiple payment gateway integration
Generate revenues by using Our Makersplace Clone
When compared to other marketplaces, the commission fees gathered would be slightly higher. Nearly 15% of charges are collected when the purchase is made. Users who wish to get the artwork through credit/ debit cards will have to pay 2.9% as a charge. Users are also given the option to resell their works and approximately 12.5% fees are collected. Hence starting a business by launching your own Makersplace clone software will pave many ways to earn revenues for the owners.
Why Choose Hivelance for Building the Makersplace Clone Script?
We are a strong remunerative Makersplace clone script development company that can affirm in providing the apparent solutions to build your NFT Marketplace like Makerplace. As we never let down the hopes of our clients, our convincing works can fulfill your unwavering progressions. We have gathered in a common setup with multiple supporting teams like digital marketing, sales, and development to establish a healthier medium and deliver the best outcomes. Having 13+ years of experience in blockchain technology, our scholars construct your Makersplace NFT Marketplace with robust modules and digital assets collections.
Reputable blockchain services to lead the best way
Authentic design components
Solutions of the highest quality
Uninterrupted workflows
Magnificent admin panel to display all details
Instant responses to figure out and sort out the errors.