Metaverse
Metaverse 3D Space Development - Build Your Own Immersive 3D Virtual Space Using AR/VR
Hivelance provides best-in-class metaverse 3D space development services for your business to create your own virtual environment and explore the realms of the 3D virtual space.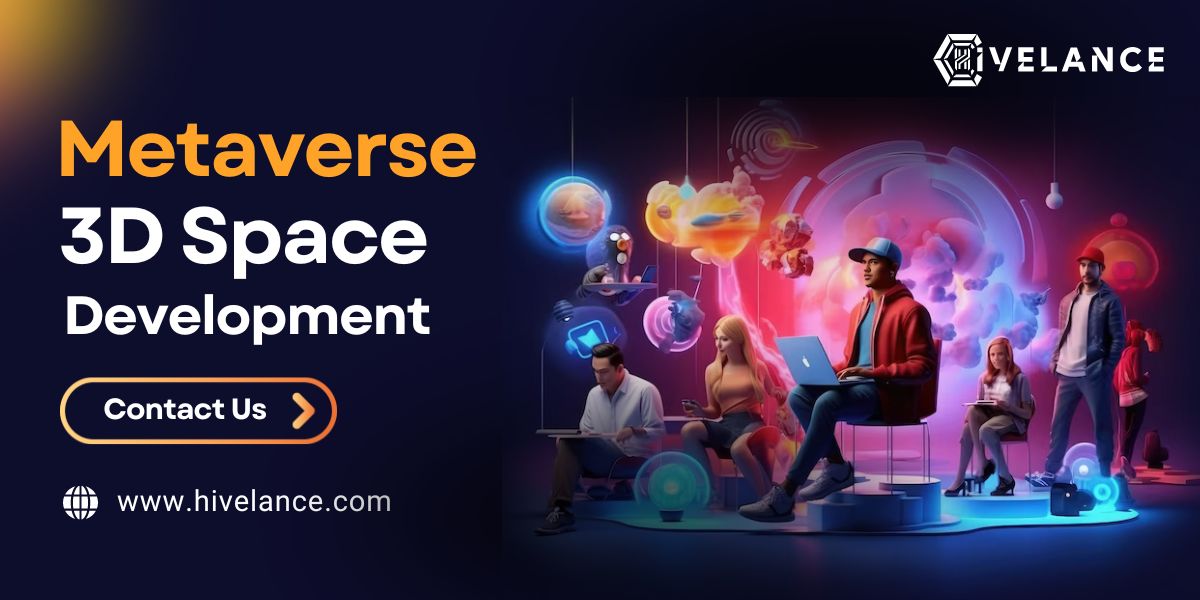 Metaverse 3D space development
Metaverse 3D Space Development is the creation of virtual environments, items, landscapes, people,and other aspects that users may experience and interact with. As a part of its development, it might be necessary to create the visual appearance, specify the physics and interactions, script behaviors, and provide an intuitive user interface.
Hivelance is a leading Metaverse 3D space development company that produces realistic 3D virtual environments for you using 3D space and technologies including 3D visualization, 3D reconstruction, AI, and AR/VR.
What is Metaverse 3D Space?
A Metaverse 3D space is a virtual environment that enables 3D interaction between users and their surroundings. A variety of technology, including computers, smartphones, and virtual reality headsets, can be used to enter the virtual environment. Gaming , social networking , NFT marketplaces, event hosting, real estate, art galleries, and exhibition halls can all be done in metaverse 3D spaces.
Our Metaverse 3D Space Development Services
We provide clients with a wide range of services to assist in the creation of their Metaverse 3D Space. The following are services we offer for the clients,
Gaming industry: Metaverse 3D spaces are becoming more and more well-liked among players, as the gaming market is quickly changing. With the ability to engage with other players and discover virtual worlds, metaverse games provide an immersive and engaging gaming experience.
Social media platform: Metaverse 3D spaces can be utilized as social media platforms, giving users a fresh method of communication and interaction. Online communities, virtual events, and other social interactions can all be conducted on these platforms.
NFT marketplace for metaverse: NFT marketplaces in the metaverse have grown in popularity as an outcome of NFTs. These platforms allow users to buy, sell, and exchange virtual assets, giving producers and artists a fresh method of making money off of their work.
Event hosting platform: Metaverse 3D spaces can also be utilized as event hosting platforms , giving organizations and individuals a distinctive way to host virtual events like conferences, trade exhibits, and exhibitions.
E-commerce platform: Metaverse 3D spaces can be utilized as eCommerce platforms, giving companies a fresh method to market and sell their goods. Users can browse virtual stores and make purchases in a virtual setting because these platforms' distinctive and engaging shopping experiences.
Real estate platform: Users of metaverse 3D spaces can browse properties virtually before buying them, acting as a real estate marketplace. In order to market their properties and entice potential clients, real estate businesses now have a unique strategy.
Art gallery in the metaverse: Artists can display their work in a virtual environment using metaverse 3D spaces as galleries. Users now have a chance to interact with artists and their work which offer a distinctive and engaging approach to experiencing art.
Expo hall in the metaverse: Businesses can use metaverse 3D spaces as expo halls to display their products and services in a virtual setting. Through their unique means of direct communication with potential clients and customers, these expo halls give businesses a novel approach to generate leads and sales.
Elements of Metaverse 3D space we create
Inactive messages
Through special capabilities that appear on the user's portal once they log into the metaverse 3D environment, anyone can send messages to users offline.
Avatars
Depending on how the metaverse environment is being used, these virtual representations assist users in having fun in virtual worlds in different ways.
Chat choices
Within 3D environments, chat portals enable nearby users to communicate with one another via text, voice, and video, enhancing social interaction.
Environment
Customized 3D surroundings are essential in these virtual worlds because they serve as a base for businesses that use industry-specific metaverse technologies.
Benefits of investing in Metaverse 3D space development
There are several advantages to investing in Metaverse 3D Space Development for both business and individual investors. Here are some convincing reasons in favor of making an investment in this innovative technology.
New Digital Realm:
Metaverse 3D space is a quickly developing digital realm that offers businesses fascinating chances to reach out to new customers, interact with them in immersive ways, and stay one step ahead of the competition.
Creative Digital Experiences:
Metaverse 3D space provides organizations with unmatched and cutting edge digital experiences that let them build unforgettable relationships with clients, partners and stakeholders.
Business growth:
Investing in Metaverse 3D space Development can provide new revenue streams and increase business possibilities, enabling businesses to advertise to a world wide clientele through virtual events, product demonstrations, and partnerships.
Ahead-Proofing:
Entrepreneurs and startup individuals can position themselves to succeed in the digital age by investing in Metaverse 3D Space so they can stay on the cutting edge of technology and plan their digital plans for the future.
Improved User Engagement:
Through immersive and engaging experiences, Metaverse 3D space enhances user engagement, enabling businesses to connect with clients more deeply and forge long-lasting connections.
Unique Expression:
Metaverse 3D Space Development provides a platform for unique expression, enabling creators of all kinds to exhibit their skills and works in a distinctive and cutting-edge virtual environment.
Our Development process in metaverse 3D space
Designing User Interface (UI)
The UI design of a Metaverse 3D space is essential since it affects the user's experience. We may design an intuitive and engaging user interface for a metaverse 3D space. They are able to create an interface that is user-friendly and visually appealing, giving the user a seamless and interesting experience.
Smart Contracts development
NFT marketplaces, gambling platforms, and ecommerce platforms in the metaverse all depend on smart contracts. We are able to create and put into use smart contracts for a metaverse 3D space, making sure that all transactions are secure, open, and automated.
Developing an IPFS Storage System
A decentralized storage solution like IPFS is perfect for Metaverse 3D Spaces. For a Metaverse 3D Space, we are able to create and integrate an IPFS storage system. This makes sure that data is accessible, safely kept, and conveniently shared throughout the network.
Development of DB, AR, and VR
Advanced technologies like DB (database), AR (augmented reality), and VR (virtual reality) are needed for Metaverse 3D Spaces. These technologies can be developed and incorporated into a Metaverse 3D Space to give consumers a highly engaging and immersive experience.
Testing and error fixing
Metaverse 3D spaces need to be thoroughly tested and issue fixed to offer a positive user experience. We thoroughly test and resolve faults in a metaverse 3D space to make sure it functions properly.
Deploying Metaverse 3D Space
A metaverse 3D space must be deployed after development for people to access it. We implement metaverse 3D spaces on a variety of gadgets such as computers , cellphones, and virtual reality headsets. Our team guarantees user accessibility and operation of the metaverse 3D space across all the platforms.
Why choose Hivelance for Metaverse 3D space development ?
As a prominent Metaverse development company, Hivelance develops the Metaverse 3D space that will lead to significant technological advances in the future. Contact us today, and we'll help you launch your metaverse as one of the best and most reputable developers in the industry. By providing comprehensive services and a single workflow, our developers help you through the development process.